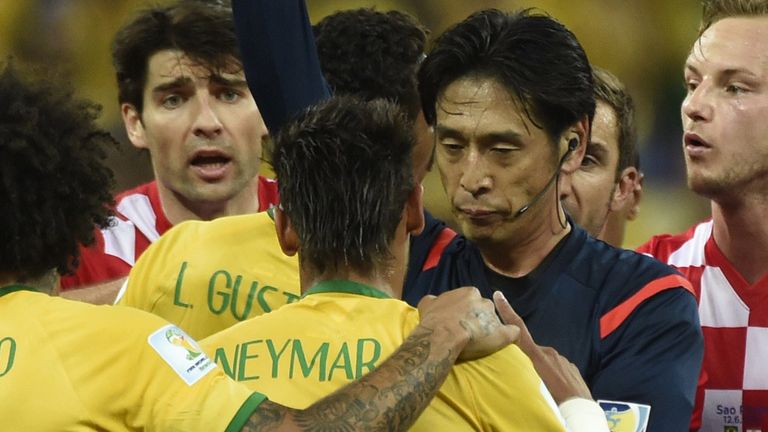 FIFA has defended Japanese referee Yuichi Nishimura's controversial decision to award Brazil a penalty in their opening World Cup game against Croatia.
Nishimura was widely criticised for awarding the game-changing penalty which put Brazil on the way to a 3-1 victory in Sao Paulo on Thursday night, and there were also a couple of other controversial decisions by the official.                 
But FIFA referees chief Massimo Busacca insisted Nishimura had been justified in awarding the spot-kick against Croatia's Dejan Lovren for an alleged push on Brazil striker Fred.              
"The referees know the responsibility at the World Cup is a lot, every decision can change a lot," said Busacca.
"In refereeing, we have black and white but we also have cases that can be on the borderline.
"Yesterday, we can discuss; was it enough (contact)? Yes or no?
"On the pitch, the referee takes a decision in less than one second. He is concentrated on the gesture and when you see the hands doing something, it's difficult to arrive at one conclusion.
"This is what the referee saw on the pitch, he had a good position, but he is not the attacker or the defender, we have to ask them if it's enough (contact) to fall down.
"There was contact, if you don't have the contact then we would not be here to discuss it. If the player doesn't touch, doesn't hold, we don't discuss it.
"The left hand touched and then also the right. If you play with the hands out, the referee sees that clearly and decides one way.
"For every player, we can consider their performance and how they did – for referees it is the same. Mistake? It's your opinion, you can say it if you want."                 
However, Busacca would not say if Nishimura would control further matches at the tournament.                 
"No, it's impossible because we have not made an analysis yet," he said. "We have to analyse the 90 minutes not one decision. We have to have clear analysis and then we will see.                 
"It's not correct to talk about punishment. Punishment is when you commit a crime on the streets against someone, not when you are taking an honest decision on what you saw. We're humans."                 
Busacca denied referees at the World Cup would be swayed in favour of Brazil, who will enjoy ferociously partisan support at all their games.                 
"When you are refereeing a situation you are only looking at player A and player B. You don't have time to say that you are refereeing Brazil," he said.                 
"Are we favouring one team? Come on, this is fantasy."