World Cup: FIFA could take action against Juan Zuniga for challenge on Neymar
Last Updated: 05/07/14 11:51pm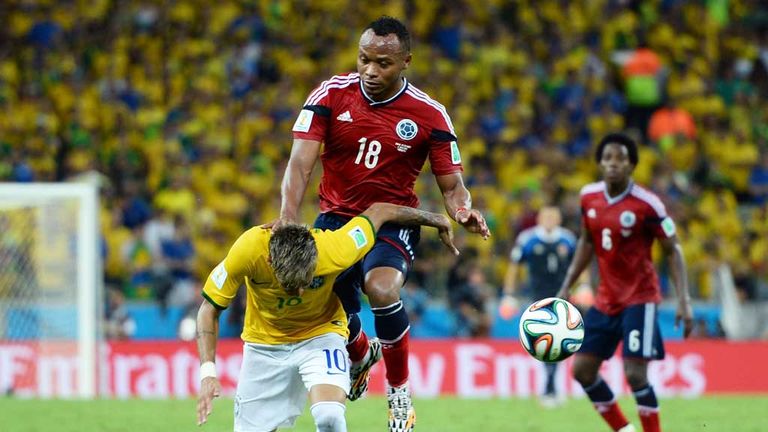 FIFA's disciplinary committee is looking into Colombia defender Juan Zuniga's challenge that left Neymar and the Brazilian nation in agony.
Zuniga bundled into the back of Neymar two minutes from the end of Friday's World Cup quarter-final, putting the Brazil superstar out of the rest of the tournament with a fractured vertebra.  
"The FIFA Disciplinary Committee is analysing all the elements provided, the videos and the match reports and will decide whether or not to take action," FIFA spokeswoman Delia Fischer said.
Zuniga defended the challenge after the match and he has now sent a message of support to Neymar.
"I feel burdened by this situation," Zuniga said in an Instagram message. "It resulted from a normal play and there was no bad intention, evil or recklessness from my part.
"I want to send a special salute to Neymar. I admire you, I respect you and I consider you one of the best players in the world.
"I hope you recover soon in order to continue to show us that in football there is a sport full of virtue and qualities, which I have put into practice since I was 12 years old and as a professional player."
However Brazil's former World Cup-winning striker Ronaldo and Italy's Fabio Cannavaro - who led his country to the ultimate global prize in 2006 - both felt there was culpability on the part of the Colombian. 
"The injury was very violent," said Ronaldo. "I believe there was an intention to hurt by the player. I believe it was very aggressive and very violent."
Cannavaro said: "I didn't like that very high knee. That leads me to believe it was a foul with a prior intention to cause harm. It didn't give me a very good impression. It's a very evident foul."
Brazil won the match 2-1 and will now face Germany in the semi-finals, when Chelsea duo Ramires and Willian will both be pressing their claims to deputise for the hosts' fallen hero.
Willian could, however, be doubtful for the game in Belo Horizonte after withdrawing from training on Saturday with an apparent back problem.
You'll be able to watch Neymar in Champions League action next season on Sky Sports 5 - the new home of European football.