Free Agent - Mark McCammon
The next free agent to fall under our microscope is former Gillingham striker Mark McCammon.
Last Updated: 22/07/11 3:11pm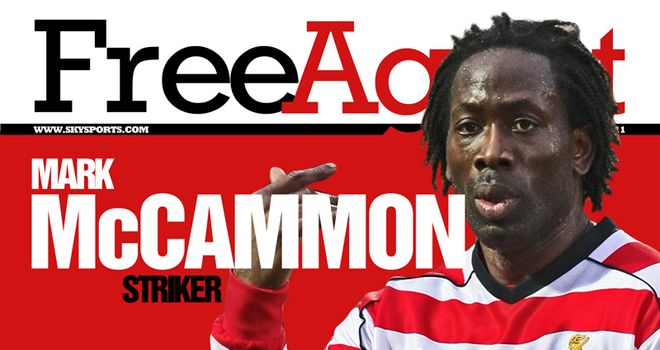 Few people can claim to have graced an FA Cup final, meaning Mark McCammon is part of a very select group. He turned out for Millwall in the 2004 final at the Millennium Stadium, which the Lions lost 3-0 to Manchester United. That was not his first outing at the Welsh national stadium, though, as he was also part of the Brentford side which came unstuck in the 2001 Football League Trophy final. A proven frontman with over a decade of Football League experience, McCammon is looking to open another exciting chapter in his career after previously representing Charlton, Swindon, Brentford, Millwall, Brighton, Bristol City, Doncaster, Gillingham and Bradford.
Is it worrying being an out of contract player in the current climate or is it something you have to accept in the modern game?
You have got to accept it. There are another 1000 or so people that are in the same position. It's part and parcel of football now. A lot of clubs nowadays have low budgets and can't afford to pay out a lot in wages to players filling up their squads. As long as you stay fit and get an opportunity, you have to take it.
There appear to be more and more players dropping into the free agent market each year, is that something which needs to be addressed?
There are and it is worrying. I had a look at the list and there a lot of Championship players on there who are struggling to get clubs and ones that have been in the Premier League. It's a bit of a wake-up call for everyone and you have to take that on board and make the most of any opportunity you get.
How have you approached the summer? Has it been a case of sitting tight or have you been proactive in your search for a new club?
It's about putting yourself out there and putting your name around. Clubs need to know what your attributes are, like mine as a centre-forward. Different clubs are looking for different things but they might be looking for someone with my stature, my ability and my strength and power. It depends what everyone needs. I need someone to have trust in me and maybe go training with them in pre-season. That is what you've got to do at this time of year and hopefully contracts will come out of that.
Are you thinking that you might have to go for a trial in order to get a full-time contract?
I'm not sure. It will depend on the clubs. I still have a decent name. I have been about and have played in the Championship for Doncaster and Brighton and Millwall. I have established myself and hopefully a club will notice that. But you have to be prepared to go for a trial if that's going to help you to get a contract.
Do you have an idea as to the standard you would like to play or is it just about staying in the Football League?
It's all about the Football League. I have faith in my ability and fitness. I was a bit of an athlete when I was younger so my physical attributes will be useful to some teams. You have to keep yourself fit because that is going to help you get in somewhere.
In the lower leagues, clubs will probably leave it late to make decisions on new recruits due to tight budgets. That's not playing into your hands is it?
They will do. They will wait to see what's available. Then come towards the end of the window they will make decisions. They have a lot of options to consider. It's part of football and you have to accept it as players. We are professionals and you have to take it.
Are you prepared to relocate? You have to go where the contracts are don't you?
Exactly. Relocation isn't a big thing for me because I haven't got family to worry about. I've got a girlfriend but I haven't got any children, so I can move. With family you have to worry about schools etc. so it's a bit more difficult, but I'm prepared to go anywhere. I'm prepared to go wherever I'm required. It's all about decision-making and I am willing to consider anything.
What do you feel you would offer prospective employers? What are your best attributes?
I am good at holding the ball and winning the ball in the air. I am keeping myself fit and training hard with Josh Gowling. He played a lot of games in League Two last season and was one of the best centre-halves around, but he's struggling to get a club. It's about making the most of your attributes and if someone gives me the opportunity I will look to show them what I can do.
Are you confident you will get something sorted?
It is early days. It's just fingers crossed now. I need to stay fit and hopefully everything will fall into place.
To see the full list of players currently available as free agents, provided by the PFA, click here.
We would like to hear your thoughts on the best free transfers out there. Who should we be talking to? Who are this summer's bargains? Who should your club be targeting?
Maybe you are a player that would like to be featured, or an agent looking to get a client fixed up for next season.
To offer your suggestions fill in the feedback form below or get in contact with either chris.burton@bskyb.com (@SkySportsChrisB) or alex.dunn@bskyb.com (@SkySportsAlDunn)