Farewell to Fab
Chris Burton wonders what the implications of Cesc Fabregas' move to Barcelona will be for Arsenal.
Last Updated: 15/08/11 10:41am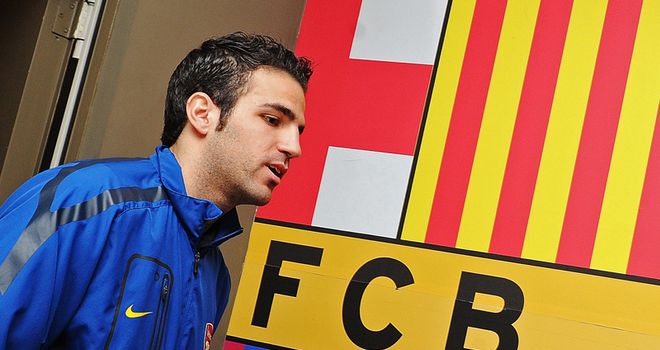 Until the paperwork is signed and he is officially unveiled as a Barcelona player, it may be wise to hold fire on the Cesc Fabregas fall-out at Arsenal.
This, after all, is a saga that has dragged on for about 25 years now, with each passing transfer window bringing about a fresh round of gossip, speculation, rumour and counter rumour.
At times it has been difficult to see light at the end of the tunnel, with some Gunners probably of the opinion that they may never see the conclusion of one of the most tedious and drawn-out pursuits of one of their players in living memory.
Arsenal, understandably, have been reluctant sellers, with it difficult for them to contemplate life without their talismanic skipper.
Yes, they lured Fabregas away from the Barca academy ranks before he was old enough to really understand what he was doing, but that does not make giving him back any easier.
The Spaniard has matured into one of the finest midfielders in world football during his time in England, with international honours with his country - European Championship and World Cup success - only serving to underline just how big a talent he is.
Arsenal will be well compensated for their captain, with it suggested that Barca have finally agreed to match the £35million asking price that has been demanded of them for the best part of 12 months now.
For most clubs, such a sizeable fee would represent good business, with funds instantly made available in the search for a successor.
This, though, is Arsenal, a club led by penny-pincher extraordinaire Arsene Wenger.
The Frenchman likes to keep at least one-and-a-half eyes on the bank balance at the Emirates, with his reluctance to dip into the coffers suggesting that he may be on some sort of reward scheme - why else would he be so keen to keep the club so far in the black?
There is every chance he will see his transfer kitty bolstered even further before the summer is out, with Samir Nasri expected to be the next high-profile departure.
Outlay
He could fetch a £25million fee, even though he has less than a year left on his contract, and, with the sale of Gael Clichy to Manchester City also thrown into the mix, that would mean the Gunners will have brought in around £67million in sales during the current transfer window.
They have spent, with Alex Oxlade-Chamberlain, Gervinho and Carl Jenkinson drafted in - but the total outlay in those three deals amounts to a little over £22million.
Given that there was already money there to be spent before the summer window opened, it would not be out of the question to suggest that, should Nasri be sold as well, Wenger would have some £60million burning a hole in his pocket.
He would still have until the 31st August to bring in replacements, with it imperative that creativity was found should the Gunners find themselves shorn of two of their most influential playmakers.
Moves for the likes of Juan Mata and Jadson could be made, and Arsenal would still have plenty of spare change left over to keep Wenger happy.
It is unimaginable that the Gunners boss would sit on his hands after allowing two key men to slip through his grasp...isn't it?
It is bad enough that Fabregas is destined to depart the club, with the loss of his considerable presence set to leave the Premier League outfit with a mammoth void to fill.
Saturday's 0-0 draw with Newcastle served to underline just how difficult life will be without Nasri and Fabregas.
Both men were missing at St James' Park and the Gunners rarely looked like breaking the deadlock.
They did boss possession, as they always do, and they did muster up 11 efforts on goal, but only two of those hit the target.
Gervinho's dismissal did not arrive until 14 minutes from time, so it cannot be argued that being down to 10 men hampered the Gunners and left them torn between the desire to attack and the need to defend what they already had.
There is no guarantee that Arsenal would have scored had Fabregas played, while Nasri is by no means certain to go and could be drafted back into the fold over the coming weeks.
Threat
The showing on Tyneside did, however, give Arsenal's loyal supporters a glimpse of what their future might hold - and it looked far from bright.
A place inside the Premier League's top four, which they have held for the last 14 years, was already under threat this season, with Manchester United, Manchester City, Chelsea, Liverpool and Tottenham also hoping to be in the running this year.
Now, there is a very real danger that the Gunners could start to implode, with it possible that a domino effect has been put in motion.
Fabregas leaves and Nasri could follow, but who will be next? Robin van Persie will not be prepared to stick around if things take a turn for the worse, while Jack Wilshere, Aaron Ramsey, Thomas Vermaelen and Bacary Sagna deserve to be strutting their stuff on the grandest of stages.
There is also a chance that the sands of time may be running out on Wenger, with the once untouchable French tactician starting to lose his aura of invincibility.
Supporters have already started to question his tactics and the Arsenal boss has admitted that he is 'worried our fans are not behind the team'.
Things might get worse before they get better, with the Gunners currently standing at a fork in the road.
Take the right path, reinvest in the squad, and it might turn out that selling their skipper proved to be a wise move after all, with the club free of endless rounds of speculation and a clearly unsettled player.
Make the wrong choice and the Gunners could end the 2011/12 campaign outside of the UEFA Champions League places, facing supporter unrest and unsure what the long-term future will bring.
Rarely has so much rested on the next move of a manager hardly renowned for his willingness to take chances, chance his arm and try to mould the future of both himself and a club he has spent 15 years carefully nurturing.
Over to you Mr Wenger.