Home discomforts
The 'Wembley factor' has struck England again, but Chris Burton wonders if there is really an issue.
Last Updated: 07/09/11 12:30pm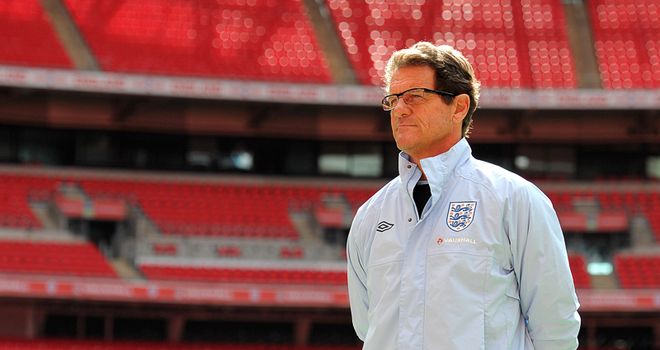 If you believe what you read, and what Fabio Capello says, then England apparently have a problem performing on home soil.
Wembley, following an expensive facelift, was supposed to be the Three Lions' amphitheatre - the stage on which they flexed their gladiatorial muscles and struck fear into the hearts and minds of any opponent that dared to enter.
Unfortunately, the pressure which follows the English national side around like a bad smell is starting to weigh a little heavy, with years of underachievement amid mass hysteria leaving the Three Lions a tad toothless.
Capello admits as much, with a lacklustre 1-0 victory over Wales on Tuesday leaving the Italian scratching his head.
He said: "I think here we lose the confidence. Some players who can usually dribble and can go straight for the goal do not."
As a man paid a reported £6million a year to bring the best out of the England side he really should be able to address these issues, with supporters having grown tired of lame excuses.
They pay good money to watch multi-millionaires run around a field chasing a ball and it is not unreasonable on their part to expect to be entertained.
Fifa's rather questionable world rankings currently have England, a side that has reached the semi-finals of a major tournament just twice since lifting the World Cup back in 1966, as the fourth best team on the planet.
While few England fans would agree that they deserve such a lofty standing, the fact that they are there means they should be wiping the floor with most sides - especially a nation such as Wales that is currently ranked 113 places below them.
A 1-0 victory over Gary Speed's side, at Wembley, in front of a big crowd, in a Euro 2012 qualifier, is not good enough - but a win is a win and three points were picked up.
England now stand on the brink of qualification for next summer's European Championship - with just a point needed from a trip to Montenegro in October - and it has to be acknowledged that qualification was always the priority.
Condemnation
It can also be argued that, despite the justifiable condemnation of recent performances, England will head to Poland and Ukraine in good shape.
Since a shambolic showing against Germany at the 2010 World Cup, the Three Lions can boast a perfect record on the road - with four wins taken from as many outings.
A home record that has brought draws against Switzerland, Ghana and Montenegro, a defeat to France and narrow victories over Hungary and Wales does not bode quite as well, but perhaps we are reading too much into this so-called 'Wembley factor'.
After all, Capello's record on home soil is actually very good.
Under the Italian's tutelage, England have turned out at Wembley 20 times, have won 14 of those games, drawn four and lost only two - both to France.
They have yet to lose a competitive fixture in front of their own supporters under Capello and are 90 minutes away from booking their safe passage to another major tournament - going unbeaten through an entire qualification campaign.
Only five other sides have yet to taste defeat on the road to Euro 2012 - and two of them, Spain and Holland, contested last summer's World Cup final.
When you start digging a little deeper you are able to unearth shoots of hope and promise, with it far too soon to suggest that England's rose garden is in serious decline - it just needs a little tending to.
Capello may be no Alan Titchmarsh, but he is a manager of proven pedigree and he may yet turn out to be the green-fingered maestro England have been crying out for.
There is every chance he will not as well, with there plenty of ammunition to throw at the former Real Madrid, Juventus and AC Milan tactician.
Fun factor
Communication still appears to be an issue, his inability to settle on a starting XI or a clear system is also concerning, while claims on his part that his squad no longer see him as an 'ogre' are hard to believe.
England do not appear to have fun under Capello, and that might be the root of the problem.
If your manager is happy to sit in front of the media a couple of days before a big game and openly admit that you struggle at home, you feel under pressure and you tense up - inevitably you will do all of those things.
Also, if the atmosphere inside the camp is regimented, almost military, then you are not going to walk out onto the field in the right frame of mind.
Relaxed players will feel free to express themselves and play with a smile on their face, not ones that have had it drilled into them that they have to do their specific job or risk losing their place.
Look at Spain's squad, they are basically told to go out and do what they do best, and they do just that - they play with no fear and England could learn a thing or two from the world's best side (whatever Fifa in their infinite wisdom might say).
Should England wrap up qualification against Montenegro on 7th October, avoiding the play-offs, they will press ahead with plans to line up two testing friendlies - both at home.
Spain will visit Wembley in November and a clash with Holland that had to be cancelled in August following the riots in London will be rescheduled for February.
If England think they have problems at home now, things could get a lot worse before they get better.
Spain and Holland will ruthlessly expose any flaws, so Capello needs to stop putting negative thoughts in the minds of his players, settle on a game plan, stick to it and start believing that a possible tilt at European Championship glory can be built on results picked up at home, rather than undermined by them.