Call for 'Rooney Rule'
Graeme Bailey examines the growing calls for a US style 'Rooney Rule' to be implemented in England.
Last Updated: 08/09/11 11:35am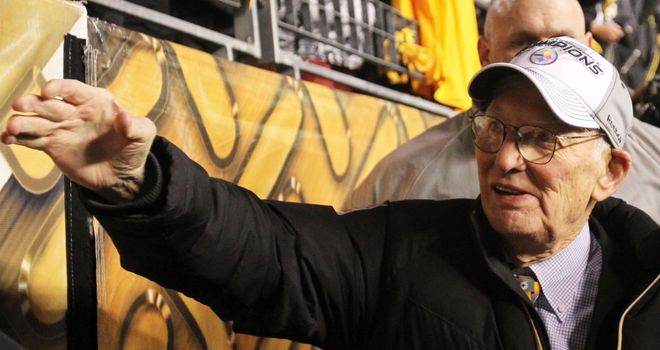 There are growing concerns in English football about the lack of black managers in the game.
Over 20 per cent of professional footballers in England are black, yet as this article is written just two managers [Chris Hughton and Chris Powell] from the 92 professional clubs are black or from an ethnic minority background.
So what can be done? Well one measure being actively looked at is making it a legal requirement for all clubs to interview at least one black or ethnic minority candidate for their manager's job when it becomes available.
This rule is already in place in America's NFL and is called the 'Rooney Rule' as it is named after Pittsburgh Steelers owner Dan Rooney, who is white but was the driving force behind getting more black coaches into their game at the coaching level.
Before 2003, 70 per cent of the NFL's players were black, yet only six per cent of the head coaches were African-Americans. In 2003, Rooney chaired a committee to study the issue. The result was "The Rooney Rule."
Cyrus Mehri, a civil rights lawyer who helped implement the law in America, flew to London earlier this week to address the Football Association, the Premier League, the League Managers' Association and the Professional Footballers' Association.
And Mehri is clear that he feels a similar rule should be implemented by football in England.
"The concept is very feasible and I'm bullish that the success in US can be replicated here," he said.
"It will make clubs more competitive and spawn more job opportunities for black and white candidates.
"We are not saying clubs have to hire minority candidates. We are just saying: 'Give them a chance, maybe you don't know what you're missing.'"
Backing
The PFA have come out firmly backing the plan, and their assistant chief executive Bobby Barnes told me why they were backing the proposal.
"The PFA have been actively looking at this since the Rooney Rule first came about in 2003," he revealed.
"For a number of years now a number of black players have told us that they felt the avenues into a future in the game were restricted, which led to us pushing on with getting the coaching side opened up and making sure that the guys had the chances to take their badges.
"But again that is not working if there are no jobs for them at the end of it and we are actively working on this. Eight years ago we had six black managers, now we sit here with just two and that is clearly not right.
"And that is where this rule could be implemented. That is not to say that every single job will have to have a black or minority candidate, that is not it at all. It needs to be measured on whether there is a candidate of equal calibre and is suitable for that role, if there is then clearly they should be given that opportunity."
Questions have already been raised about the legality of such an issue, but Barnes explains that is not a cause for concern.
"With regard to the application in the NFL it is not a law but a code of practice adopted by all the owners, and that would be the way to look at it - it would be a rule rather than law."
Leading agent Tony Finnigan is also an advocate of the Rooney Rule and, having played over 200 games himself, he says that he would have loved the chance to move into coaching when he gave up the game in the mid 1990s, but he insists that opportunity just was not there.
"The fact is be it black or white 90 per cent of players would love to stay in the game, that is just the way it is - not because of money but for the love of the game, it is in their blood it is drug - that is why I am still involved," he explained to skysports.com.
"And I don't think the lack of role models idea has anything to do with the lack of black coaches we see at the moment, it is all about getting the chance.
"The problem is with the guys who run the game, things have changed since I was playing - on the field, but not in the boardroom although the influx of foreign owners has changed the attitudes slightly.
"That is why I think this rule should be introduced, it is essential that some leading black players who we see cast aside are given the chance, sometimes you need a leg-up.
"This is not a racism thing, it is just the old school within football needs a shake-up and this would be a huge help with that."
Impact
Rooney himself has been delighted with the impact the rule has made, within three years of its implementation the percentage of black coaches in America jumped to 22 per cent from six.
And Rooney even admits that they are within sight of not even needing the rule any more, such has been the change in thinking.
"I really feel and hope that we will not need a Rooney Rule very long," he said.
And that is in essence the point of the Rooney Rule, not to impose a draconian measure but to change the thinking of those in power, and surely ask the question as to why such an issue should even exist in sport today.
But the issue does exist, the statistics in football show that, and if such a rule will help kick-start the process then there is surely no excuse for it not to be implemented.