Sky Sports Scout - Mason Bennett
Sky Sports Scout is where we scour the globe looking for the best talent, next up is Mason Bennett.
By Sky Sports Scout
Last Updated: 21/05/14 10:55am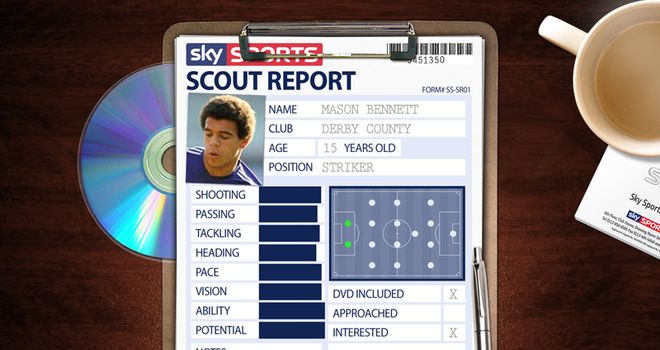 Sky Sports Scout is our exciting feature where we scour the globe looking out for the best talent and bring you a report on what we find.
Our Scout will report back and you can comment on what you think of our appraisal.
Also, in association with Football Manager, we give all readers the chance to win a copy of the latest game by nominating a player.
You can only nominate a player by emailing here, including the word 'Scout' in your subject line and please check to make sure we have not already covered the player, you can see over 100 previous reports to the right of the page.
Should your player get reviewed by our scout, and you were first to send in his name, then you will win a copy of Football Manager 2012.
You can also now interact with the scout via his all new Twitter feed! You can get in touch with him and interact here or just search for @skysportsscout!
Latest under our scout's gaze is Derby starlet Mason Bennett - recommended by Sky Sports reader John Brent.
The scout reports...
Baby-faced maybe, but there is nothing else baby like about Derby County starlet Mason Bennett.
The 15-year-old has captured the headlines in recent weeks after becoming the youngest ever player to start a Football League game.
But how good is Bennett? Is he the real deal? We take a closer look at the teenage talent.
Bennett, despite his age, has long been billed as one to watch but his progress in the last year has been excellent.
Even at the age of 14, Derby were already throwing him into reserve team action such was his ability to play at a higher level. Indeed he made his reserve debut just three months after his 14th birthday.
At 14 Derby tied Bennett down to a five-year deal and the local-born youngster appears more than happy to progress within the ranks at Pride Park.
Bennett is also an England youth international and is already a regular for the Under-17 side.
Bennett, despite his age, has an athletic build and, aside from his childish complexion, you would not notice him as a teenager. Similar in build to a young Wayne Rooney he is full of pace and power.
He made his debut against Middlesbrough in October, and he was clearly not out of place and indeed almost scored on his maiden appearance.
The scout says...
A truly remarkable talent, who will hopefully be allowed to progress at Derby, but scouts are already circling.
Derby can fully expect at least a few seasons out of Bennett, but if his progress continues then his long-term future will lie with one of the Premier League's elite.
The Scout rating...
Shooting: 8 out of 10
Passing: 7 out of 10
Tackling: 5 out of 10
Heading: 7 out of 10
Pace: 8 out of 10
Vision: 7 out of 10
Current ability: 7 out of 10
Potential ability: 10 out of 10
OVERALL SCOUT RATING: 59/80
Current value: £2million
Potential value: £30million
Your opinion...
You have read our opinion of Mason Bennett - now we want your views. Have you seen Bennett in action? Do you agree with our assessment? Do you think he will make it?
Get in touch, either using the form below, email or the scout's Twitter feed - @skysportsscout
And if you have spotted anyone you think we should feature then please get in touch using the same form. We will look to send out the Scout to follow up your leads.