Relief and anger
Harry Redknapp knows all about pressure but the biggest victory of his career came at the Crown Court.
Last Updated: 08/02/12 12:42pm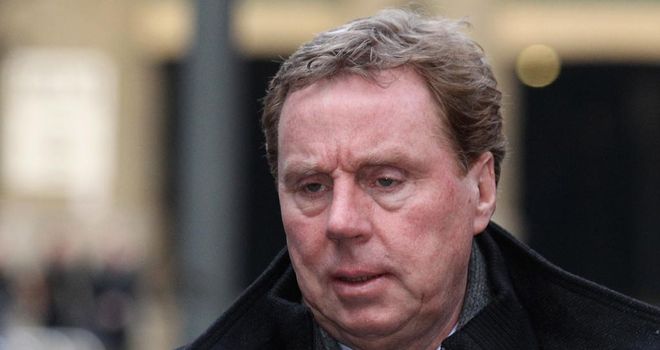 The England job should feel like a breeze after this. Promotions, relegations and cup finals - no footballing showdown has tested Harry Redknapp's mettle more.
As he walks away from London's Southwark Crown Court a free man, relief is mixed with anger for the Tottenham manager.
Fighting corruption smears which have lingered for almost half a decade have come at a cost to both his pocket and reputation.
To prove he is no wheeler-dealer or bung-taker, Redknapp was forced to open his private life to painful public scrutiny.
He has been forced to say how - at the age of 64 - he struggles with literacy and has lost millions of pounds in disastrous business investments.
Redknapp was pushed to the verge of tears as he denied claims he had told "a pack of lies".
Guilty verdicts - which would have left his career in turmoil - were unthinkable for a man so used to winning.
And the parallels with his day job were obvious as Redknapp took up a familiar pose, leaning tensely forward in his seat to watch the action unfold at Southwark Crown Court.
The manager unveiled a star signing, barrister John Kelsey-Fry QC, as he swapped the dugout for the dock.
With a packed crowd looking on, Mr Kelsey-Fry earned his Premier League-sized wage slip by converting all his chances to convince jurors his client was no tax dodger.
Redknapp's financial misadventures were played out in such detail that they were convinced the soccer boss was too busy to be bad.
They also accepted Redknapp's claims that he turned his back on the Monaco account named after his dog, Rosie.
He told police he wrote like a two-year-old and said he was framed because his name was Harry and he is a Cockney.
He admitted misleading a News of the World reporter but angrily insisted he was no liar.
There was a glimpse of his disgust at the police investigation as Redknapp lost his cool in the witness box with Detective Inspector Dave Manley.
"Mr Manley, will you please stop staring at me," Redknapp shouted. "I know you are trying to cause me a problem, OK."
His disbelief at being arrested centred on the fact that - unlike other managers - he voluntary disclosed details of the offshore account at the centre of the investigation.
Having told the 2006 Premier League Quest bungs inquiry about Monaco, he was first held in November 2007 by detectives investigating transfer deals at Portsmouth and at Birmingham.
His subsequent acquittal alongside Milan Mandaric four years on is the final whistle on a disastrous investigation.
City of London Police and HM Revenue and Customs spent an estimated £8million investigating claims of tax-dodging among football's rich and famous.
Redknapp's arrest was part of a wider inquiry, dubbed Operation Apprentice, into alleged football corruption.
Other figures who came under the police spotlight were Birmingham's former managing director, Karren Brady, and former co-owner, David Sullivan. Both denied wrongdoing and were not charged.
Portsmouth chief executive Peter Storrie was also exonerated after being being tried alongside Mandaric at a previous trial.
None of it brings much comfort for fans of Portsmouth, which has been in financial turmoil following changes in ownership.
But Tottenham fans will be delighted.
If, as has been reported, the Football Association offers him his dream job of England manager this summer, the agonies over the past few weeks will be worthwhile.
For all the inevitable pressures that the job entails, Redknapp will do well to remember the turmoil of his time in Court 6.