Euro Star
Joao Moutinho endured penalty misery but he threatened to overshadow Spain's midfield.
Last Updated: 27/06/12 11:11pm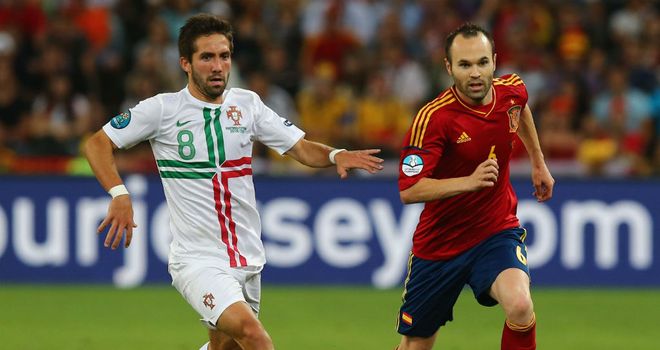 Joao Moutinho endured penalty misery but he threatened to overshadow Spain's midfield.
The Porto midfielder has long been linked with a move to England, and it was on show for all to see just how much the diminutive midfielder has to offer.
Often regarded as a playmaker and attacker, Moutinho showed he has much more to his game.
Portugal knew that if they were to progress against their Iberian neighbours on Wednesday then they would need their midfield to be at the top of their game.
The three of Miguel Veloso, Raul Meireles and Moutinho were good but it was the Porto man who stood out.
He was given the unenviable task of pushing on and trying to stop Xavi from playing - and there can be few arguments that that is just what he did.
Moutinho, especially in the opening 45 minutes, was everywhere that Xavi was and he also pushed on try to spark an attack or two.
Xavi was taken off just before extra-time, Spain knowing they needed a plan-B. By this point Moutinho was tiring - but even during extra-time he, along with full-backs Fabio Coentrao and Joao Pereira, bombed up and down the pitch, never giving up on their task of keeping the Spanish Armada at bay.
Interest
On the back, not just of this display but of his entire tournament, it is impossible to imagine the interest in Moutinho not soaring - especially from England.
Still only 25, Moutinho has shown that he could physically live with any midfield task - we already knew about his technical skill and his ability to unlock defences.
But more than that in Poland and Ukraine, his discipline, work-rate and exemplary following of team-orders shone through.
Just a matter of years ago, David Moyes on more than one occasion tried to get Moutinho to Goodison Park - he clearly knew what a talent he was.
Andre Villas-Boas wanted him at Chelsea last year, and should he take charge at Spurs you could easily expect him to be again top of his wanted list.
But Moutinho has now performed at one of the biggest stages in world football - and should he leave Porto this summer, he will have his choice of clubs.