Ups with Downes
Wally Downes told Goals on Sunday why West Ham is "a football club again" under Sam Allardyce.
Last Updated: 07/10/12 3:15pm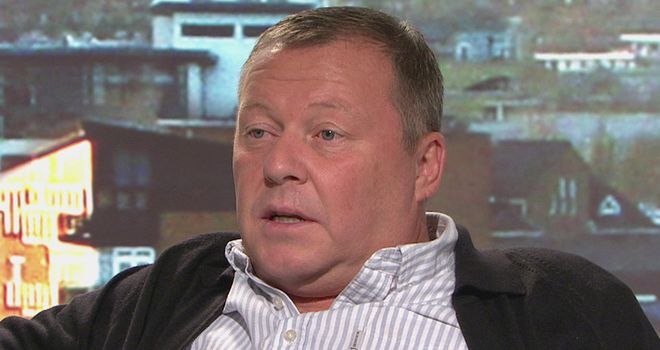 Wally Downes says West Ham has become "a football club again" following the arrival of Sam Allardyce.
The Hammers were facing an uncertain future in the Championship when Allardyce arrived at the start of last season, but he guided the club to promotion at the first attempt - via the play-offs - and they have made a promising start to the Premier League campaign.
Downes was retained as first-team coach following his arrival and he used his appearance on Goals on Sunday to pay tribute to the impact that both Allardyce and Neil McDonald have made in the last 18 months.
"The place needed a shake-up and they've turned it into a football club again," Downes said.
"Previously Franco [Zola] and Avram [Grant] before him had empowered the players quite a lot. Sometimes that works and sometimes it doesn't. With the relegation it needed someone to come in, grab it and turn it around.
"When you've been a manager as long as he has you trust your eye and your instincts and if you've got the statistical back-up you can give that to the players and there's no arguments.
"He's a very switched on guy with stuff like that and he's aware of everything that's going on in the football world from a technical point of view and all the computerised stuff he's spot on with as well."
Start
West Ham suffered their second defeat of the season against Arsenal on Saturday, but Downes says he is pleased with how the team has started the campaign.
Wins over Aston Villa, Fulham and QPR have helped the team to their current position in the top half of the table and Downes says it was crucial to build early momentum ahead of a difficult fixture list in November and December, which sees them face all of last season's top eight sides.
"We couldn't have asked for a better start," he said.
"Arsenal were the first top-four side we've come up against and there was a measurable difference to the clubs we've played so far.
"If we'd have played against any of the teams we've played so far like we did yesterday then we'd have won. We gave a terrific account of ourselves.
"We knew we had to glean some points from the first games because our November and December are very tough; it's only Real Madrid away that we're not playing!
"We had to get some points on the board early and we have done."