Out of their depth?
Rachel Griffiths looks at suggestions San Marino are out of place in international football following their 5-0 defeat by England.
By Rachel Griffiths - Follow me on Twitter @SkySportsRachG
Last Updated: 15/10/12 9:48am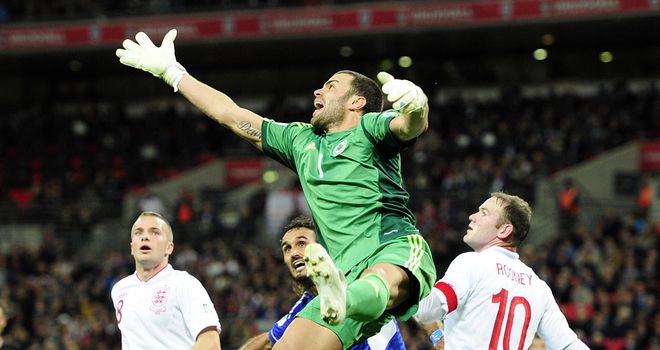 When Friday night's World Cup qualifier at Wembley entered the 35th minute and England were yet to score against San Marino, a sense of embarrassment began to surface - effectively summing up the feelings surrounding the encounter.
They may have been slow starters and in need of patience, but England were always going to beat a team ranked joint worst in the world by FIFA and beat them they did, strolling to a comfortable, if uninspiring, 5-0 success in what was a mismatch of epic proportions.
Looking at San Marino's dismal record, England actually fell short of the mark. Their average away defeat in the last nine years clocks in at 6-0, with the minnows having now conceded 136 goals in 23 games on the road since they last scored.
Since becoming a member of FIFA in 1990, San Marino have won just once, against Liechtenstein in 2004.
Little resistance
The visitors, predictably, offered little in the way of resistance at Wembley and calls for their like to be pulled from competitive international football will have intensified after Friday's dull and ultimately pointless encounter.
Those who want to see a more level playing field but feel San Marino deserve the chance to compete have called for pre-qualifiers, as have been implemented in the cricket and rugby World Cups.
After Friday's game, the latest in a long line of heavy defeats for San Marino, it seems an increasingly valid suggestion.
Mismatches like the one at Wembley no doubt devalue international football. It was a completely lop-sided affair, with the visitors rarely making it out of their own half as England were invited to apply the pressure throughout while San Marino well and truly parked the bus.
There was no real meaning to the match, which will only serve to fuel complaints by clubs and their managers over the futility of such fixtures. Arsenal boss Arsene Wenger will have been left particularly aggrieved after seeing Theo Walcott fall victim to an incompetent challenge by visiting goalkeeper Aldo Simoncini which has left the winger ruled out of Tuesday's qualifier against Poland with a chest injury.
Restricting England to only five goals on home soil might have been seen as something of a triumph by the visitors but while their defending was brave, the home side's lack of ideas and occasional sloppiness were as much responsible for the absence of the expected cricket scoreline. You have to wonder how it affects the morale of the team when their main aim appears to be damage control. Having been on the end of some sizeable thrashings in recent years, confidence in the side is unlikely to be flying high.
At the risk of sounding condescending, competing in pre-qualifiers with other lower ranked teams, such as the Faroe Islands and Andorra, could actually help San Marino, many of whose players are only part-time footballers and work regular jobs, by allowing them the chance to get some results under their belt and driving them to improve.
Limited
It could be argued denying San Marino exposure to this level of opposition will hinder their chances of doing just that. But the statistics don't lie - the minnows aren't getting better and are unlikely to do so against Europe's leading powers with limited resources at their disposal and a population of just over 32,000.
England manager Roy Hodgson pointed out when quizzed on San Marino's involvement in the qualifiers: "They play the way they play and do the best they can with the resources they have."
That may be true. But those who witnessed Friday's dour and massively unbalanced encounter are unlikely to be rushing to mark the calendar for what will in all likelihood be a repeat performance from the minnows in the reverse fixture in March.