Sky Sports Scout - Christian Atsu
Sky Sports Scout is where we scour the globe looking for the best talent. Next up is Christian Atsu.
By Sky Sports Scout - Tweet me: @skysportscout
Last Updated: 21/05/14 11:28am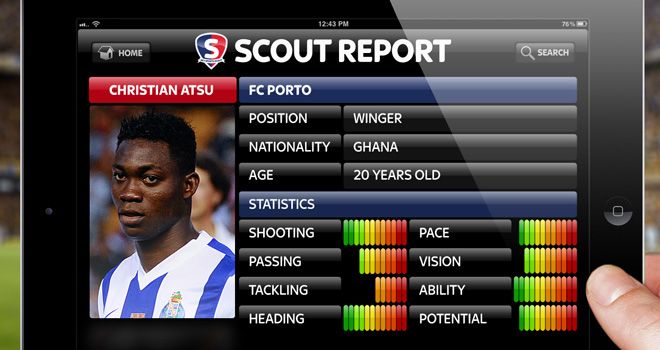 Sky Sports Scout is our exciting feature where we scour the globe looking out for the best talent and bring you a report on what we find.
Our Scout will report back and you can comment on what you think of our appraisal.
Also, in association with Football Manager, we give all readers the chance to win a copy of the latest game by nominating a player.
You can only nominate a player by emailing here, including the word 'Scout' in your subject line and please check to make sure we have not already covered the player.
Should your player get reviewed by our scout, and you were first to send in his name, then you will win a copy of Football Manager 2012.
You can also now interact with the scout via his all new Twitter feed! You can get in touch with him and interact here or just search for @skysportsscout!
Latest under our scout's gaze is Porto's Christian Atsu - recommended by Sky Sports reader Sim Patel.
The scout reports...
Christian Atsu is already being heralded as one of the best young African players. We check on the Porto winger.
20-year-old Atsu is a recent introduction to the first-team at the Estadio do Dragao, having been with the club for just over three years.
Atsu began his footballing career on the streets of his hometown Ada Foah, from where he was spotted by Feyenoord's Football Academy in Gomoah Fetteh.
However, despite homing his skills with the academy, his mother told him to return home to finish his eduction, which he did before joining local side Cheetah FC, from where he was spotted by a number of foreign scouts.
A talent spotter for Porto picked him out and he was invited for a trial stint and after just a few days was offered a six-month deal within their academy.
Atsu starred for Porto's academy and before the end of the season, Andre Villas-Boas called him into the senior squad for a game with Marítimo. He did not play but he had obviously done enough to earn a deal and he was handed a three-year contract.
On the back of his new deal, along with team-mate Kelvin, he was sent out on a season-long loan to Rio Ave - and this proved an excellent decision as Atsu blossomed in Northern Portugal.
He played the whole season for Rio Ave, scoring six goals in 27 games. And it was no surprise that after his year away he was introduced into Vítor Pereira's first-team.
But before his debut for Porto this year, Atsu's progress was spotted by his nation and he was called up by the Black Stars - making his debut in June against Lesotho and scoring in the process.
Upon his return to Oporto, Atsu is now a first-team regular for Porto and is showing some wonderful form.
A diminutive left-winger, Atsu's main weapon is his explosive pace, which means he can beat almost any full-back he comes up against.
He is still raw, but there is little doubting his loan spell at Rio Ave did him so much good. His crossing and passing is good, although he still has a tendency to keep his head down and when he does look up he likes to take a shot on, even when it may not be the best option.
The scout says...
There is no doubting Atsu is full of potential and looks a hugely exciting prospect. His progress in the last 12-months has been sublime.
Porto is an ideal club to bring on Atsu and if his continues his progression he could be a name on everyone's lips very soon.
The Scout rating...
Shooting: 7 out of 10
Passing: 8 out of 10
Tackling: 5 out of 10
Heading: 5 out of 10
Pace: 9 out of 10
Vision: 7 out of 10
Current ability: 7 out of 10
Potential ability: 10 out of 10
OVERALL SCOUT RATING:58/80
Current value: £1million
Potential value: £12million
Your opinion...
You have read our opinion of Christian Atsu - now we want your views. Have you seen Atsu in action? Do you agree with our assessment? Do you think he will make it?
Get in touch, either using the form below, email or the scout's Twitter feed - @skysportsscout
And if you have spotted anyone you think we should feature then please get in touch using the same form. We will look to send out the Scout to follow up your leads.