Cup Dreams
We catch up with Hastings United boss Sean Ray ahead of their FA Cup third round clash at Boro.
Last Updated: 04/01/13 12:25pm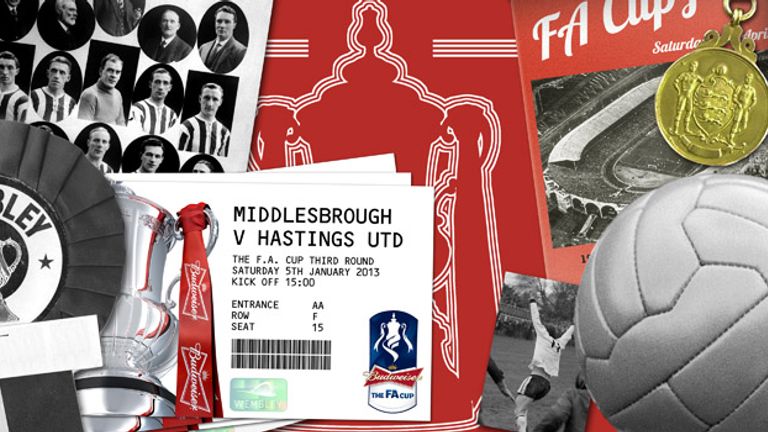 Hastings United are living the dream, and no-one more so than their player-manager Sean Ray.
As the lowest ranked club left in this season's FA Cup, the Isthmian League Premier Division side travel to Championship promotion chasers Middlesbrough on Saturday.
Although not the dream Premier League tie any lower league or non-league club will be looking for in the third round, Hastings cannot wait for their trip to the Riverside.
"They are Premier League standard, the facilities they have is all geared to Premier League standard," Ray told Sky Sports.
Task
But despite the size of the game and task in hand, Ray reveals that Hastings are trying to keep a sense of normality around the squad, which will mean a bit of travelling.
"We are staying in Newcastle, it is only an hour away but we want to try and keep it normal and for us on the Saturday we normally have to travel an hour, an hour and half so it keeps that normality to it and then we are back in Newcastle for Saturday too!"
And it is clear for all to see that the South Coast town has been gripped by cup magic with over 1,000 fans expected to make the 600-mile trip themselves on Saturday.
"It is massive, the interest we have had, the support we have had has been brilliant and a little overwhelming at times. But the boys are really looking forward to it and you want to play against the best players and we have that chance now," said the Hastings boss.
"They have got a lot of good players, they have international players in their squad so we are under no illusions about the task in front of us but we have to go there and believe - but all throughout this run nobody has fancied us.
"Against Bishop's Stortford in the first round nobody fancied us, and then Harrogate in the second round again nobody fancied us. We have beaten bigger opposition all the way through and we have not been fancied, but being the underdogs suits us."
Ray himself is a rare breed as a player-manager, and that means he will be taking his place in the team at the Riverside come three o'clock.
"I will be playing, it is a rare thing being player-manager - you need good people around you and I have good coaching staff, a good number two and a good set of players and they all combine to make my life easier."
The fact Ray is even playing in the game is a huge turn-around in his fortunes as he thought his Hastings career was all-but over before he was handed the managerial job back in November 2011.
"I had a fall out with the manager and I went out on loan for one game, but after that game he lost his job so the assistant brought me straight back and it went from there," he said, also revealing he had to be persuaded to take on the role.
"At first I did not want the job, I turned it down as I was only 30 and I told the club who they should get as manager and they spoke to him a few times but could not work out a deal. So they came back and offered it to me again and I decided to bite the bullet and go for it," he said.
Ambition
"I have always had ambitions to be a manager, it is always something I wanted to do but I emphasised it would be in four or five years and not now, but I have always wanted to do it and as soon as I got offered it the one thing I made clear was that we need to build this club, starting from the bottom.
"It is a two or three-year job here and we are starting with five-year-olds. We are building a youth section and we are now taking this club into the community, it is a long-term vision but my personal ambition is to manage as high as I can, whether it be with Hastings or someone else."
Hastings are just three promotions away from the Football League and Ray admits that they do have that as an ambition.
"The one thing we do is that we live within our means, we don't have money to throw about and the FA Cup won't change that. But within a few years we want promotion to Blue Square South and then within five years to the Blue Square Premier - that is the long-term target but that will come from developing our own players too, so we are more self-efficient - that is the plan for this club."
Ray insists that Hastings could easily support a Football League side.
"We have got about 70-80,000 people in our town and the interest is there - when we played Harrogate we had over 4,000 people there so we know the interest is there and if we do things the right way, I know the locals will come out and support us," he admitted.
"When you think Wigan only have a population of 40,000 and are in the Premier League! The disappointing thing is that at the moment we only get 400, it was not that long ago that we did get 800 to 900 regularly so we need to get them back and the FA Cup will help with that too."
As part of our FA Cup dreams feature we will be covering our featured game live in each round.