Sky Sports Scout - Nicolas Isimat-Mirin
Sky Sports Scout is where we scour the globe looking for the best talent. Next up is Nicolas Isimat-Mirin.
By Sky Sports Scout - Tweet me: @skysportscout
Last Updated: 21/05/14 11:37am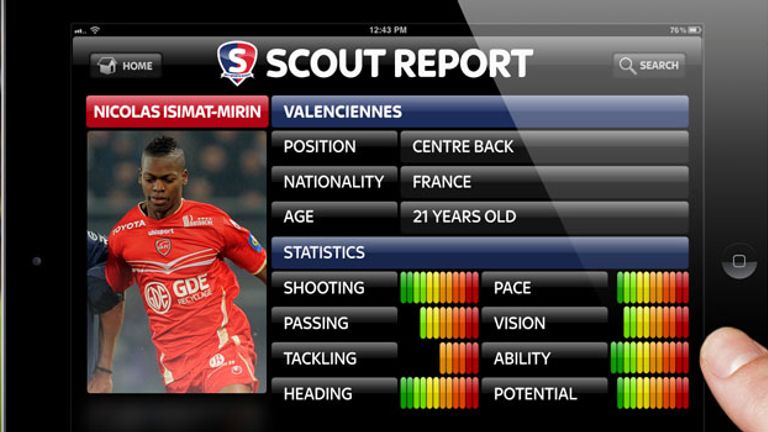 Sky Sports Scout is our exciting feature where we scour the globe looking out for the best talent and bring you a report on what we find.
Our Scout will report back and you can comment on what you think of our appraisal.
Also, in association with Football Manager, we give all readers the chance to win a copy of the latest game by nominating a player.
You can only nominate a player by emailing here, including the word 'Scout' in your subject line and please check to make sure we have not already covered the player.
Should your player get reviewed by our scout, and you were first to send in his name, then you will win a copy of Football Manager 2013.
You can also now interact with the scout via his all new Twitter feed! You can get in touch with him and interact here or just search for @skysportsscout!
Latest under our scout's gaze is Valenciennes' Nicolas Isimat-Mirin
The scout reports...
Nicolas Isimat-Mirin is one of France's top young prospects, we check on the defender strongly tipped to move to England.
Isimat-Mirin began playing at a young age, and he joined his local side Roissy-en-Brie aged just nine. In 2003 he was picked up by the famed French national academy at Clairefontaine.
After graduating from Clairefontaine, he was signed by Rennes - who themselves are regarded to have one of the best youth sections in France.
But Isimat-Mirin did not settle well into life in Brittany and after just two years he was released aged 17. At this time in 2009, Valenciennes had just set up their own youth academy and they handed him a chance with them.
Isimat-Mirin grabbed his opportunity. In less than 12 months, the young defender found himself in the first-team squad of Philippe Montanier and he was making his debut in early 2010 in Ligue 1 against Bordeaux.
Not long after this, and now in the French youth set-up again featuring for the Under-20s, he was handed his first professional deal, penning a three-year contract. This was extended by a further year in late 2011.
Now little over three years after being released by Rennes, Isimat-Mirin is emerging as one of the most sought after young players in Europe.
The 21-year-old is being closely tracked by Liverpool and Newcastle, who are being tipped to make moves in January.
Isimat-Mirin is a classy performer, who is very much a modern footballer - an athlete to look at, he is an all-round player.
Good in the air, strong in the tackle and can pass the ball, he is rash and can be guilty of lapses in concentration, as many young players can but Isimat-Mirin is improving all the time which is no doubt what many clubs have picked up on.
Valenciennes are working hard to keep hold of him this month, but it remains to be seen whether they will be successful.
The scout says...
A very good defender, Isimat-Mirin is unlikely to represent a huge gamble to those interested.
A move in the next six months look highly likely, and from there it will be a case of seeing how he settles in a new environment having thrived at his current club since joining.
The Scout rating...
Shooting: 6 out of 10
Passing: 7 out of 10
Tackling: 7 out of 10
Heading: 8 out of 10
Pace: 7 out of 10
Vision: 8 out of 10
Current ability: 8 out of 10
Potential ability: 10 out of 10
OVERALL SCOUT RATING:61/80
Current value: £8million
Potential value: £18million
Your opinion...
You have read our opinion of Nicolas Isimat-Mirin - now we want your views. Have you seen Isimat-Mirin in action? Do you agree with our assessment? Do you think he will make it?
Get in touch, either using the form below, email or the scout's Twitter feed - @skysportsscout
And if you have spotted anyone you think we should feature then please get in touch using the same form. We will look to send out the Scout to follow up your leads.