Brits Abroad - Alan Walsh
Continuing our Brits abroad series in which we speak to players and coaches to get the lowdown on their time overseas, Adam Bate talks to former Darlington and Bristol City forward Alan Walsh about his two title triumphs in Turkey with Besiktas.
By Adam Bate - Follow @GhostGoal
Last Updated: 01/02/13 5:13pm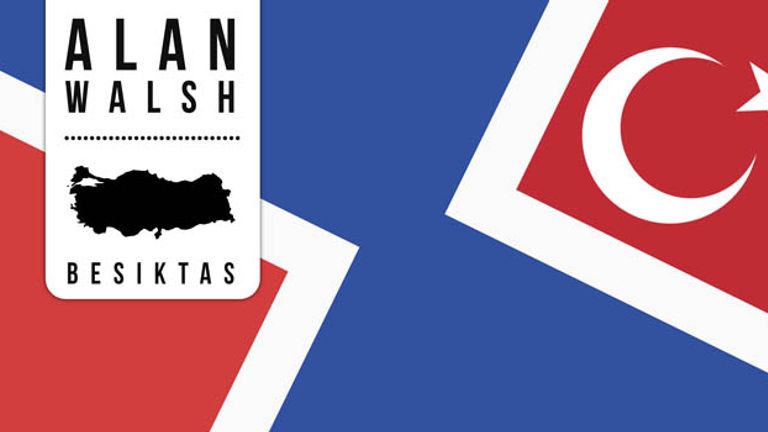 In the summer of 1989, Alan Walsh thought his successful career as a lower league footballer with Darlington and Bristol City was coming to an end. But when the Quakers' all-time record league goalscorer was handed the opportunity to go abroad to play for Turkish giants Besiktas at the age of 32, he promptly helped the club to back-to-back Turkish titles in a dramatic swan song to his career. Adam Bate caught up with Walsh, now a youth coach to Bristol Rovers, to find out more.
How did the move to Besiktas come about?
Bristol City had offered me a three-year contract and at that time I thought the service I'd offered them deserved a better deal. Then Gordon Milne rang up and asked me to join him in Istanbul with Besiktas.
He asked me what my thoughts were on going out there. I told him I'd have to discuss things with my wife, which I did, and she was willing to go so that got the ball rolling. Then he said the best thing to do was to come out and have a look at the place.
So I had the chance to see them in the Turkish cup final towards the end of June. Obviously our season had finished in May.
My first impressions were quite good because obviously when they're interested in signing you, they look after you. So we were put in the Hilton hotel that overlooked Besiktas' new stadium by the Bosphorus. And they showed us round the schools and apartments. Everything was favourable for going out.
On the weekend they were playing Fenerbahce at home in the second leg of the Turkish cup final. I went to the game and it was absolutely baking hot. I was thinking, 'How am I going to play in this?' It was a full house and there were 35,000 in there. They drew the game to win the trophy and the place was absolutely buzzing.
Were you surprised by the passion of the supporters?
Oh yeah, they were fanatical fans. It was quite unbelievable. I went back home and had a think about it. At that time we hadn't spoken about finances or anything like that. He just wanted to know whether I had the desire to go out there. I signed the contract.
And it went pretty well?
Yeah it was quite successful. We had a pre-season in Germany for about three weeks and then came back and had a little sports writers' cup they called it between the three big clubs in Istanbul which was Fenerbahce, Galatasaray and Besiktas. We won that.
Then we had the equivalent of their charity shield where the league winners played the cup winners. And we won that. Then the season started and it started really well for me because I scored two goals on my debut.
But you soon saw the other side of that passion support...
You've got two sides of the coin there. When the team are winning everyone is bouncing. But when you lose a game that perhaps you're not expected to lose then they show their anger.
It was the third game of the season and we played a small team from Istanbul and got beat at home. I think we were still top of the league and I couldn't believe the reaction. It was like that was it - the team had lost the championship in the third game of the season.
There were demonstrations outside the ground when we were leaving. We got back to the training ground and there were supporters there baying for blood. That was on the Saturday. We went into training on the Monday and there were more supporters there. We couldn't train on the pitch because they were so angry.
From then until the end of the season we hardly lost another game. You didn't dare lose a game! We won the league and we won the cup as well. So it was quite productive and successful for the team.
How did you find the standard out there?
The Turkish players were technically very good. Gordon Milne had gone out there as an English manager and had obviously got the ability in the Turkish players and what he tried to instil in the players was an English work rate and mentality of pressing and getting the ball back. It worked.
At that time the Besiktas team had seven or eight Turkey regulars in the team. It was lucky for me that the team was full of most of the top players in Turkey at the time.
So that was my first season, we'd won all the competitions we played in. The second season was a productive season again. We won the league again but we didn't do the double. But overall, the two years were a successful time for me over there.
And you enjoyed things off the field as well?
What you find out there is that if things don't go right on the pitch then nothing goes right. And if things go well on the pitch, then everything goes well. Luckily we were winning the majority of games so the lifestyle was fantastic.
When I went out there I was 32 going on 33 and the mentality out there was that most of their players didn't go on past 31 or 32. Their mentality was that once you got to that age you were finished so they were questioning what Gordon Milne was doing bringing in a player who was past it.
So I had to start off by proving a point really. At times that was difficult but 95 per cent of the time it was great.
So were you sad when it ended?
I was. But by the time I left I was getting on to 35. At that time there was the UEFA rule that you only had three foreign players in your team and they had a rotation of new players coming in. I would have loved to stay for another season and if I'd got two that would have been absolutely fantastic but it wasn't to be and I came home.
Was it strange to go back to English football's lower leagues after what you'd been used to?
It was strange yeah. Someone once told me that when you go out of the English game for a couple of seasons you are quite quickly forgotten about. Coming back, I had more clubs in my first season than I'd had in the whole of my career. All I was doing was going from club to club covering for players who were injured.
A bit of a come down in a way?
It was probably hard for people back home to visualise what had gone on in Turkey. I'd come from Bristol City which was at that time in the old third division of English football and they were quite far ahead over there in Turkey in terms of preparation for games.
We had our own accommodation at the training ground, our own full-time chefs, masseurs and everything was geared towards the player. The way players are looked after now in English football, they were doing that in 1989.
So you went back out to Hong Kong. How was that?
I went out initially for three months and then the family came out and we had a season out there. That was totally different to Turkey. It was so relaxed. Clubs were owned by either companies or rich people and as long as you didn't finish bottom of the league they were quite happy to just go along with it. Totally different to Turkey!
Do you perhaps wish you'd gone abroad earlier then?
I had a reasonable career but when you finish you always wonder whether you've got enough security for your family. And I think about the Turkish situation and wonder if I'd had three or four more years out there then I could have been a little more financially set-up.
So you'd recommend it?
It was a great experience. When I first went out Gordon Milne told me I wouldn't believe how fast these two years would go. And you look back now and think he was right. It's a distant memory but it's a very fond memory.