Deserved centurion
Adam Bate argues that those who talk about Ashley Cole being undeserving of 100 England caps have forgotten why they are awarded and the decline of those who go before him...
By Adam Bate - Follow @GhostGoal
Last Updated: 06/02/13 8:35am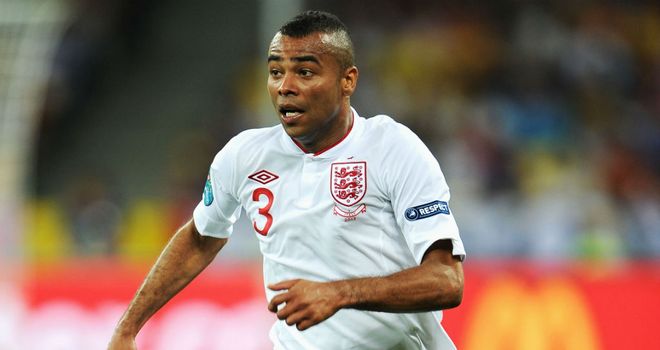 England captain Steven Gerrard has offered to relinquish the armband to honour the occasion of Ashley Cole's 100th cap. But there appears little appetite for celebration. Although Cole will become just the seventh man to represent England 100 times, distaste for the player is too widespread for all that. As such, much of the emphasis seems to be on drawing unfavourable comparisons with the likes of Bobby Moore & Co.
It's nothing new for Cole. There was a palpable relief in many circles that England boss Roy Hodgson opted to play Leighton Baines against San Marino back in October, thus delaying the 'horror' of this 100th cap. The central idea appears to be that reaching three figures represents not merely a number but hallowed ground. They'll tell you that the Chelsea left-back isn't fit to join our Billy and Becks in the club. Do what you like Cashley, say the haters... But let's keep your name far away from the World Cup winning captain and Sir Bobby in the England record books.
Except this isn't a popularity contest. The country is full of honourable men, academic marvels and general do-gooders that have never troubled an England selection meeting. The key requirement for winning an England cap is - funnily enough - to be one of the best footballers in the country. If you hope to achieve that feat on 100 occasions then you need to meet that requirement over an extended period of time. On that rather important score, Cole is as qualified as any of the men to win 100 England caps - and far more deserving than most of them.
Image
"This is a Roy of the Rovers nation," explains Rory Smith in The Times. "One in which passing was widely regarded as suspicious in football's early years because it was not as manly as charging directly at your opposite number. This is a country where heroes put their bodies on the line, where they hurl themselves at the feet of their foe, where games are there to be taken by the scruff of the neck." Hence in the 1950s, Billy Wright, was able to shrug off the experience of World Cup humiliation in 1950 and that chasing against Hungary at Wembley to become the perfect image of the English footballing hero - handy in an era when the team was picked by FA committee.
But if committee meetings guaranteed safe selections, what happens when a captain helps his manager win the World Cup? Moore came to be regarded as the finest defender around when he led Sir Alf Ramsey's England to glory against West Germany at Wembley in 1966. But that was cap number 47. By the time he was back on that turf collecting cap 93, he was well past his best and gifting the same opponents the opening goal in a Euro 1972 quarter-final.
Ramsey finally axed Moore after a calamitous error in Poland that ultimately contributed to England's failure to reach the 1974 World Cup. But with the help of friendly internationals he somehow clung on in order to overtake Wright and Sir Bobby Charlton as England's most capped player. It is as if the nation felt it appropriate and therefore willed it to be so.
And what of the men who have since surpassed him? There was Peter Shilton - a goalkeeper who spent the final years of his international career entirely reliant on his experience on account of the fact that his reflexes were little more than a memory. Sir Bobby Robson even contemplated bringing on Dave Beasant for penalties in the 1990 World Cup semi-final shootout rather than bet on his geriatric goalkeeper. As it was, Shilton stayed on to watch four penalties fly past him before signing off with a bafflingly bad mistake against Italy in the third-place game.
Contrast
As for Beckham, despite the respective pop-star partners in Baden-Baden back in 2006, the contrast with Cole is stark. While the veteran midfielder surpassed Moore's outfield appearances record thanks to a series of bit-part roles, his long-time team-mate has won all 99 of his England caps as a starter. On the occasion of his 100th cap, the record-breaking seven-time FA Cup winner remains a player of substance.
If it feels churlish to point out the low points in the careers of some of England's high achievers, please note that it is done to illustrate the point that winning 100 England caps is not a matter of nostalgia or reward. And if it was about avoiding Twitter controversy then Michael Owen would still be leading the line. Frankly, it's not even about being the best but merely the best in your position - something the England left-back may well be despite calls for him to be replaced by the impressive Baines, a man who has yet to play in that Champions League thingy that Cole won in May.
None of this means any Englishman or woman is obliged to love Ashley Cole. Feel free to wish he wasn't England's best left-back. Perhaps even wish him ill if that is your wont. But the next time you hear someone suggesting he doesn't 'deserve' to win 100 England caps, it's worth remembering exactly why it is that football players are awarded them.
A version of this article originally appeared on Football365