Sky Sports Scout - Will Hughes
Sky Sports Scout is where we scour the globe looking for the best talent. Next up is Will Hughes.
By Sky Sports Scout - Tweet me: @skysportscout
Last Updated: 21/05/14 11:38am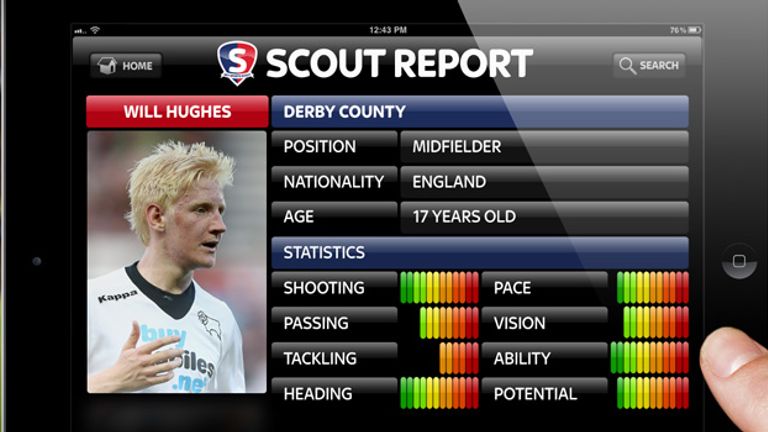 Sky Sports Scout is our exciting feature where we scour the globe looking out for the best talent and bring you a report on what we find.
Our Scout will report back and you can comment on what you think of our appraisal.
Also, in association with Football Manager, we give all readers the chance to win a copy of the latest game by nominating a player.
You can only nominate a player by emailing here, including the word 'Scout' in your subject line and please check to make sure we have not already covered the player.
Should your player get reviewed by our scout, and you were first to send in his name, then you will win a copy of Football Manager 2013.
You can also now interact with the scout via his all new Twitter feed! You can get in touch with him and interact here or just search for @skysportsscout!
Latest under our scout's gaze is Derby's Will Hughes
The scout reports...
Sometimes a talent comes along, even looking at the best talent in the world, that stands out even above them, and one of these players is Will Hughes.
He has been linked with virtually every club in the Premier League, whilst Barcelona have also been mentioned. It is very easy to take such links with a pinch of salt but having witnessed Hughes in action, you start to wonder just how far this young talent could go.
Surrey-born, Hughes moved to Derby with his family at the age of two and fate meant that a prodigious talent had been delivered to County's doorstep.
He joined Derby as a first year scholar aged 15 but less than 18 months later he was making his debut for the first-team.
His debut for The Rams came in late 2011, and now he is already a key figure in the first team of Nigel Clough.
In January 2012 he was called into the England Under-17 squad, but within 12 months he was becoming the second youngest player to play for the Under-21s - with only Theo Walcott younger.
So is he all that? Simple answer - YES. Hughes is a phenomenal talent. Despite already standing at over 6ft, his physique is by no means the first thing you notice, that is his mop of blond hair.
But, although it is his head that first catches your attention, your eyes are soon drawn to his feet - particular his left-foot, which just oozes class from the moment it touches the ball.
Whilst he can use his right, and it is something he himself admits he is working on, his left footed ability is a joy. His eye for a pass is one which belongs to a player way beyond his years, he can cut a defence at will, when he is not driving at the opposition himself that is.
He gets likened to many players - but for me, he is the closest thing to a young Steven Gerrard I have seen in a long time. Less likely to play a Hollywood cross-field pass than Gerrard, that is in his locker, but it is his drive and his will to win, coupled with his God-given natural ability which makes it easy to compare.
Many players get tags as the next big thing, but similar to when the likes of Gascoigne, Gerrard, Wilshere emerged, Hughes is the real deal, and it is clear to see that.
Injury permitting, Hughes has it all in front of him, and should he move to the Premier League this summer, as many feel he will, you could very well see him on the plane to Rio with England in 2014.
The scout says...
A truly wonderful talent, who will soon have a huge choice to make, if Derby don't get promotion this summer.
England's elite are hovering and it will be more of where Hughes wishes to continue his footballing education as he will have his pick of clubs. One thing is for sure, remember the name Will Hughes - he will soon be one of the names in English football.
The Scout rating...
Shooting: 7 out of 10
Passing: 8 out of 10
Tackling: 8 out of 10
Heading: 7 out of 10
Pace: 7 out of 10
Vision: 9 out of 10
Current ability: 8 out of 10
Potential ability: 10 out of 10
OVERALL SCOUT RATING:64/80
Current value: £15million
Potential value: £40million
Your opinion...
You have read our opinion of Will Hughes - now we want your views. Have you seen Hughes in action? Do you agree with our assessment? Do you think he will make it?
Get in touch, either using the form below, email or the scout's Twitter feed - @skysportsscout
And if you have spotted anyone you think we should feature then please get in touch using the same form. We will look to send out the Scout to follow up your leads.