Sense or sentiment
Chelsea's all-time scoring record is in sight for Frank Lampard, a player with an outstanding career and numerous trophies behind him. But should the veteran midfielder be offered a new contract by Chelsea?
By Rob Parrish - Follow me on Twitter @skysportsrobp
Last Updated: 18/02/13 3:02pm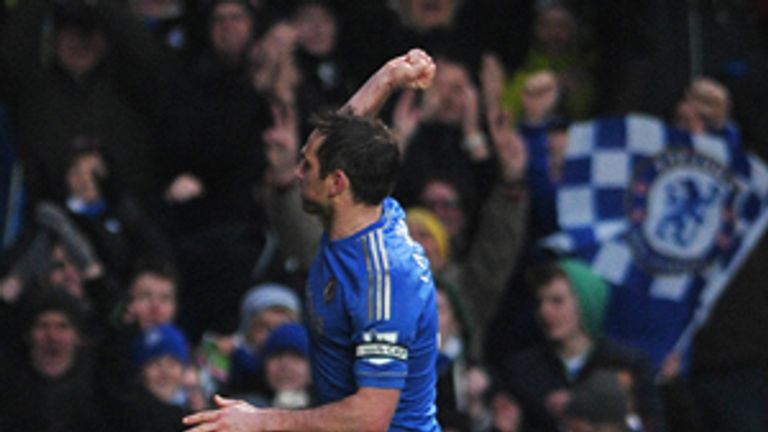 Frank Lampard was in record-breaking mood for Chelsea on Sunday as he notched his 26th FA Cup goal for the Stamford Bridge club in the fourth round replay victory over Brentford, surpassing the mark previously held by Bobby Tambling.
The veteran midfielder is now just three goals behind 1960s legend Tambling's all-time Stamford Bridge scoring record of 202 and it is surely just a matter of time before he surpasses that standard to etch his name ever more indelibly into the club's history books.
The 34-year-old is now in the 12th season of a glorious career with the West London giants, having arrived in an £11million move from West Ham in the summer of 2001, and in each of the last 10 campaigns he has reached double figures in the Premier League.
During his Chelsea career, Lampard has secured three Premier League titles, four FA Cups, two League Cups and captained the club to their maiden UEFA Champions League triumph over Bayern Munich in May last year.
Looking back, it would appear inexplicable as to why Lampard, whose current contract will expire in the summer, could be allowed to walk away.
But football is not about looking back, particularly at the very highest level. The question should not be what has Lampard done for the club in the past, but what will he bring to the side in the future?
Impressive
There have been suggestions that Blues owner Roman Abramovich is ready to perform a U-turn over the decision not to offer Lampard a new deal in the wake of his recent scoring exploits this season, reports that the club would not confirm or deny, with interim manager Rafa Benitez unable or unwilling to expand on the matter.
"I don't try to avoid the issue," Benitez said, before trying to avoid the issue.
"I was very clear in the past and I will be very clear now and in the future: Frank is doing a great job for us, he's scoring goals, he's playing well, he's a good professional, he's working very hard. That's all I can say, because I am the coach."
But despite his undeniably impressive recent goal-scoring form and career statistics which will guarantee a place among the greats of the game, would Chelsea be right to offer Lampard an extension?
Season
Team
Apps
Starts
Goals
Assists
Yellows
Reds
W
D
L
Win %
Season 2012/2013
Chelsea
18
13
11
0
1
0
13
3
2
72.2%
Season 2011/2012
Chelsea
30
26
11
5
5
0
15
6
9
50.0%
Season 2010/2011
Chelsea
24
23
10
2
2
0
14
5
5
58.3%
Season 2009/2010
Chelsea
36
36
22
14
0
0
25
5
6
69.4%
Season 2008/2009
Chelsea
37
37
12
10
3
1
24
8
5
64.9%
Season 2007/2008
Chelsea
24
23
10
6
4
0
17
6
1
70.8%
Season 2006/2007
Chelsea
37
36
11
10
3
0
24
10
3
64.9%
Season 2005/2006
Chelsea
35
35
16
8
4
0
27
4
4
77.1%
Season 2004/2005
Chelsea
38
38
13
18
6
0
29
8
1
76.3%
Season 2003/2004
Chelsea
38
38
10
5
3
0
24
7
7
63.2%
Season 2002/2003
Chelsea
38
37
6
3
3
0
19
10
9
50.0%
Season 2001/2002
Chelsea
37
34
5
3
1
1
17
12
8
45.9%
 
TOTAL
392
376
137
84
35
2
248
84
60
63.3%
Of the 11 Premier League goals he has bagged this season, eight have come against Reading, Wigan, Norwich, Southampton, Aston Villa, Stoke and Newcastle. Lampard scored from the penalty spot in the home win over Arsenal and bagged a brace to secure victory at Everton, but his other strikes are hardly against the top-flight's leading lights.
Quite whether Lampard can still be regarded as a game-changer, a man capable of command performances, the inspiration for victories in the key fixtures or against the odds, is questionable.
Diminishing
The goals column is blank from his three UEFA Champions League outings this season, although the third of those games was cut short by an injury which kept him out of action throughout November. He was also unable to help Chelsea break the deadlock in the Capital One Cup semi-final showdown with Swansea, having started the second leg and joining the fray from the bench in the first.
Further evidence comes from the FIFA Club World Cup final against Corinthians, the European Super Cup against Atletico Madrid and the Community Shield with Manchester City. Three games which Lampard started, three games which ended in defeat, three games he did not score in.
There is a further anomaly in the midfielder's statistics this season. In his Chelsea career Lampard has scored 137 Premier League goals and provided 84 assists. But this term, for the first time ever in his Blues career, he is yet to be credited with setting up a team-mate to find the net in the top-flight.
Chelsea's preference for an attacking midfield triumvirate of Eden Hazard, Oscar and Juan Mata in support of their lone striker means that Lampard's role in the side is now more withdrawn than in previous years, but it is a surprise that his contribution in creating opportunities which others have converted is, as yet, absent.
This is not to say that a player of Lampard's calibre and pedigree cannot continue to contribute to the club he has served with such class and distinction over the past decade and more for at least another season in some capacity.
But quite whether Chelsea would regard extending what can only be a naturally diminishing role on reported weekly wages of £160,000 as anything other than sentiment for a player who will celebrate their 35th birthday before next season commences remains to be seen.