Buzzing for Moore
Simon Moore is confident of bouncing back from FA Cup disappointment with Brentford.
Last Updated: 27/05/13 11:37am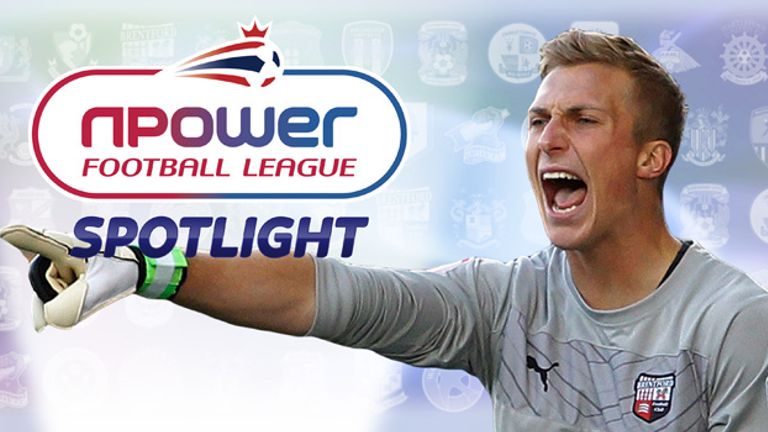 The 2012/13 campaign is about to enter the final straight, with promotion pushes and relegation battles now in full swing.
Here at Sky Sports we continue to take you to the very heart of the Football League, with our Spotlight features intended to give you a greater insight into the clubs and players that keep us on the edge of our seats.
We are hoping to bring you the views and thoughts of a representative from each of the 72 teams over the course of the season, with those involved asked to give their take on the division they compete in, the club that pays their wages and those we should all be keeping an eye on.
Brentford goalkeeper Simon Moore is next in the hot-seat as he talks to Rachel Griffiths about bouncing back from the 4-0 FA Cup defeat to Chelsea and the Bees' promotion hopes.
How's the mood in the camp after your FA Cup exit to Chelsea at the weekend?
We were obviously slightly disappointed at the weekend. But the lads were absolutely fantastic, we gave a really good account of ourselves. Playing against Chelsea, the champions of Europe, it was a great experience for us and we'll use the experience to push on and get ourselves right up there in the league.
Was there any sense of relief now that you can focus solely on the league?
No, I think regardless of whether we're in the cup or the league, it wasn't a distraction at all. We're just taking each game as it comes. We are disappointed to be out of the cup but, it's no disgrace losing to Chelsea, who are one of the best teams in the world. We gave a fantastic account of ourselves and it was great for people to see just how good Brentford Football Club is, how good the lads are and what a great set of players we have at the club.
Brentford are currently seventh in the table but very much in the battle for promotion - just four points off Swindon in the top spot. Can you go up this season?
I think we've got every chance. We've got a fantastic squad. The gaffer has just brought in Bradley Wright-Phillips on loan so that shows a real sign of intent that we really want to get out of this league and push for promotion. We've got a very young squad as well, I think the average age is 22, so it's an exciting place to be at the moment. We're in a fantastic position; we're only four points off the top with a couple of games in hand and we've got every chance of going up this season.
Who do you believe will be your main rivals for promotion come the end of the season?
Bournemouth are very strong and Swindon have gone top of the league. But to be honest it's anyone's. It's such a tight league, anyone can beat anyone. It's a very difficult league to get out of. You've seen teams in the past - Leeds United, Norwich, Southampton - they've all come down to this league and found it difficult. It just goes to show how hard it is to get out of. But we're going to do everything we can and we're very confident that we can do it. It will be interesting to see the table come the end of the season. If we continue to work hard then it will be a fantastic achievement for us. That's what we're all striving towards.
Manager Uwe Rosler is making a name for himself at the club since joining in 2011. How have you found working under him?
He's come in and done a fantastic job at the club. An awful lot has changed since he's come in and he's been excellent. He's very passion, very hungry and he strives for success, which rubs off on the players. He's had a big impact since he's joined the club.
But a change of manager doesn't always mean good things for a club. How do you think Swindon will fare after Paolo Di Canio's exit this week?
He left on Monday and they played last night (Tuesday) and won, and they've got a good squad down at Swindon. I'm not really sure what's going on there at the moment because their interim manager has resigned now as well. Behind the scenes things aren't right there. But come the end of the season I think Swindon will definitely we up there as well.
This season has been your busiest yet, with over 30 appearances under your belt. How do you feel things are going on a personal level?
This season has been the best season for me. I've played a lot of games and when you're a young goalkeeper you need to play, that's the only way you're going to learn and they only way you're going to improve. As long as I keep playing and learning I think things will go well. I'm really enjoying my football at Brentford at the moment. I really enjoy working with the goalkeeping coach Simon Royce and (second-choice keeper) Richard Lee each day and I just really want to continue to improve.
You've displaced Lee in the No.1 spot - do you feel secure in the jersey?
I don't think you can ever take your foot off the gas when you've got someone like Richard Lee waiting in the wings to play. He's a fantastic goalkeeper who's played in the Premier League, so you can never take your eye off the ball. I know I've got to continue to work hard and continue to do well in games otherwise I know that Richard is breathing down my neck and he'll want to play. It's good though, it's fantastic competition. It's good that we've got Rich at the club because it makes you strive even harder to keep your place in the team.
You recently penned a new long-term deal at Brentford. What influenced that decision?
I've signed until 2016, which I was really happy about. The club is definitely on the up and it's a good place to be at the moment. I'm playing football week-in-week-out, which is what I want to do. It's very difficult to learn and improve if you're sat on the bench. It's a football club that's definitely ambitious and they've got a new ground coming in three years' time as well. It's a good place to be and a club that definitely wants to go forward. The facilities are fantastic. Since I first joined the club three years ago everything has changed massively. Mark Warburton has come in as sporting director and he's had a big influence on the changes at the club.

Before signing your new contract you were linked with a number of clubs in the tiers above. Was there any temptation to move?
You always hear the rumours but I'm very happy at Brentford. It's nice to hear other clubs are interested but I'm happy I stayed because I wouldn't have had the experience that I've had this season. I've played 30 odd games and that's the most important thing.
You were released from Southampton's youth academy earlier in your career. How difficult was it to bounce back from that?
I was there when I was 13 years old but I was only there for a season and then I got released because I was too small, but they say that if you get released because you're 'too small' it's really because you're not good enough, to be honest. At the time I was really disappointed because you feel your dreams of being a professional footballer are over but thankfully I got the opportunity at Brentford to give it another go. When you're 13 it's difficult to see the talent at that age. You can only really see it when you're 16, 17 years old maybe. There is the odd exception where you get really young lads who are fantastic. But I don't think you develop, especially as a goalkeeper, until later on in your career.
You host Walsall with the Bees on Saturday. Is that a chance to get back on track?
Walsall are a team in form at the moment but we'll go into the game full of confidence and belief and we'll use Sunday's disappointment to try and get back to winning ways on Saturday and really get a good run going from now until the end of the season. The last two months are going to be very important and it will the most important time of the season.