Sky Sports Scout - Son Heung-Min
Sky Sports Scout is where we scour the globe looking for the best talent. Next up is Son Heung-Min.
By Sky Sports Scout - Tweet me: @skysportscout
Last Updated: 21/05/14 11:40am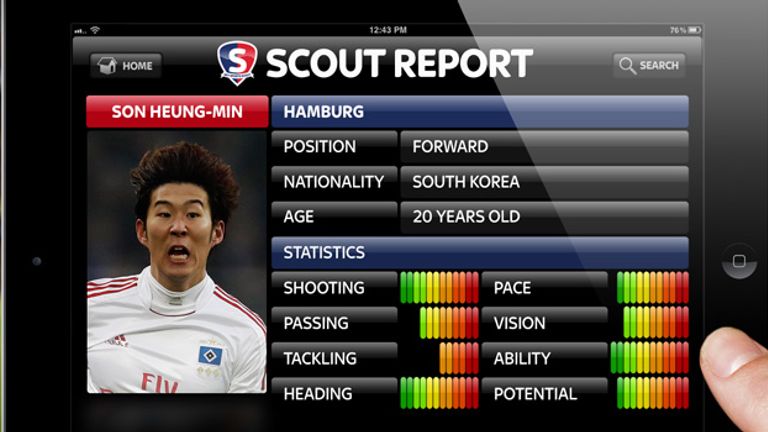 Sky Sports Scout is our exciting feature where we scour the globe looking out for the best talent and bring you a report on what we find.
Our Scout will report back and you can comment on what you think of our appraisal.
Also, in association with Football Manager, we give all readers the chance to win a copy of the latest game by nominating a player.
You can only nominate a player by emailing here, including the word 'Scout' in your subject line and please check to make sure we have not already covered the player.
Should your player get reviewed by our scout, and you were first to send in his name, then you will win a copy of Football Manager 2013.
You can also now interact with the scout via his all new Twitter feed! You can get in touch with him and interact here or just search for @skysportsscout!
Latest under our scout's gaze is Hamburg's Son Heung-Min
The scout reports...
One of the most coveted players in the Bundesliga is always likely to be a special player, so we check on Hamburg's Son Heung-Min.
The South Korean forward has nine goals to his name this season which have come from him playing in a variety of roles across midfield and attack.
Son has long dreamed of footballing stardom, and was spotted and snapped up by FC Seoul's highly acclaimed academy.
However, he bucked the trend in Asia of players finishing their education in their homeland as, in 2008 aged 16, he accepted the overtures of Hamburg, who had spotted his talents early on.
After starring for Korea in the Under-17 World Cup in 2009, upon his return he was featuring regularly for Hamburg's second-team before getting his big chance later in 2010.
He made his debut for the side in a cup match at Eintracht Frankfurt before three days later marking his league debut with a goal at Cologne, making him Hamburg's youngest goalscorer.
Since his debut, Son has never been away from the first team and has already clocked up over 50 appearances, with 17 goals to his name.
Despite being viewed as a striker - even Son himself admits he does not have a favoured role and can play on either flank, behind a front-man or as a lone striker - his versatility is a huge asset and you can see that in his play that he relishes any role he takes on.
Genuinely two-footed, Son causes huge problems for defences, he has that rare ability to be as quick with the ball at his feet than without it.
Standing at over 6ft, his natural skill oozes through and that helps him appear majestic in full flight. And his finishing, although far from perfect, is good and his striking of the ball particularly from long range is already a key feature of his game.
Son is already, unsurprisingly, emerging as a key figure for South Korea with a dozen caps to his name and he is set to play a pivotal role in their quest for a place at the 2014 World Cup finals.
Son, though, does like to be different - as he showed when he was 16 and first joined Hamburg - he turned down a call-up to his country's Olympic squad last summer, something almost unheard of. But he wanted to commit to Hamburg and pre-season, and given he is now one of the top scorers in Germany, despite not playing as an out-and-out striker, who can question him.
The scout says...
He is now being very strongly linked with a move to England, with Chelsea, Liverpool and Manchester United all said to be keen on securing a deal.
Son, as he has proven, knows what he wants and it is already likely he knows where he wants to go and that decision is set to be made this summer as a move appears more than likely.
The Scout rating...
Shooting: 8 out of 10
Passing: 7 out of 10
Tackling: 6 out of 10
Heading: 7 out of 10
Pace: 8 out of 10
Vision: 8 out of 10
Current ability: 7 out of 10
Potential ability: 10 out of 10
OVERALL SCOUT RATING:61/80
Current value: £18million
Potential value: £50million
Your opinion...
You have read our opinion of Son Heung-Min - now we want your views. Have you seen Son in action? Do you agree with our assessment? Do you think he will make it?
Get in touch, either using the form below, email or the scout's Twitter feed - @skysportsscout
And if you have spotted anyone you think we should feature then please get in touch using the same form. We will look to send out the Scout to follow up your leads.