Ronaldo returns
Cristiano Ronaldo returns to Old Trafford for the first time since his exit in 2009 when Real Madrid visit Manchester United for the second leg of their UEFA Champions League tie. Rachel Griffiths looks ahead to what promises to be a thrilling homecoming.
By Rachel Griffiths - Follow me on Twitter @SkySportsRachG
Last Updated: 05/03/13 6:12am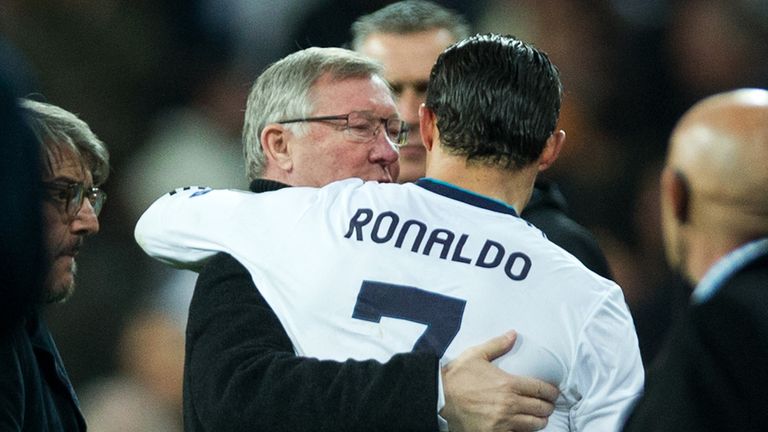 As if the appeal of two European heavyweights colliding in the concluding act of a finely balanced UEFA Champions League tie did not already pack enough punch, Tuesday night's clash between Manchester United and Real Madrid has the added ingredient to turn any blockbuster into a must-watch - a long-awaited homecoming.
Four years after he closed the door on six memorable seasons with the Red Devils, Cristiano Ronaldo is going back to Old Trafford.
The Portuguese ace will return to the turf where he established himself as a United legend under a manager he has described as a "father in football", and both Ronaldo and Sir Alex Ferguson have admitted they are preparing themselves for an emotional affair.
Ronaldo has not played at Old Trafford since packing his bags for Spain in a world record £80million deal back in 2009 and has only faced his former employers once since then - in a tightly-contested 1-1 draw at the Bernabeu three weeks ago to set up a tense last-16 finale at his old stomping ground.
It seemed fated that Ronaldo would score against his former club and there was therefore little surprise when the 28-year-old cancelled out Danny Welbeck's opener in the Spanish capital, climbing above Patrice Evra before hanging in the air for what seemed inhumanly long to power home a header from Angel Di Maria's cross.
The Portuguese may not have celebrated that leveller out of respect for his old employers but you get the feeling Ronaldo has not finished stamping his mark on the tie with the second leg looming on Tuesday.
Fanfare
The fanfare surrounding Ronaldo's impending return to Old Trafford comes as little surprise given what he achieved with the Red Devils during his six-year stint in Manchester and the home fans - who still belt out "Viva Ronaldo" at United's games - are expected to greet their former star man with a warm reception when he steps out on his old turf.
Not only that, but with speculation still simmering that Ronaldo could eventually rejoin his old club when he closes the door on his chapter with Real, chants of "Fergie, sign him up" are likely to be rife.
For United's fans, Ronaldo carved his mark so enduringly on the club that his most defining moments - a thumping free-kick against Portsmouth, a 40-yard screamer against FC Porto in the Champions League to name just two - will be recalled with fond nostalgia ahead of Tuesday's clash.
By his own admission, the forward spent some of the best years of his career to date in a United shirt, scooping nine major honours over a period that saw him score a staggering 118 goals in 292 appearances.
His season likely to be remembered most tenderly by United fans came in 2007-08 as Ronaldo bagged a career-high tally of 42 goals in all competitions to help Ferguson's men to a Premier League and Champions League Double.
Those achievements were followed by a barrage of individual accolades that year, including the prestigious Ballon d'Or and the FIFA World Player of the Year award, as well as the PFA Player of the Year gong for a second successive season.
Ronaldo left Old Trafford boasting a legendary resume which listed three Premier League titles as well as Champions League, FA Cup and League Cup glory. He arrived at United from Sporting Lisbon as an 18-year-old bursting with potential and departed as one of the world's greatest footballers.
But Ronaldo's success did not stop with his move to the Bernabeu, with the decorated forward taking his game to the next level since joining Los Blancos. His titles in La Liga, the Copa del Rey and Supercopa are evidence of that, while his staggering goal record of 185 in 183 games speaks for itself.
Much has been made of Real's inconsistencies this season, with the Spanish side lagging 15 points behind fierce rivals Barcelona in La Liga, but a recent hot streak of form - including back-to-back wins over Barca - suggests they have managed to overcome, or at least put aside, problems behind the scenes. Jose Mourinho's men have claimed five wins from their last six games, with the draw against United the only blemish on that run.
At the centre of that resurgence has been Ronaldo, firing a warning to United should any shred of doubt remain over his capabilities. And while the Portuguese has admitted he's expecting a sentimental night on Tuesday, the winger has made it clear that emotion won't interfere with his desire to see Real into the quarter-finals.
"If I score against them, it would be spectacular," said Ronaldo ahead of the showdown. "I can't say how I'd celebrate - it would be something spontaneous - but I'd love to be in that situation."
Chances are he will be. The winger's record in the competition so far this season is a formidable one, tied with Galatasaray's Burak Yilmaz as the tournament's top scorer with seven goals from as many matches, while he has amassed a daunting 32 shots, 18 of which have been on target.
Frustrated
For the large part, United were able to contain Ronaldo in the first leg with a dogged defensive display which made the former Red Devils man their prime target. It was hard-working trio Phil Jones, Rafael and Wayne Rooney that were chiefly tasked with man-marking the Portuguese at the Bernabeu and while he was limited to his towering equalising header, it was by no means an easy feat for the three.
Rafael looked up against it from the off despite his recent solid form and Rooney often had to drop back to provide cover, instantly curbing United's attacking threat, with Fabio Coentrao another danger down that side, allowed space at left-back, and Real's other potent threat on the wing, Angel Di Maria, moving over to the left when Ronaldo drifted inwards, as the Portuguese is often inclined to do. Jones, shielding the back four with an industrious display in midfield, had the biggest role to play in closing the door on the winger as he frustrated his attempts to cut inside.
However, United have suffered a blow with the news that Jones is ruled out of the second leg with an ankle problem - which leaves some tweaking for Ferguson to do. It remains to be seen how the manager will attempt to combat Real on Tuesday and whether he will make Ronaldo United's main focus once again, but Jones' absence is expected to make it trickier for the hosts to shackle the winger.
Frailties were exposed between Rafael and Rooney down the right in the first leg and Antonio Valencia and Nani are possible options to step in on the wing, with Rooney moved inside. That could mean Shinji Kagawa, who offered little defensively at the Bernabeu, could be sacrificed, but his hat-trick heroics at the weekend may have boosted his chances of retaining his place. Tom Cleverley is a contender to step into midfield alongside Michael Carrick as a replacement for Jones, while veteran Ryan Giggs is also in the mix on what would be his 1,000th senior career appearance.
One thing is for certain - however Ferguson chooses to line up his side, Ronaldo will be a threat. Mourinho's bold decision to rest the winger from the starting XI against Barcelona at the weekend could prove a crucial one as he travels to Old Trafford refreshed, while ahead of that clash he played a starring role in the first of last week's two El Clasicos, netting a double at Camp Nou in a 3-1 Copa Del Rey victory - his 33rd and 34th goals for club and country this season.
Sentiment will take a backseat at Old Trafford as Ronaldo looks to help his side one step closer to the trophy he last lifted with Manchester United in 2008 and the world's eyes will be glued on the superstar winger on Tuesday waiting for him to break the hearts of the club he so reveres.
Whatever the outcome, it will be an occasion not to miss.