Sky Sports Scout - Andreas Cornelius
Sky Sports Scout is where we scour the globe looking for the best talent. Next up is Andreas Cornelius.
By Sky Sports Scout - Tweet me: @skysportscout
Last Updated: 21/05/14 11:45am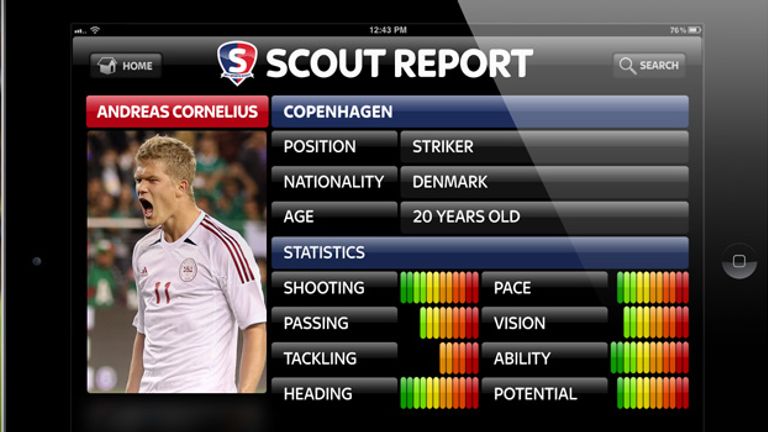 Sky Sports Scout is our exciting feature where we scour the globe looking out for the best talent and bring you a report on what we find.
Our Scout will report back and you can comment on what you think of our appraisal.
You can only nominate a player by emailing here, including the word 'Scout' in your subject line and please check to make sure we have not already covered the player.
You can also now interact with the scout via his all new Twitter feed! You can get in touch with him and interact here or just search for @skysportsscout!
Latest under our scout's gaze is Copenhagen's Andreas Cornelius
The scout reports...
Andreas Cornelius is one of the latest band of Danish youngsters making a big impression and attracting major interest. We check on the Copenhagen striker.
Cornelius began playing from an early age and was with local youth side Fremad Amager, before being picked up by Copenhagen in 2011 aged 18 - by which point he was already a regular for Denmark at various levels.
Less than 12 months after arriving at the club he was handed his senior debut in April, after he impressed during a winter training camp.
Last summer saw Copenhagen sell star striker Dame N'Doye to Lokomotiv Moscow, which came just months after they sold starlet Kenneth Zohore to Fiorentina - and suddenly that meant that Cornelius was thrust into the spotlight.
And the youngster has taken his opportunity with both hands - still only 19 at the beginning of this season, and he was soon into double figures - indeed he is the quickest player in Danish football history to get to 10 goals in a league season, just 76 days.
As it stands Cornelius has 18 goals in 27 games, a record which has had the the scouts flocking to the Danish capital.
Chelsea, Arsenal, Liverpool and Stoke City are just some of the names said to be regularly scouting Cornelius.
His form has seen him called up to the Danish senior squad - and he scored his first goal for his country last week against Czech Republic.
Standing at 6ft 4in, he has been dubbed the news 'Nicklas Bendtner' - but that really is doing him a disservice. Much more than a target man, yes Cornelius is very good in the air - but he is also skilful and deceptively quick.
But Cornelius' eye for goal is his main attribute - a lovely left foot, he is capable of finishing from anywhere around the box.
The scout says...
His progress has been stunning in recent months, and it is clear to see why the English clubs are salivating over his potential.
Despite less than 12 months of first-team football, he looks like he could be ready to move - clearly another season at Copenhagen would benefit him and they may try and keep him until the summer of 2014.
The Scout rating...
Shooting: 7 out of 10
Passing: 7 out of 10
Tackling: 6 out of 10
Heading: 9 out of 10
Pace: 7 out of 10
Vision: 7 out of 10
Current ability: 7 out of 10
Potential ability: 10 out of 10
OVERALL SCOUT RATING:60/80
Current value: £8million
Potential value: £20million
Your opinion...
You have read our opinion of Andreas Cornelius - now we want your views. Have you seen Cornelius in action? Do you agree with our assessment? Do you think he will make it?
Get in touch, either using the form below, email or the scout's Twitter feed - @skysportsscout