The long road back
Darlington fan Rob Parrish looks at how the commitment of the team's supporters helped save the club from extinction as they celebrate the Northern League title and promotion.
By Rob Parrish - Follow me on Twitter @skysportsrobp
Last Updated: 02/05/13 1:58pm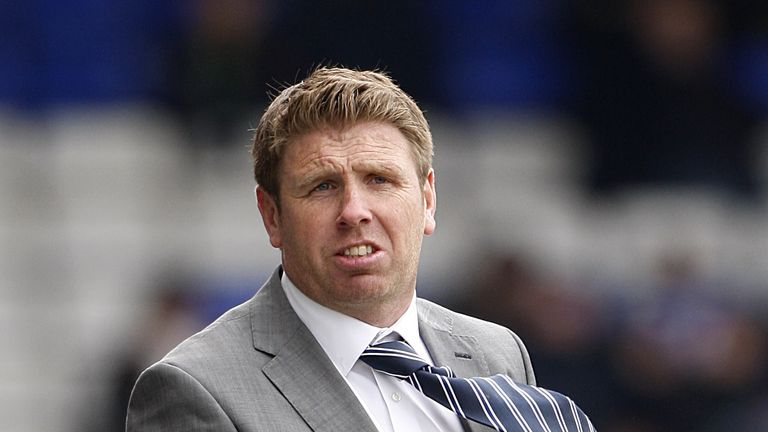 With no players, no manager, no ground and a Football Association punishment of relegation to the ninth tier of English football, Darlington were pushed to the very brink of oblivion last summer.
But the club's supporters refused to let their team die, with the Quakers taking the first step on the long road back to the Football League on Wednesday night as they were crowned Northern League champions.
Now fan-owned and operating as a Community Interest Company (CIC), Darlington have demonstrated that with the commitment and unity of a determined group of supporters, football clubs do not necessarily need to rely on the largesse of individual owners who may be more interested in figures than fixtures.
Portsmouth, in particular, are one club to have suffered a spectacular fall from grace, with the former Premier League outfit and 2008 FA Cup winners tumbling into League Two, but with new hope for the future after Pompey Supporters Trust took the club out of administration.
Darlington's exit from their third administration in nine years last summer was less straightforward, as they were unable to agree terms with all of their creditors, which was regarded as a significant breach of operational rules by the FA, leading to the hefty demotion and the requirement to start a new club, with the 130-year old side reborn as Darlington 1883.
Achievements
A move away from the cavernous Darlington Arena, built under the misguided and foolhardy ambition of former chairman and owner George Reynolds in 2003, became a necessity with Darlington becoming tenants of Bishop Auckland at Heritage Park, some 13 miles away from the town.
Former Sunderland midfielder Martin Gray, who played for the Quakers in the latter stages of his career, was appointed manager, and he set about bringing in an entirely new playing staff, with the previous squad forced to look for careers elsewhere amid their financial woes.
It was Gray's first full-time job in management, after previous caretaker spells with Oldham and Darlington, and having started the season with an entirely blank canvas he deserves nothing but praise for his astonishing achievements at the helm.
Having risen from the ashes, Darlington proceeded to take the Northern League by storm, winning 40 of their 46 games, scoring 145 goals in the process and amassing 122 points, with over 2,000 supporters in attendance for their final game of the season at 'home' to Guisborough to celebrate promotion and see the trophy presented.
Paul Colman, a director of the CIC and one of the supporters who refused to allow their team to slide into extinction last summer, told Sky Tyne and Wear that it had been a roller-coaster time for everyone involved.
Fantastic achievement
He said: "This is just the culmination of an unbelievable year for the football club.
"From where we were 12 months ago, not knowing if we were going to survive, to where we are today, with over 2000 fans and winning the title.
"We really are on our way back now. The comeback to the Football League has started tonight."
It was a sentiment echoed by Gray, who feels that a giant leap has been made with their first small step back towards the Football League, which they exited in 2010.
He added: "It has been an amazing journey. Hopefully, this is the hardest one, getting out of the Northern League at the first attempt.
"It is a fantastic achievement for everyone involved with the football club."
With long-term plans to find a permanent home back in Darlington and ambitions of achieving three further promotions over the next five years, the supporters who worked so hard to keep their club alive can now look to the future with renewed hope and optimism.