Fond farewell
We take a pictorial look at Sir Alex Ferguson's last game in charge at Old Trafford as Man Utd edged Swansea.
By David Milner
Last Updated: 13/05/13 9:10am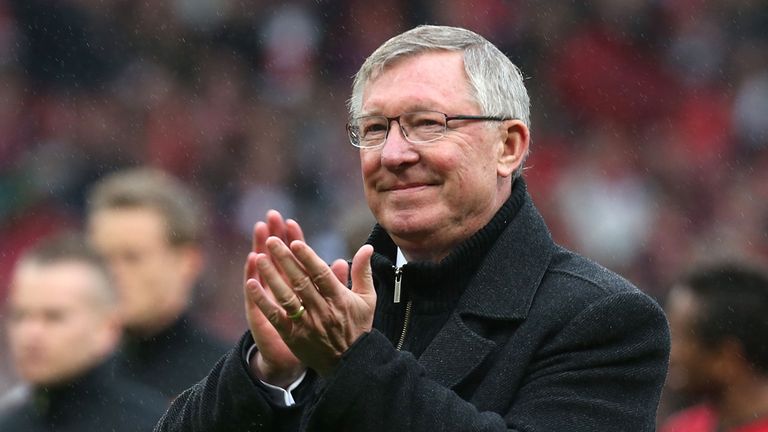 There is a buzz around the ground as the 80,000 packed inside Old Trafford wait for one man to appear at the end of the tunnel. As he emerges, the stadium erupts and chants ring out for a true football legend, Sir Alex Ferguson.
For the last time after 26-and-a-half years, Sir Alex Ferguson steps out at Old Trafford as Manchester United manager. He is greeted by a guard of honour formed by both sets of players. The 71-year-old appears humbled by the whole experience.
Supporters hold up banners which form a mosaic around the stadium. At one end there's a '20' for the league titles won by United, at the other, a '13' which pays tribute to the astonishing amount won during Sir Alex's reign.
Once Sir Alex acknowledges the standing ovation, he heads to the bench area where some lucky punters get autographs on their merchandise, which will be worth a pretty penny after such a historic day.
Next it is down to business and a reason to celebrate as Manchester United take a 39th minute lead thanks to Javier Hernandez.
Swansea City's talisman Michu hadn't read the script, though, and his equaliser rains on Sir Alex's parade for the next 40 minutes. It was left to a late winner from the unlikely hero Rio Ferdinand to crown their last home game.
Once ''Fergie Time'' had been played out, Sir Alex Ferguson stepped into the centre circle to address the Old Trafford faithful for an emotional farewell.
The public address is a rare insight into the power of Sir Alex's influence, almost like a team talk as he asks the players to wear the jersey with pride and never let themselves down.
Ferguson takes the Old Trafford crowd back to when he started in the job, reminding them: "The club stood by me, the staff stood by me, the players stood by me and now it is your job to stand by our new manager."
He goes on: "My retirement doesn't mean the end of my life with the club. I will be able to now enjoy watching them, rather than suffer with them. But if you think about the last-minute goals, the comebacks, even the defeats, are all about this great club of ours. It's been an unbelievable experience for all of us. So thank you for that."
Sir Alex signs off his speech with "I'm just going inside now. Thank you once again, from all the Ferguson family. They're all up there - 11 grandchildren. Thank you. Thank you."
The rain-soaked Scot heads towards the tunnel honoured by another standing ovation. But it's not all doom and gloom as he re-emerges to lift the Premier League trophy for the 13th time, a feat which is going to take some beating.