Sky Sports Scout - Marquinhos
Sky Sports Scout is where we scour the globe looking for the best talent. Next up is Marquinhos.
By Sky Sports Scout - Tweet me: @skysportscout
Last Updated: 21/05/14 11:54am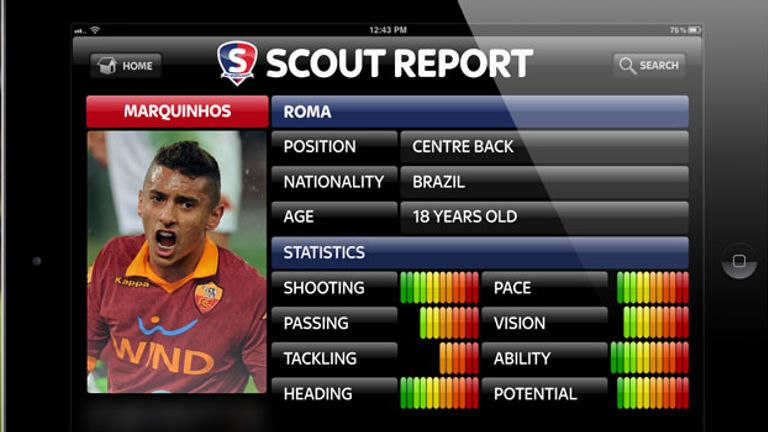 Sky Sports Scout is our exciting feature where we scour the globe looking out for the best talent and bring you a report on what we find.
Our Scout will report back and you can comment on what you think of our appraisal.
You can only nominate a player by emailing here, including the word 'Scout' in your subject line and please check to make sure we have not already covered the player.
You can also now interact with the scout via his all-new Twitter feed! You can get in touch with him and interact here or just search for @skysportsscout
The latest player under our scout's gaze is Roma's Marquinhos.
The scout reports...
We return with a report on one of the best young defenders to have emerged in European football in recent months - Roma's Marquinhos.
The 18-year-old only moved to the Stadio Olimpico last summer when Roma moved late in August to secure his signature.
Signing on an initial loan for just €1.5million from Corinthians, the deal would become a permanent five-year deal for another €1.5million if the player played in eight first-team games.
It is fair to assume that Roma signed Marquinhos very much with an eye for the future given he had only been playing first-team football with Corinthians for six months.
Marquinhos was first spotted aged just eight by Corinthians' youth scouts and he progressed through their youth ranks, playing full-back and midfield, but always looked more comfortable in central defence.
In 2011 he came to some prominence when he was called into the Brazilian Under-17 squad and he helped them to fourth place at the youth World Cup in Mexico.
It was not until early 2012 that Corinthians gave Marquinhos his first taste of action with the senior side, and things went well for him. He was included in Brazil's provisional squad for the Olympic Games.
He did not make it to London, having to make do as one of the stand-by players, but it was not long before he did make it to Europe.
He signed for Roma in August, and made his debut as a substitute later that month. By October he was a first-team regular, and he is being heralded as one of the signings of the season in Europe, let alone Italy.
He has already become a firm fans' favourite, and one of the biggest honours is that he is being likened to one of Roma's all-time favourite sons in the shape of Aldair. And it is easy to see the comparisons. Both ball playing central defenders, happy to bring the ball out when needed, although Aldair was full of strength as well as speed. Marquinhos is not afraid of a tackle, and his reading of the game is top class.
Marquinhos's journey has been a spectacular one and, in little over 12 months, he has gone from reserve-team football to one of the most highly-rated young players in world football.
Suddenly from paying less than £3million, Roma could command ten times that amount. Manchester City and Arsenal are both being linked, whilst Barcelona are believed be keeping close tabs on his situation.
Corinthians fans are understandably less than amused by the fact the club have allowed such a gem to fall through their fingers - but few could have seen the progress that Marquinhos would make in such a short space of time.
Marquinhos has proven that sometimes players are suited to different ways of play - given how well he has settled into life in Serie A.
Yet to make his debut for Brazil, he is being strongly tipped to be part of the finals squad come June 2014.
The scout says...
Roma could be tempted to cash in but such has been Marquinhos's impact then he could very well be the cornerstone of their side for years to come.
Most of Europe's elite are now well aware of Marquinhos - Roma will still do well to turn down any huge offers, which will surely arrive.
The Scout rating...
Shooting: 6 out of 10
Passing: 8 out of 10
Tackling: 8 out of 10
Heading: 7 out of 10
Pace: 8 out of 10
Vision: 8 out of 10
Current ability: 7 out of 10
Potential ability: 10 out of 10
OVERALL SCOUT RATING:62/80
Current value: £14million
Potential value: £55million
Your opinion...
You have read our opinion of Marquinhos - now we want your views. Have you seen Marquinhos in action? Do you agree with our assessment? Do you think he will make it?
Get in touch, either using the form below, email or the scout's Twitter feed - @skysportsscout