Jose Mourinho factfile
Sky Sports takes a look back at the career of Jose Mourinho as he prepares to leave Real Madrid.
Last Updated: 20/05/13 7:53pm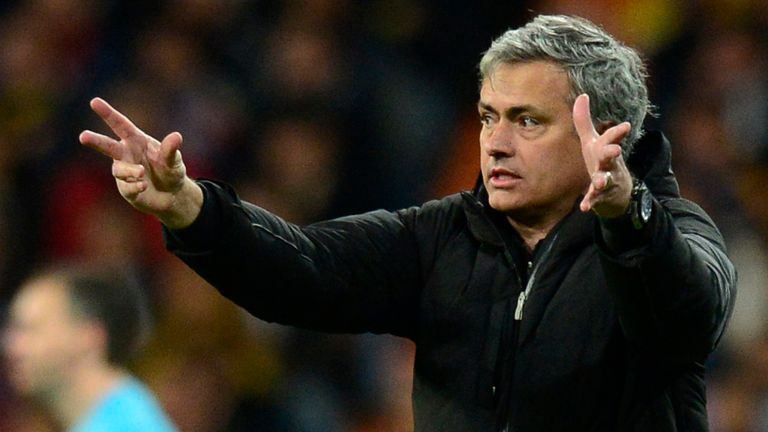 Real Madrid have confirmed Jose Mourinho will leave Real Madrid at the end of the season.
The Portuguese is leaving the Bernabeu after three years in charge of the Spanish giants paving the way for a possible return to Chelsea
Here, Sky Sports takes a look back at the career of a man who is regarded as one of the best managers in football
1963: Born January 26. Father Felix Mourinho was a former Portugal goalkeeper.
1992: After middle-ranking jobs at Estrela Amadora and Vitoria Setubal, works as Bobby Robson's translator at Sporting Lisbon before becoming involved in team affairs.
1993: Moves to Porto with Robson.
1996: Joins Barcelona as assistant coach to Robson.
1997: Stays on under new coach Louis van Gaal.
2000: Lasts nine games as coach of Benfica before resigning due to problems in the boardroom.
2001: Appointed coach of Uniao de Leiria.
2002: Joins Porto.
2003: In Mourinho's first full season in charge, Porto win the treble of domestic league, cup and UEFA Cup.
2004: Porto win the league and add the Champions League, with 3-0 victory over Monaco.
June 2
2005: February 27 - Wins Carling Cup with final defeat of Liverpool.
April - Chelsea seal Premier League title with 2-0 win at Bolton.
2006: April - Chelsea claim a second consecutive Premier League title and Mourinho's fourth domestic title in a row.
2007: February - Chelsea win Carling Cup, beating Arsenal 2-1.
May - Chelsea lose Champions League semi-final to Liverpool, but win the FA Cup against Manchester United.
August - Chelsea set a new record of 64 unbeaten home matches in the English top flight with win over Birmingham.
September - Leaves Chelsea by "mutual consent".
2008: June - Appointed Inter Milan boss on a three-year contract.
August - Wins Italian Supercup with victory over Roma.
2009: May 16 - Wins Serie A at the first attempt.
May 25 - Signs a contract extension at Inter until 2012.
2010: March - Inter knock Chelsea out of the Champions League in the last 16.
May 5 - Inter win the Coppa Italia.
May 16 - Mourinho claims his second Serie A title with Inter.
May 22 - Guides Inter to Champions League triumph with a 2-0 win over Bayern Munich.
May 26 - Madrid part company with coach Manuel Pellegrini and approach Mourinho.
May 31 - Unveiled as Real Madrid coach.
2011: May 3 - Madrid lose Champions League semi-final to Barcelona.
August 18 - Appears to poke then Barcelona assistant manager Tito Vilanova in the eye during Super Copa defeat at the Nou Camp.
2012: May 2 - Guides Madrid to their first Primera Division title in four years.
May 22 - Signs contract extension until June 2016.
August - Leads Madrid to a Super Copa victory over Barcelona.
April - After eliminating Manchester United, Madrid are beaten by Borussia Dortmund in the Champions League semi-finals.
May 17 - Madrid lose the Copa del Rey final to Atletico Madrid, meaning the season ends without major silverware.
May 20 - It is confirmed that Mourinho will leave Real after the final game of the season against Osasuna.