Ten PL Conclusions
It may not have had the whirlwind ending of last, but this season has still generated headlines galore. Daniel Storey draws ten Premier League conclusions...
Last Updated: 22/05/13 5:25pm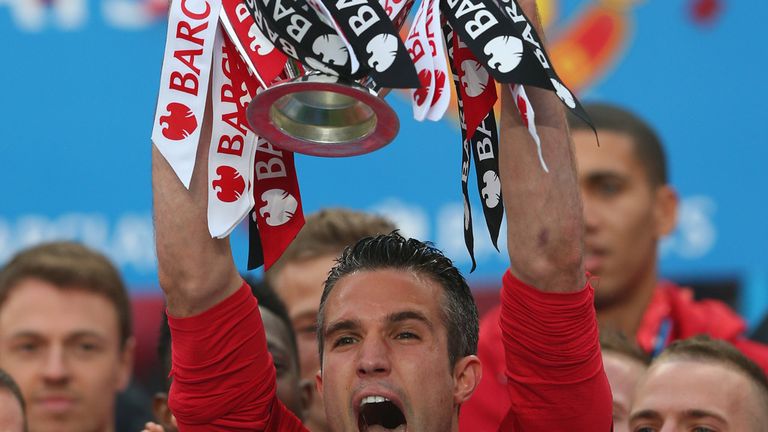 10. West Brom offered hope to the masses
Although their season tailed off (one win in their last nine games), West Brom's performance under the new guidance of Steve Clarke offered a blueprint for the growing group of mediocrity in the Premier League. With eight sides below the Baggies finishing within five points of each other, there will have been great jealousy of achievements at The Hawthorns.
The evident conclusion to draw is that West Brom's exploits cause optimism for others. They have spent £5million since summer 2011 (on Ben Foster and Liam Ridgewell), using an effective scouting network to pick up Claudio Yacob, Billy Jones and Gareth McAuley on free transfers. Most impressive has been their use of the loan market. Romelu Lukaku has been one of the signings of the season, and acts as a firm hint to sides such as West Ham, Sunderland, Stoke and Norwich, all of whom struggled for goals.
Rather than looking worryingly over their collective shoulders next season, the Baggies offer hope that a top-eight place does not require a significant financial gamble.
9. Significant worries remain for England
It has been a rotten season in which to manage the England national team. Of the ten highest appearance makers for each of the Premier League's top four sides, only eight of the 40 players were English, and just five of those aged under 30. With that in mind, does Roy Hodgson have to pin England's future on Joe Hart, Danny Welbeck, Kieran Gibbs, Theo Walcott and Wayne Rooney?
It gets worse. Hart and Rooney, two of 2011/12's highest performers, have both regressed worryingly, whilst Welbeck's lack of goal threat has been widely documented. Frank Lampard and Ashley Cole are well beyond their peaks, Rio Ferdinand has retired, and Jack Wilshere has a worrying propensity to pick up injuries. When players such as Michael Carrick, Joleon Lescott, Phill Jagielka and Jermain Defoe appear to have suddenly reached 30, significant cracks show in the generation of new talent at the highest level.
"We have one of the lowest number of home-grown players to choose from in all the leagues, which, if you are national team manager, is not a great advantage, to be frank," Hodgson admitted last month. Without resorting to unnecessary pessimism, it is difficult to see a meaningful light at the end of the tunnel.
8. Ticket prices tide has begun to turn
Although the Premier League predictably held their hands up whilst walking backwards and insisting "Nothing to do with us, guv", have we finally started to see the tide turning against rising ticket prices?
Whilst supporter opinion has always demonstrated unease and dismay, Manchester City fans' refusal to spend £62 on their January trip to Emirates at least forced the debate into the consciousness of the wider world.
The BBC's 'Price of Football' survey found a rise of ticket prices from 2011 to 2012 of 14%, well above reasonable inflation. The idea of an away price cap to set a level which all clubs should charge away fans was admirable, but they will need plenty of support. This is an issue that cannot be allowed to simply dissipate.
7. Bale became a star
It is to forget, amongst all the award hoopla surrounding him in recent weeks, that Gareth Bale also won the PFA Player of the Year award in 2010/11, but this is the season in which high quality performer has become global star. You may loathe the media hyperbole (and I'm firmly with you on that), but it would be churlish to undermine the Welshman's performances this season.
On ten occasions Bale has converted Premier League draws into wins, and his goals have gained his side 24 points. Combining goals and assists, and Bale covered 44% of Spurs' league goals this season.
To be a star, however, you must have something out of the ordinary, a facet of your game that elevates you above all others. For Bale, it is his shooting from distance. Nine league goals from outside the box is a total higher than any player in Europe's top five leagues. That's quite a stat. Bale's final day goal to beat Sunderland was a perfect outline of his season mirabilis. Spurs must hope that they can begin to match their player's understandable ambitions.
6. FA demonstrate a loosening grip on reality
'The more things change, the more they stay the same' seems to be a fitting epithet for the governors (and supposed guards) of our game, and once again the Football Association have seemingly ignored logic in their decision-making processes.
In the last two months they have deemed it appropriate to fail to charge Callum McManaman for a horrendous challenge on Newcastle's Massadio Haidara, alter the FA Cup final kick-off time despite transport concerns for fans of both sides, and relegated Doncaster Rovers Belles from the WSL on an apparent whim.
5. Suarez has pushed the limit of Liverpool's loyalty
2012/13 was a season that summed up Luis Suarez's entire career. The striker raced to 23 goals despite Liverpool struggling to establish themselves amongst the Premier League elite, and the Uruguayan deservedly received great praise for his desire and passion in a difficult cause.
But Jekyll is never without Hyde, and a controversial handball goal in the FA Cup against Mansfield in January was a mere appetiser for April's incident against Chelsea. The disgraceful biting of Branislav Ivanovic's arm has ruled Suarez out until October, leaving Liverpool with a huge decision to make.
With rumoured interest from Bayern Munich (and others, presumably), the late season form of Daniel Sturridge and the dreamy Philippe Coutinho will persuade Brendan Rodgers and Liverpool fans that Liverpool without Suarez are not Jason without Kylie. Of the five League games Suarez missed this season, Liverpool won four and drew the other, scoring 13 and conceding three.
4. Changing managers is not always the answer
Patience continues to be an often-forgotten virtue in the Premier League. Four managers of struggling Premier League sides were replaced in four months between November and March, but the clichéd 'new manager syndrome' largely failed to ring true:
Southampton - 1.18 points per game after change of manager
Sunderland - 1.14 pts
QPR - 0.75 pts
Reading - 0.63 pts
Meanwhile, Paul Lambert, Chris Hughton and Tony Pulis survived periods of sustained pressure regarding their continued employment but Villa, Norwich and Stoke all took eight or more points from their last six games to move to safety from relegation.
A change can often be the answer, but clubs must move away from the mind-set that it guarantees an immediate change in fortunes.
3. Manchester City have regressed on all fronts
Whilst there has been a degree of sympathy from City fans for Roberto Mancini's sacking, there is no doubt that his side regressed significantly this season. 11 fewer league points, 27 fewer goals and five more conceded.
Furthermore, the Champions League campaign was an unmitigated disaster. City's luck of the draw was harsh, but one point taken from two games against Ajax and a failure to win a home match is unacceptable given the club's quality of resources. Montpellier, Dinamo Zagreb and Nordsjaelland were the only other clubs to end their campaign winless. Different financial spheres, all three of them.
The FA Cup final merely seemed to reflect the mood of the squad, when a lack of fight or evident desire allowed them to suffer deserved defeat, and reports of players celebrating upon hearing news of the Italian's sacking should cause alarm amongst supporters.
After their FA Cup victory in 2011 (Mancini's first trophy), captain Vincent Kompany eloquently spoke of a club laying the foundation. "We must now build the house," was the rallying cry. After the title success of last season, construction seems to have been delayed.
2. Arsenal didn't miss Robin van Persie
Although their battle to remain in the top four was closer than ever before during Arsene Wenger's reign, it would be inaccurate to suggest that the sale of Robin Van Persie should be blamed for Arsenal's early season struggles.
Whilst Olivier Giroud and Lukas Podolski have both struggled to adopt the 'main man' mantle, Arsenal have gained more points than last season, conceded fewer goals and scored just two fewer in the league. Instead, goals were shared about efficiently and Arsenal were the only club for which four different players (Giroud, Podolski, Santi Cazorla and Theo Walcott) reached double figures in the league.
One of the most interesting statistics from Arsenal's season is that in their last 16 games they took 39 points. That total is higher than in the last 16 games during their 'Invincibles' season of 2003/4. That is a mightily impressive achievement for Wenger, who seemed to be a dead man walking at the Emirates before Christmas.
1. Resilience has been the key to United success
Whilst Roberto Mancini's futile attempt at self-preservation in suggesting that the signing of Robin Van Persie won them the title did contain a degree of truth, the true reason for Sir Alex Ferguson's farewell success lies in his side's resilience.
United conceded the first goal in 16 of their Premier League games this season (the same number as their previous two seasons combined), whilst Manchester City and Chelsea had totals of nine and 10 respectively.
United achieved their comfortable title canter through their response to such setbacks. They gained 29 points from losing positions, winning nine games after being behind and grinding out six wins in the last ten minutes of games That total is five more than anyone else in the country, let alone the Premier League.