Mourinho's back
Jose Mourinho is back in the Premier League for a second spell in charge of Chelsea. Adam Bate argues that in some ways the Portuguese coach never truly left Stamford Bridge.
Last Updated: 11/06/13 5:19am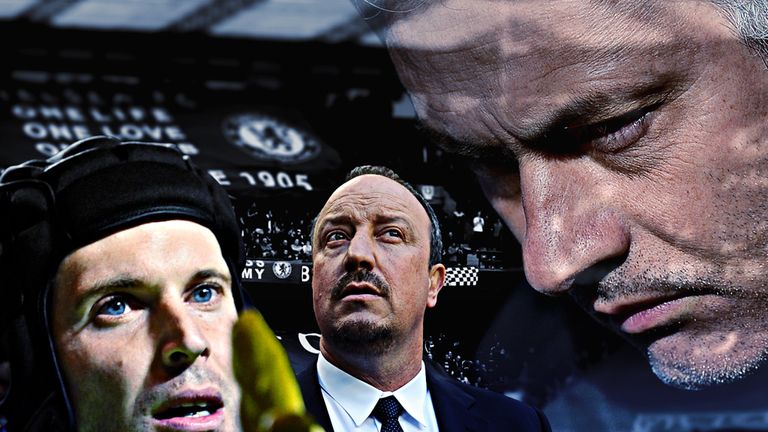 They say he's a nomad. That he cannot stay at a club for longer than three years. Of course, it's worth noting that he was the Real Madrid coach for twice as long as any of his nine predecessors, Inter have had six managers in the three years since he walked away and - most tellingly of all - there have been seven successors at Chelsea since he exited English football. But the real irony is that, in a sense, he never left Stamford Bridge. We are entering Jose Mourinho's tenth year as the main man at Chelsea Football Club.
His presence has continued to pervade the club. It is not just the chants of his name that have provided the backdrop to the reigns of Avram Grant, Andre Villas-Boas and Rafael Benitez - it's normal for supporters to herald former heroes. More significantly, it is the fact that many key players never truly abandoned the idea of Jose as mentor-in-chief. As Porto president Pinto da Costa told Gazzetta della Sport last year when Villas-Boas was still clinging to his job at the club: "He needs time to mould his own team and he can't do that as long as there are players, as I've heard, who exchange text messages with Mourinho."
As he begins his second spell as manager of Chelsea, that established relationship with the club could prove Mourinho's biggest asset. The senior players who have proven so problematic for other managers are unlikely to be such an issue. In Chelsea top trumps, the cult of Mourinho outranks even that of JT and Super Frank. He already has the authority that is needed.
Relationship
And Mourinho is clearly aware of these intangibles. "It's the first time I arrive at a club where I already love the club," he told reporters in his opening address to the media. "The first time, I had to build an emotional relationship. This time, I know many of the people involved at the club and I know the mentality of the ambition they have."
Those people include senior players John Terry, Frank Lampard, Petr Cech, Ashley Cole and Michael Essien. "There are still a few boys from my (first) time," added Mourinho. "It's always good to have those players who gave absolutely everything for me while I was here. But it is important to know - not them, they already know - that there is no privilege with them. They do not have an advantage in relation to the other people."
A clear message it would seem, but the decision to allow Thibaut Courtois to stay on loan for a third season at Atletico Madrid is a revealing one. The young Belgium international goalkeeper has a burgeoning reputation and there is a strong case for him to be installed as the Chelsea No.1. But Mourinho recognises the importance of retaining strong senior players who can help integrate his ideas and Cech, who joined the club from Rennes in 2004, can be expected to play a key role in this.
Others will play their part even if they are forced to accept a reduced playing role. Terry found himself marginalised under Benitez but Mourinho has already set himself the target of utilising the skipper more effectively. "When I arrive at a club I don't like to comment on what happened before me, so for me not one word about Benitez's decisions, either on John or another player," he explained, before predictably alluding to what went on before. "What I can say is about the future. And the future is to meet John on the first week of July then try to get the best out of him. I know what he can give. Let's try to get the best and try to make him a very important player that he couldn't be last season."
Even if Terry must settle for limited playing time, this is the sort of challenge Mourinho has tackled before and overcome with astonishing results. Marco Materazzi was a senior defender at Internazionale in 2008, having averaged more than 26 league appearances per season over the previous four years. Under Mourinho, Materazzi played nine Serie A games in the first season and a dozen in the second. And yet, he remains fiercely loyal to his former coach. "Anyone who speaks ill of Mourinho just does it because of envy," Materazzi said only last month. "I really liked his style of management."
Psychological
That style of management remains distinctive. While much of the attention will now be on his tactics and which players will suit his style of play, the man himself is likely to be focusing on the psychological - how he can get the group to work together. "The club is much more important than ourselves," he was quick to point out with that faux-humble deadpan delivery that is surely his trademark. "We are nobody without the club."
These words will resonate with the fans who sported their "Chelsea is our religion and Jose is our God" T-shirts outside the ground on Monday lunch-time. Their concern is likely to be whether their new manager has the same appetite and strength of purpose as the old version, amid suggestions that an exhausting spell in Madrid has sapped his enthusiasm. But Mourinho has a retort for his critics. "I have the same nature," he says. "But I am, of course, a different person. In 2000 when I started my management career I thought I knew everything. Thirteen years later and I realise that I knew nothing."
But what he has always known is that fostering a united team spirit is a proven template for success. And at a club where continuity has proven impossible since his exit, it is the man who has proven so divisive in his absence that is best placed to galvanise this Chelsea squad going forward. Mourinho is back. In truth, he never went away.