Summer Scout - Isco
The Summer Scout eyes Spanish starlet Isco, spotted at the European Under-21s.
Last Updated: 21/05/14 12:01pm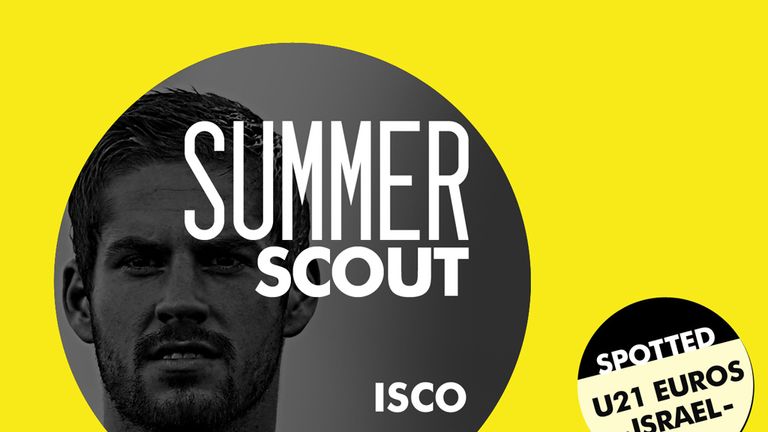 Our Scout will report back and you can comment on what you think of our appraisal.
You can only nominate a player by emailing here, including the word 'Scout' in your subject line and please check to make sure we have not already covered the player.
You can also now interact with the scout via his all-new Twitter feed! You can get in touch with him and interact here or just search for @skysportsscout
The latest player under our scout's gaze is Spain's Isco.
The scout reports...
Few players have seen their stock rise so quick as that of Isco in the last 12-months.
The Spanish trequartista was the star man for Spain as they won the European Under-21 Championship in Israel and now he is one of the most in-demand players in world football.
Malaga-born Isco is a product of the famed Valencia academy, which has produced the likes of David Villa, Juan Mata and David Silva in recent years.
However, unlike his famous former colleagues, Isco was not given the same chance to impress at Valencia.
Having joined the academy at just 14, he made good progress and was called into the national squad at 16. A year later he got his first taste of senior football with Valencia's B side where he spent a couple of seasons.
During his second spell, he was promoted to Valencia's first-team squad and he made his top-flight debut in November 2010 but he played just four games and spent the season back with the second-string.
However, at this point his hometown club Malaga had taken an interest and the big-spending side quickly agreed to pay his release clause of €6million.
Under Manuel Pellegrini's guidance, he started 29 games in his first season and it was his form that allowed Malaga to sanction the sale of Santi Cazorla to Arsenal in the summer of 2012.
Pellegrini already had Isco marked down as his replacement and the youngster did not disappoint - finishing the season with nine goals from midfield.
His form also saw him capped by Spain when he made his debut against Uruguay in February this year - but his introduction into the full squad did not see him moved out of Under-21 contention.
Indeed he grasped his role with the Spanish Under-21 side and was the lynch-pin in their success in Israel.
Now the big question is where will he be playing his football next season with his former boss Pellegrini looking to take him to Manchester City - but Spanish giants Real Madrid are giving him the chance to remain in Spain.
Isco must now decide where his immense talents will be better served, and his talents are wonderful - there is little getting away from that fact. A playmaker by trade, he is at home in any role in the final third.
Passing is his main weapon, and he has wonderful vision and has the ability to pick somebody out with both feet - but he also has an excellent eye for goal - as his goalscoring stats would stand up.
The scout says...
There is no doubting Isco's ability. He is a great footballer who will grace whichever league he is in next season.
The fact he has a choice of Real Madrid or Manchester City, and they are willing to pay £30million - really tells its own story!
The Scout rating...
Shooting: 8 out of 10
Passing: 9 out of 10
Tackling: 6 out of 10
Heading: 6 out of 10
Pace: 7 out of 10
Vision: 9 out of 10
Current ability: 8 out of 10
Potential ability: 10 out of 10
OVERALL SCOUT RATING:63/80
Current value: £30million
Potential value: £80million
Your opinion...
You have read our opinion of Isco - now we want your views. Have you seen Isco in action? Do you agree with our assessment? Do you think he will make it?
Get in touch, either using the form below, email or the scout's Twitter feed - @skysportsscout