The perfect fit
Both Wayne Rooney and Chelsea seem intent on the England international moving to Stamford Bridge. Daniel Storey explains why the worry for Manchester United is that such a deal may just be the perfect fit.
Last Updated: 06/08/13 3:35pm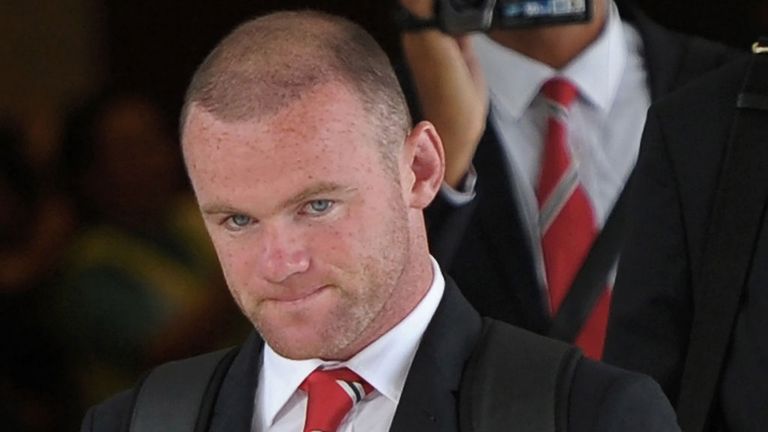 As Chelsea seemingly prepare a further bid for Wayne Rooney, it appears clear that Jose Mourinho is determined to land the player he admitted last month was his only summer target. When asked whether it was "Rooney or bust", the Portuguese answer was a single word affirmative.
It could be estimated that Rooney's presence at Old Trafford has now become untenable. Whilst David Moyes has continued his insistence that the England forward is not for sale at any price, many may see this as a mere tactic to ensure that Manchester United keep the ball in their court for as long as is realistically possible. The moment that Rooney's departure is publicly accepted by United is the exact time at which his value begins to fall. However, more importantly, both manager and club have a significant reason not to sell. A move abroad, with PSG and Bayern Munich previously discussed but less than forthcoming options, would be far more palatable than the worrying current Old Trafford realisation - a revitalised Rooney at Chelsea could be a devastatingly impressive fit.
Rooney's initial gripe at United is his disillusionment at no longer being guaranteed a starting role as a striker. The arrival of Robin Van Persie from Arsenal, whilst initially welcomed by Rooney ("He's a fantastic player, if he does come here he would be a great addition to the squad"), soon turned sour for the England man as he found his stock falling. With Van Persie operating in an advanced role and Danny Welbeck or Shinji Kagawa utilised in a fluid attacking position, Alex Ferguson demanded that Rooney operate in a more reserved manner, dropping into midfield to link up the play. For 17 of his 22 Premier League starts last season, Rooney was selected as an attacking midfielder and, crucially for Rooney, Van Persie played a part in every Premier League match. With the Dutchman's impressive scoring record, Rooney was the back-up.
It would be difficult to say that Ferguson's plan was unsuccessful. United won the league at a relative canter as Van Persie won the Golden Boot, and even Rooney's performances in his altered role justified significant praise. He scored 12 goals from just 22 starts, had a shot accuracy of 53.03% (RVP's was 55.08%) and only Eden Hazard registered more Premier League assists, the Belgian starting nine more games than Rooney.
Restricting
The player, however, was less than comfortable with the situation. Rooney evidently felt that being selected in an attacking midfield role was both restricting his attacking effectiveness and harming his international chances with a World Cup tournament next summer. Whether or not Rooney's doubts are valid (and the public manner of his dismay is another matter entirely), this is a player that has forged a glowing reputation largely through his passion and desire. Take away Rooney's motivation, hunger and enjoyment for the game and you damage a substantial part of his football psyche.
However you interpret Moyes' words about Rooney's status within United's squad this season ("Wayne can play up on his own, he can play dropped in. Overall my thought on Wayne is, if for any reason we had an injury to Robin van Persie, we'll need him"), it is clear that the England international has suffered for his versatility. Put simply, Van Persie could not perform the same midfield role, and so altering Rooney's position avoids a complicated and difficult selection headache between the two. One of the forward's principal assets has led to his disenchantment.
With this in mind, Rooney will be thankful that Chelsea seem to be the perfect match for his current gloom. Despite the statistics indicating that Fernando Torres scored 22 goals for Chelsea in all competitions last season, only eight were in the Premier League, and the Spaniard's performances were simply not at the required level for a meaningful title challenge. Romelu Lukaku performed exceptionally on loan at West Brom and will certainly be included within the first team set-up under Mourinho, but is still too raw to be the main man at Stamford Bridge.
Rooney fits that mantle perfectly. Despite a reputation slightly dented of late, this is still a player that has contributed 111 league goals in the last four seasons through his goals and assists, was named as Player of the Year in 2010 and in the Premier League Team of the Year in 2011/12.
Rooney will be confident that he could concentrate on operating far closer to the penalty area at Stamford Bridge, as Torres has been permitted to do. However, unlike Torres at times last season, Rooney would constantly look to be involved in the game as much as possible. Rooney played over 500 minutes less in the Premier League than Torres last season, but had over 500 more touches of the ball. Having a far superior pass completion rate, Rooney demonstrates exactly what Chelsea would require of him, namely an ability to retain possession effectively.
Whilst at times over the last two years Torres has looked in desperate need of a strike partner, Rooney's tenacity and work rate negates such a requirement. With a likely triumvirate of Hazard, Oscar and Juan Mata behind him, Mourinho's hope will be that Rooney can bring others into play before making his notorious late runs into the box to act as finisher rather than creator, last seen in 2011/12.
Transformed
Mention of Mourinho brings me to perhaps United's greatest fear - the potential effect of Jose on Wayne. This is a manager who transformed Didier Drogba from rising star to world-class striker, and nurtured Diego Milito to a 30-goal season during his first campaign at Inter, culminating in his Champions league-winning performance. Karim Benzema and Cristiano Ronaldo's goalscoring record also improved significantly during Mourinho's time at Real Madrid.
Mourinho's most impressive attribute is the ability to get the best out of a player. Benzema admitted that "I don't know how he does it, he has some sort of trick, and everybody listens to him," whilst Drogba sees the coach as a father figure. "He has a special place in my heart, he changed my life," Drogba said in April. "He is a person who looks after his players and who does his utmost to get the best out of them."
This is precisely United's concern. Their unwillingness to sell is not borne out of stubbornness, a matter of principle or even because of Rooney's potential effect at United next season. Instead, it is a worrying realisation that Mourinho has the power to transform Rooney. He would flatter the forward, make him feel loved and give him back his appetite for the game. More importantly for the player with a World Cup approaching, he would be permitted to act as the focal point of an attacking line that would surely then be favourites for the Premier League.
All of which leaves some rather difficult decisions to be made at Old Trafford.