Champions League: Didi Hamann assesses Arsenal's victory over Fenerbahce
Sky Sports pundit Didi Hamann is confident Aaron Ramsey is now fulfilling his potential at Arsenal.
Last Updated: 28/08/13 9:09am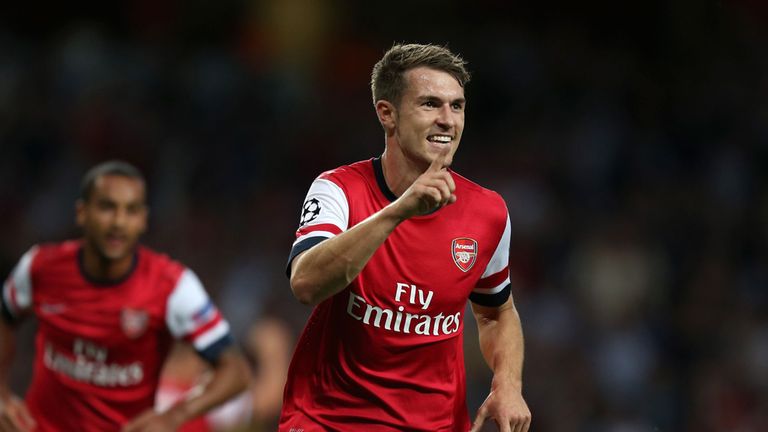 The 22-year-old scored both goals as Arsenal completed a 5-0 aggregate win over the Turkish team to qualify for the group stages of the Champions League for 16th year in a row.
The Wales international, who also scored in the first leg of the play-off in Istanbul, continued his strong start to the season by grabbing a goal in each half at the Emirates on Tuesday night.
"It was great to see Ramsey coming back to form and fulfilling his potential," Hamann told Sky Sports.
"The kid has been talked about for a long time since he came out of Cardiff. He has always been a very good player. He had a terrible injury a few years ago at Stoke which kept him out from six to eight months but he has really come back strong.
"He seems to have worked hard in pre-season and he looks like a stronger player, a more physical player now. One thing that he had to add to his game, and that he has added to his game, is goals.
"If you play in that advanced position next to Jack Wilshere, next to Santi Carzola or whoever is there, you need to have goals in your game. To be an Arsenal central midfielder you have to come up with six or seven league goals.
"(The second goal) is a terrific finish. It is a very, very hard skill to open the hip and pass the ball into the far corner - it is a tremendous skill.
"Hopefully this year we will see the best of him."
Momentum
Arsenal's victory was slightly tainted by a second-half injury to Lukas Podolski, who is set to be on the sidelines for at least three weeks with a hamstring injury.
The loss of Podolski will bring further focus on Arsenal's lack of depth and intensify the calls for Arsene Wenger to bolster his squad before the end of the transfer window.
But Hamann insists Wenger was right to play a full-strength side against Fenerbahce.
Hamann said: "He could have rested one or two but I think he wants to carry on that momentum they got with that first-leg win in Istanbul. It was a very good result against Fulham as well and they will want to carry on that momentum.
"There is an international break after the weekend so some of the players will have a rest; some will go with their national teams. But he just wants to carry on the momentum. Wins are key for confidence - that is all that matters. This is a very good group and when they start playing well, they play very well.
"If they had drawn or lost here, I think it would have been a loss of momentum. Wenger wants to carry that on so he picked a strong team and won the game 2-0 and moves on to Sunday's match with Tottenham."