Guillem Balague assesses situations at Barcelona, Real and Atletico
Guillem Balague explains why Neymar will have more impact on La Liga than Gareth Bale this season.
Last Updated: 16/09/13 4:03pm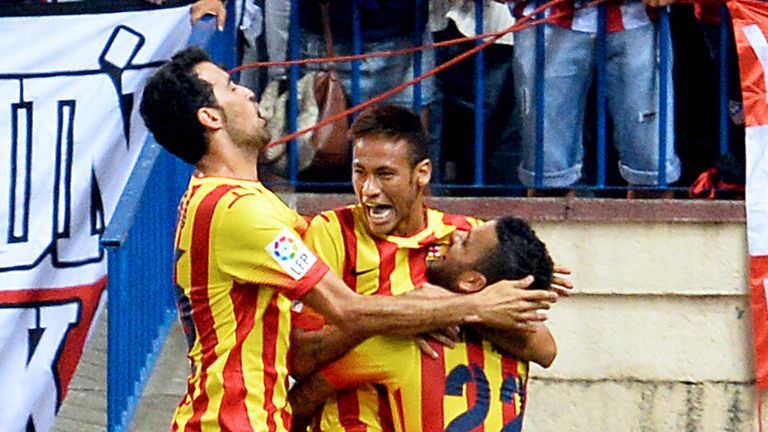 But first I'll turn my attention to Atletico Madrid where there is no doubt that Diego Costa is now the main man.
His authority in the team is such that when penalties have to be taken the ball goes straight to him and not to David Villa, who is the number two in the queue. Everything is going through Diego Costa at the moment and he took his goal tally to four goals this season with a penalty in Atletico Madrid's 4-2 win over Almeria.
Atletico manager Diego Simeone has managed to maintain the same intensity of last season - which is difficult sometimes when you start a new season. The rotations are still working and now he is adding Oliver Torres to the equation.
The youngster featured against Almeria and against Barcelona. Little by little Simeone is giving him game time so he is another one to add to a team that has got a new central defender and a new central midfielder. So in theory they are stronger than last season, even with the absence of Falcao.
Contradiction
Real Madrid are clearly a work in progress.
There is a contradiction in what Carlo Ancelotti has been briefed about, which is to keep more possession and play less on the counter attack, and what his players are suited to.
Of course with the addition of Gareth Bale, who is miles from hitting form, and Cristiano Ronaldo in the team we are talking about a fast, counter-attacking team.
So I don't know how Ancelotti is going to mix those things. The Villarreal midfield overpowered the midfield of Real Madrid with their pace and intensity as the sides drew 2-2 at the weekend. So there is a lot of work for Ancelotti to do but I have to say well done to Villarreal.
Marcelino has mixed fear - the fear of going back to the second division - along with the experience of players like Bruno and Cani and younger players.
According to Marcelino it is the best squad he has ever had and he felt emotional seeing how hard they have worked.
Barca debate
Barcelona's 3-2 victory over Sevilla was Neymar's game, and that tells a story in itself.
The team is not playing well. They are trying to mix long balls with short passing but not yet in the right way. We are still not seeing the best of Andres Iniesta, who would like to play more regularly and get 90 minutes because that is how he feels it's the best way to improve his form.
But at the same time what do you do with Xavi and Cesc Fabregas? They are all rotating.
The team are not pressurising opponents high enough up the pitch so the midfielders and especially the defender are getting exposed. There is a lot of work to be done.
There seems to be a debate over the style of the team, which is something that happens every now and then, especially after a few defeats. It is an interesting debate that we will pursue in Revista La Liga.
Guillem answers your questions...
Got a question for Guillem? Then send it in using the feedback form below, and then look out for his answer next week...
NEYMAR OR BALE?
Hi Guillem, do you believe Bale or Neymar will have the most effect on La Liga this season? I feel Bale cost too much, but so did Neymar!!DVPC4
GUILLEM SAYS: For me it will be Neymar. Barcelona are struggling to mix a style that is a bit different - a faster, less predictable style - with a possession game. That balance is still not there. But if it goes towards the faster style, especially if it goes via greater usage of Cesc, it will benefit Neymar, who is very comfortable with that type of game. Bale did not have a pre-season so I think he may struggle half way through the season and in important games. He will be better towards the end of this season and next season.
REAL OPTIONS
Hi Guillem. There is no doubt that Bale is a great acquisition for Madrid, but I have two questions for you about that particular transfer. At Spurs, Bale was sometimes employed as a number 10 playing just in front of the striker and in a more central role. With Ozil leaving do you believe this will be his role for Madrid or will he be played wide? Also as Ronaldo likes to drift in from his wing (similar to Bale) do you think these two will crowd each other's spaces or will they complement each other? Box-fan92
GUILLEM SAYS: It all depends on Cristiano Ronaldo - it has to. He has been played as a No9 but he doesn't like it so Karim Benzema will be the No9 and Ronaldo will roam freely up front. Bale will have to adapt to that, which means running wide a lot and without the ball a lot. We have to be modern in the way we think about positioning. There is a lot of dynamism up front and everyone will perform the different roles. You can see Benzema behind Ronaldo sometimes and Bale behind Ronaldo sometimes - that is how modern football works.
KEEPING HIS PLACE
Hi Guillem, I wanted to know your thoughts on Iker Casillas' position in the team. What do you think is going on in Ancelotti's head that makes him not to start the captain? Alireza
GUILLEM SAYS: Casillas will play in the Champions League to keep everyone happy. If you think about it, as a coach, if you have two top goalkeepers - and by the way Diego Lopez deserves to play in the Champions League because he is in outstanding form - the best thing is to tell both they need to train hard to be called up. So that is what Ancelotti is trying to do as well as keeping everyone happy.
HERRERA TO GO?
Hola Guillem, I follow Athletic. Now that Ander Herrera is aware Man Utd are after him do you think he will be fully committed this season or push for a transfer in January? David
GUILLEM SAYS: He will not push for a transfer. Athletic Bilbao were convinced that Manchester United were going to meet the buy-out clause as United even asked for the details to pay. Herrera did not push for the transfer; it was Manchester United who wanted the player. I am sure they will continue to monitor him because 36m euros is not cheap but will, in my eyes, be seen as a good acquisition in a few years if they go back for him. Nobody knows if they will do that.
LONE STRIKER
Hi Guillem. With Real Madrid selling Callejon, Kaka, Ozil and Higuain are Real Madrid not low in numbers in attack? They only have Benzema and Morata up front so if Benzema gets injured or is in poor form then they would not have enough options to rotate. Dominic
GUILLEM SAYS: You're right. Benzema wanted to play regularly and, because he had the backing of the President, the club felt it was a good idea to have him as the only No9. But you're right, they are short of numbers and an injury will affect them tremendously.
Guillem answers your questions...
Got a question for Guillem? Then send it in using the feedback form below, and then look out for his answer next week...