Football Expert & Columnist
Jamie Carragher: Hard to see Liverpool positives when you lose to United
Jamie Carragher thinks it's hard for Liverpool to take positives after a defeat to Man United.
Last Updated: 26/09/13 11:12am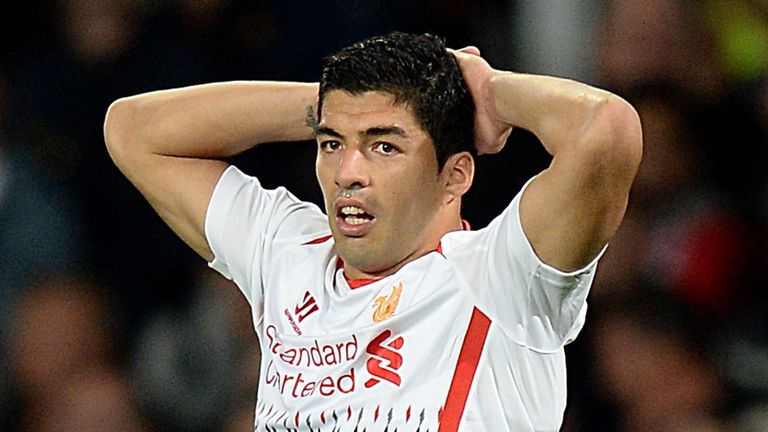 The fierce rivals met at Old Trafford on Wednesday evening in the third round of the Capital One Cup and it was United that came out winners thanks to an early second half goal from Javier Hernandez.
But despite a battling performance and the much-anticipated return of Luis Suarez to Liverpool's starting line-up, Sky Sports football expert Jamie Carragher believes it's hard for Reds' fans to see the positives.
"I remember David Moyes a couple weeks ago saying United did so well after losing at Anfield. But when you lose a game of this magnitude I sometimes feel you have to say that you've lost - it is that important a game that you can't look for too many positives - the result has gone for me.
"We can't say Liverpool played poorly tonight, but we shouldn't be looking at it positively - When you go out of a cup competition to Manchester United - you shouldn't be talking about a good performance."
Small things
The loss makes it two in as many games for Liverpool and Carragher believes the goal they conceded was down to small mistakes.
"When you talk about big games like this, it's about the small things and Jose Enrique has lost his man at the corner for the goal and then game over, you're out of the cup.
"They played a different system; it worked to a certain extent. Suarez and Daniel Sturridge's partnership looked sharp and together, and the formation looked like it could get the two of them to play, but once you go out of the cup to Manchester United I don't think you should be looking at it and saying 'Liverpool played well... we did this well'."
Suarez still special
The game saw Luis Suarez make his first appearance for the club since his 10-match ban for biting Branislav Ivanovic in April this year and Carragher thinks manager Brendan Rodgers is beginning to work out his team's best formation to use strikers Suarez and Sturridge to their full potential.
"Every time the ball comes to Suarez's feet you think something special is going to happen, he was a big positive - but that's something you look back on in a few days time when you look at the positives.
"I agree with Brendan Rodgers that three at the back worked. Early on, Sturridge and Suarez up front looked like a good partnership.
"If you bring Philippe Coutinho in behind that front two in that formation - that could be the way he goes eventually because he's got that many centre backs. At the weekend he played four of them.
"To get them in he may need to go three at the back, then you get your two up front, Coutinho in his position - it may be a really good formation for Liverpool.
"I think to a certain extent it worked tonight, but when you lose to Man United for me it's not important."