Soccer AM to continue to support Street League
Soccer AM is to continue its support for the Street League charity with sales of T shirts this season.
Last Updated: 03/10/13 2:00pm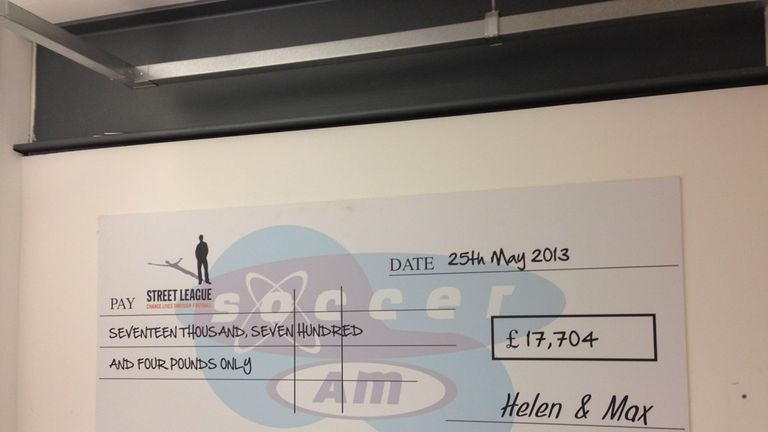 Last season we raised £17,704 for Street League through sales of our 'Franky Says' shirts and this year we'll be donating profits from the sales of our new 'Goal Line Techno' tops.
The funds will go towards Street League, the charity which uses football to tackle youth unemployment. They run an eight-week 'Academy' programme for 16 to 25-year-olds which helps young people develop key life skills such as communication, teamwork and goal-setting.
They have recently launched in Liverpool, Nottingham, Inverclyde and Lanarkshire, and plan to be in 15 regions by the end of 2015, helping 2,000 young people change their lives through football every year.
Last season's donation went towards finding a forthcoming Street League Academy programme in Hartlepool, where youth unemployment is especially high.
Street League Chief Executive Matt Stevenson-Dodd said: "We're really thrilled that Soccer AM will be supporting our work again this year.
"Football is a brilliant tool for engaging with young people who are facing the biggest barriers to employment. That is demonstrated by the fact that 81% of our Academy graduates progress into work and training."
Soccer AM presenter Max Rushden said: "I've spent some time with Street League and it's just one of the best charities I've seen - not just because it provides a great atmosphere, but because it actually gets results, helping some of the most disadvantaged in the community get their lives back on track.
"Everyone at Soccer AM is really happy to be supporting the charity as a whole and the programme in Hartlepool"
Our new T shirts will soon be available for pre-order from the Sky Sports online shop.
Visit www.streetleague.co.uk for more information about Street League.