Kevin Phillips
Football Expert & Columnist
England will qualify for World Cup but media pressure holds them back, says Kevin Phillips
The pressure of playing for England has taken its toll on the national team, says Kevin Phillips.
Last Updated: 15/10/13 3:12pm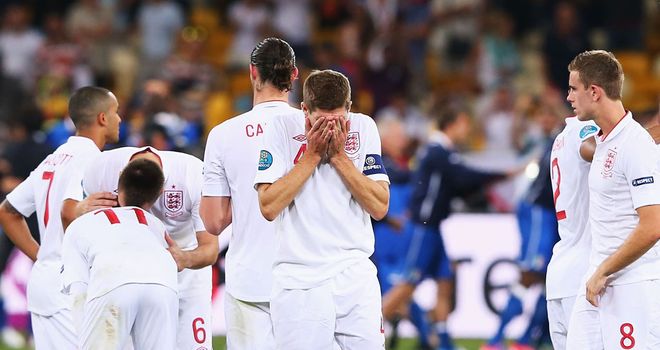 I fancy the boys to win both games against Montenegro and Poland to top Group H and qualify for the World Cup in Brazil. If they had to get results away from home it might have been a different story, but two games at Wembley, in front of two full houses, I feel England will have enough over the 90 minutes in each game to see themselves through.
I'm sure they'll be confident of pulling it off, too - without being complacent - and I'm pretty sure the quality we have on the park will get the job done.
I've heard some of the players say it would be a disaster if England didn't qualify, and I agree, given our current standing in world football and the players we have on show. But I'm fairly confident we'll see two professional performances.
At the end of the day it's about getting six points. We'd love to see brilliant, flowing football, but now it's all about getting to Brazil.
What can't be underestimated, though, is the pressure of playing for your country - and in must-win situations like this, that pressure really intensifies.
I definitely feel England have underachieved in recent years, without a shadow of a doubt. We play in the best league in the world, in my eyes, and we have 85-90% of the best players on the planet playing in our league, so our boys are playing with quality week-in, week-out and should be doing better.
But we don't help ourselves as a nation with supporters and media putting too much pressure on our players.
When you play for England you're running out with the hopes and expectations of a whole nation on your shoulders and it is extreme pressure. It makes it even harder to perform when the media add to that by twisting and turning things to put certain players under the spotlight. The perfect example at the moment is Joe Hart, who is having every performance scrutinised by the press.
Of course, that is something which comes with the job and it's up to our players to try and stand up to it but I know when I went to Euro 2000 with England and we didn't get through the group stages the pressure was huge. You could feel it in the camp.
Hype
If we do qualify the players have got to try and put that pressure to the back of their minds and just get on with the job in hand. But it won't be easy. If they qualify on Tuesday night no doubt the hype and predictions will start immediately and continue right through until next summer.
Of course, the counter-argument is that players for countries such as France and Spain are equally under pressure to perform and they have succeeded at international level in recent years.
Perhaps they deal with the pressure better, or perhaps that leads back to the argument about foreign players in this country preventing our young players coming through.
But experienced managers have been asked for many years why our players don't perform like they do for their clubs when they pull on that England shirt and they haven't been able to explain it.
I don't know the answer either, unfortunately, but certainly pressure plays a big part.
I'd love to see us approach the World Cup this summer - if we qualify - without the pressure from the media; I'd love to see the players be allowed to go over there, express themselves and play without fear. Maybe then they'd surprise a few people.
New start
Gus Poyet was appointed manager at my old club Sunderland this week - and he's certainly got a tough job on his hands.
I felt with the problems the club were having and the way Paolo Di Canio lost the squad, the board were right to make the change at the time they did, with plenty of the season left to turn things around.
However, they had a crucial decision to make in appointing Di Canio's successor, and they've opted for Poyet. He's got coaching experience from his time at Tottenham and Leeds, while he's done really well with Brighton as manager, taking them close to promotion to the Premier League last season.
He hasn't got experience as a manager in the Premier League but I met him when I was close to signing for Brighton and he seemed to be an enthusiastic and likeable character. They played great football down on the South Coast, too, so he'll try to get his style of play across pretty quickly.
But the most important thing is to install some confidence in the squad. It was obviously an unhappy camp under Di Canio but against Liverpool and Manchester United there were promising signs and Poyet needs to continue the good work Kevin Ball has been doing as caretaker.
I'm sure the players will get behind him - but they've got a real battle on their hands.