Cardiff: Vincent Tan may unravel Malky Mackay's work, says Johnny Phillips
Johnny Phillips fears Vincent Tan's meddling will undo all of Malky Mackay's good work at Cardiff.
Last Updated: 24/10/13 1:04pm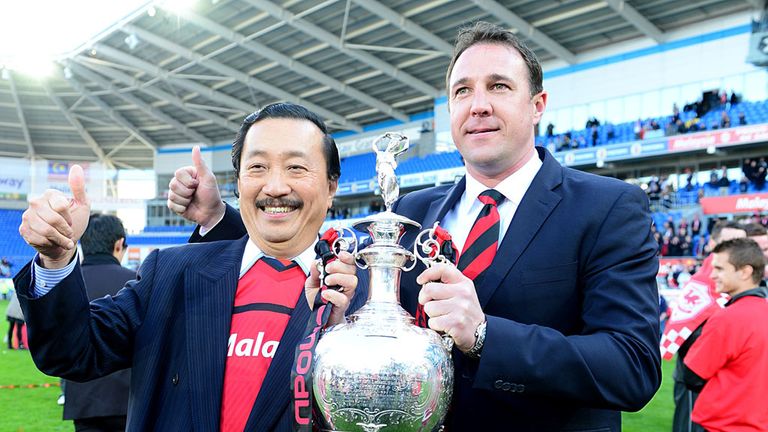 Although in this case, as Paul Merson pointed out on Soccer Saturday last weekend, the winner will be the ultimate loser. If Vincent Tan doesn't stop meddling in team affairs at the Cardiff City Stadium, then all the good work of the last two seasons will be blown away in one angry puff from a red dragon.
The dismissal of Iain Moody, the club's head of recruitment, was not as big a surprise to those inside the club as it appeared to those outside. Ahead of Cardiff's match with Newcastle on October 5, manager Malky Mackay spoke live to Jeff Stelling on our programme and made it clear that the club's recruitment policy of the summer had been successful and of the highest quality.
He was right, of course. The club strengthened in key areas with a combination of big money and bargain signings. Gary Medel arrived for £9.5million and looks every bit the class act in midfield. Full-back Kevin Theophile-Catherine came in for a more modest £2m but he too has shown himself to be more than comfortable in the Premier League
Another signing for just over £2m, Peter Odemwingie, spoke to me at a Show Racism The Red Card event before that Newcastle game. He painted a picture of a harmonious dressing room with a leader at the top who commands respect and affection.
"He's a young manager, sometimes you feel he's just a friend of yours but at the same time you know he's your boss," said Odemwingie.
"My team-mates are fantastic, really friendly. Even things like at lunchtime, the players offering to make the teas for everyone it means a lot, I've not seen that before. The first time I saw that I thought it was really special."
Making tea for your work mates isn't a big deal but it struck a chord with that particular new signing. In the stands, the fans have embraced the progress and showed great patience as well after the unnecessary tinkering with the club's crest and the team's kit.
"This is a long-awaited time for the people of this city and it makes you want to do well as you know you will be remembered and be appreciated here," Odemwingie continued.
That's a good point. This group of players has a chance to establish Cardiff as a Premier League force. They will go down in history with great affection if they are successful. But it is all being undermined by an owner who appears to resent the popularity of his manager.
Realistic
Asked about the long-term plans for the club, Odemwingie provided an encouraging answer for supporters: "It's a gradual process. We are realistic, this year the target is to stay up. I had a chat with the manager when I arrived and there are plans to strengthen again next summer. It was a well-planned achievement to get in the Premier League and they still have more plans long term. They are going to make the stadium bigger to increase capacity and there will be two training grounds as well, one for the academy and another for the first team."
It must be infuriating for the Cardiff fans. Tan's money has done so much good. But he is not happy with financing the club alone. The Malaysian wants his say and that is why everything could unravel before him.
Now there are reports that he has been suggesting substitutions from his seat in the directors' box. Even if he has, I would be surprised if they had been acted upon.
On Saturday, Cardiff travel to Norwich with the spotlight on them. The early season form, including that success over Manchester City, is fading in the memory. They could do with a win.
And, it may be wishful thinking, but Mackay could do with being left alone to get on with his job.