Football Expert & Columnist
Arsenal: Jamie Redknapp hails display of Mikel Arteta against Liverpool
Jamie Redknapp said Mikel Arteta was the unsung hero of Arsenal's victory over Liverpool.
Last Updated: 04/11/13 11:24am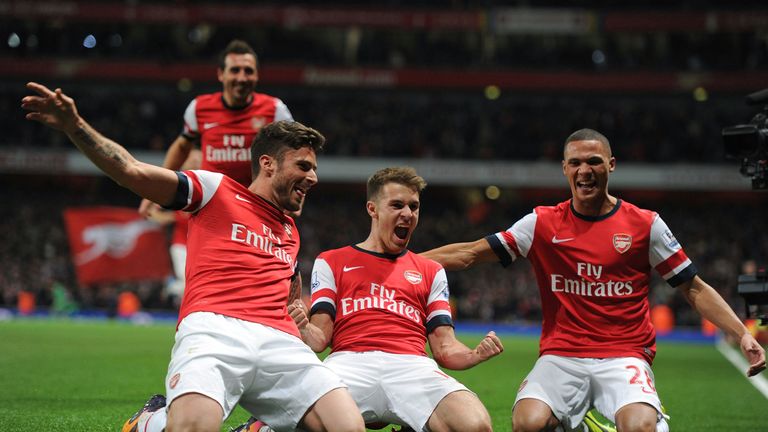 Arsene Wenger's side opened up a five-point lead at the top of the Premier League as goals from Santi Cazorla - and then a thunderbolt from Welsh star Ramsey - settled the Saturday night battle of the top two.
Sky Sports pundit Redknapp was impressed by how Arsenal shackled Liverpool's in-form strike pairing of Luis Suarez and Daniel Sturridge and said that was down to the protection the back four received from Arteta.
And he said the Spaniard deserves more credit than he sometimes gets.
Redknapp said: "We questioned before the game whether Per Mertesacker and Laurent Koscielny could keep Sturridge and Suarez quiet because they've been lighting up every week and I felt the way they handled them was because they were protected extremely well.
"Arteta's role today was a different class and if you compare that to what Lucas - who never really covered the ground and the areas that he needed to - did for Liverpool, he was spot on.
"Everything he did defensively, plus his all-round performance, gave everyone a platform to go and play.
"It's not easy in there in this Arsenal team because people always go running forward with the ball, and at times he must see plenty of red shirts running forward, but not too may running back.
"He has to always back up the play and the one time he did break with the ball, he made the [first] goal for his team. It was quality midfield play and at times people like him in that system never get the plaudits they deserve.
"He has to play. Wenger showed that when as soon as he got fit again he was straight back in the team."
Comfortable
Arsenal travel to Borussia Dortmund on Wednesday to face last year's Champions League finalists before travelling to Manchester United for a big Premier League fixture next weekend.
And Redknapp feels Wenger's men will look forward to those games, even though record signing Mesut Ozil was unusually quiet against Liverpool.
He added: "It was probably Ozil's worst game today, but the two goalscorers were a different class in the way they popped the ball around.
"I felt it was a pretty comfortable result for Arsenal and I was very impressed with them. All the question marks that were there before the game - could they handle Suarez and Sturridge at the back? The answer was yes.
"They were very comfortable at times and it was a really good performance that showed what they are about.
"It sets them up for this week - Dortmund on Wednesday and then going to Old Trafford on Sunday. It sets them up and gives them real confidence.
"There will be a buzz about the training ground on Monday morning. I was very impressed."