Ballon d'Or: Cristiano Ronaldo on course for title, Terry Gibson tells Revista
Cristiano Ronaldo's World Cup play-off heroics should seal Ballon d'Or glory, Terry Gibson told Revista.
Last Updated: 02/12/13 5:14pm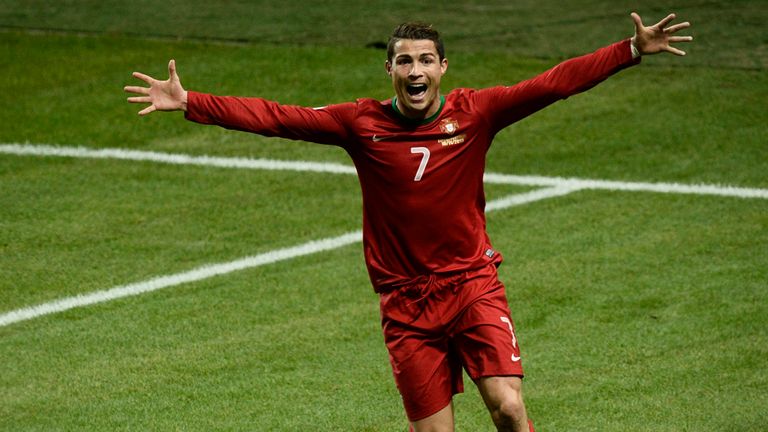 That's the view of Terry Gibson, who told Revista de La Liga the forward's incredible displays for Real Madrid in Spain's top flight and the Champions League, combined with his tie-winning four goals, including a superb hat-trick in Sweden, for his national team, will seal his status as the world's best in 2013.
Voting for the coveted trophy, which, since it's revamp in 2010, has been won each year by Barcelona and Argentina ace Lionel Messi, was extended until after the World Cup play-offs, and Gibson reckons Ronaldo seized the chance to convince the electorates he merits the award this time around.
"If I was allowed to vote I'd go for Ronaldo," says Gibson of the Portuguese who has netted a remarkable 67 goals in 56 games so far in 2013, including 25 in his last 16 and five hat-tricks for club and country.
"The pressure was on him [in the World Cup qualifiers]. One or two people still criticise him for not delivering in big games - but it doesn't come any bigger than that, a World Cup play-off.
"It's so important he's at the World Cup for so many reasons. He wants to prove he's the best player in the world, so he has to be at the World Cup."
Former Manchester United and Tottenham forward Gibson, paid particular credit to Ronaldo's finishing in the past 12 months.
"He never misses, no matter the game, no matter the situation, whatever angle you put him in," he said.
"His pace gets him away from defenders and goalkeepers don't get near his finishing.
"You have to do something special to take the title off of the champion, which has been Messi, and I think Ronaldo, this season [has done that]."
Rules
However, Guillem Balague pointed out there has been some controversy in the proceedings, with Fifa's decision to extend voting from November 15 until November 29, after the World Cup play-offs, irking both Messi's Barcelona and Bayern Munich, whose Franck Ribery is currently second favourite, according to the bookies, to lift the prize.
In fact, the odds on Ronaldo taking the gong have changed dramatically since the all-or-nothing contests with Sweden, with the Real Madrid man being cut from 9/2 to 4/11 favourite between August 1 and now, while Messi has drifted from 1/2 to front runner to 6/1 outsider in that time.
"It is very difficult to argue against Cristiano Ronaldo, there's no doubt about that," said Balague. "But both Bayern Munich and Barcelona are upset with Fifa because they changed the rules halfway through the trophy.
"It was November 15 then it became November 29 and then they say you can change your votes - although Fifa says you can and France Football say you cannot.
"The coaches and the captains of the national teams had only voted by 80% and journalists by 90% by November 15 . I think [Fifa] forgot there were play-offs!
"Anyway who just won the golden shoe? Who won the league last season," added Balague, hinting Messi may yet deserve to retain his crown.