Football Expert & Columnist
Liverpool: Simon Mignolet and Jordan Henderson impress Jamie Carragher
Jamie Carragher says Simon Mignolet and Jordan Henderson have been key to Liverpool's strong start.
Last Updated: 03/12/13 8:53am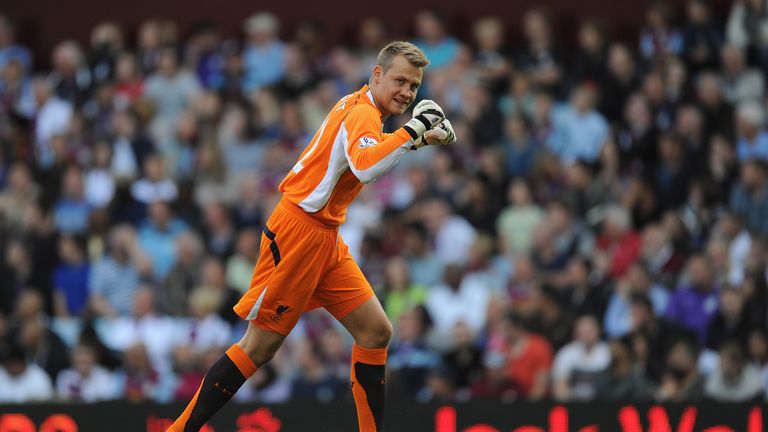 I think seven teams have a realistic chance of finishing in the Champions League spots - last season's top four of Manchester United, Manchester City, Chelsea and Arsenal, as well as Liverpool, Spurs and Everton.
Liverpool and Chelsea are going well and sit second and third in the table ahead of their Super Sunday games with Hull and Southampton respectively, but I think their first thoughts have to be about getting in the top four and not winning the title.
That said, when you start a season as well as Liverpool have or have the recent record of Chelsea's, you must keep one eye on finishing first, though I would say that is more likely for Jose Mourinho's team at the minute.
I don't think anyone should be too surprised to see Liverpool flying so high, however, because they finished last season strongly, losing only three games after the turn of the year and going unbeaten in their last eight matches.
You also have to take into account that the manager, Brendan Rodgers, knows a lot more about the club and that the players are more used to the way he does things and the philosophy he wants to get across.
Faith
Daniel Sturridge and Luis Suarez have obviously combined well to score lots of goals but I have been impressed by Liverpool defensively this year, too, even though the clean sheets have dried up a little bit of late.
I think a lot of that is down to the goalkeeper, Simon Mignolet, who has been as big as any one of Liverpool's players this year and was outstanding in the Merseyside derby and one of the main reasons my old team got a point.
Rodgers showed great faith in him by, for whatever reason, preferring him to Pepe Reina, but it can't have been easy filling Reina's boots because he was such fantastic goalkeeper for the club, so I have been pleased to see how Mignolet has dealt with that.
He can put himself up there with any goalkeeper in the Premier League this season because his performances have been that good.
Jordan Henderson, like Mignolet, has played every minute for Liverpool in the league this year and I can see why; he brings great energy to the side and can play in so many different positions, including out wide or as a holding midfielder.
Sometimes utility players struggle to find a regular spot in the team but I think his versatility has helped Henderson get out on the pitch because it means Brendan can always find a place for him somewhere.
Stick
Chelsea, meanwhile, were my favourites to win the Premier League at the start of the season because of the Mourinho factor, but now you'd probably have to say Arsenal are because of the great form they have been in.
Chelsea have been a bit like Man City in that they are doing ever so well at home - a staple of Mourinho teams - but are not doing so well away, so that's an area I'm sure Jose will look to address.
Jon Obi Mikel came back into the side for the win at West Ham last Saturday, giving Chelsea a more traditional holding midfielder to play alongside Frank Lampard and Ramires following the loss at Newcastle and draw with West Brom.
Perhaps that might be something Mourinho sticks with going forward, but I'm sure over time more things will fall into place and that he will bring new players in - though I'm not sure a striker will come through the door in January.
Samuel Eto'o picked up a muscle injury against Basel in the Champions League so if that rules him out for a while it will leave Mourinho with Fernando Torres and Demba Ba up top, so he may feel like he needs to enter the market.
But both Torres and Ba are decent strikers so Chelsea are not in a desperate situation and because they only tend to play with one out-and-out striker anyway, losing one of your three to injury is not the biggest hit in the world.
It is definitely something for Mourinho to think about, though, and things haven't been all plain sailing for him since he returned to Chelsea.
But you do get the sense that he is really enjoying being back at Stamford Bridge and that the club - and the English game - is really close to his heart.
I certainly like having him back because not only is a great character but he is top, top manager as well.