Cup of Dreams
Our FA Cup dreams feature continues as we head into the second round. With the promised land of the third round in sight, we catch up with Welling United player-manager Jamie Day ahead of their trip to Plymouth.
By Graeme Bailey - Tweet me: @graemebailey
Last Updated: 06/12/13 8:51am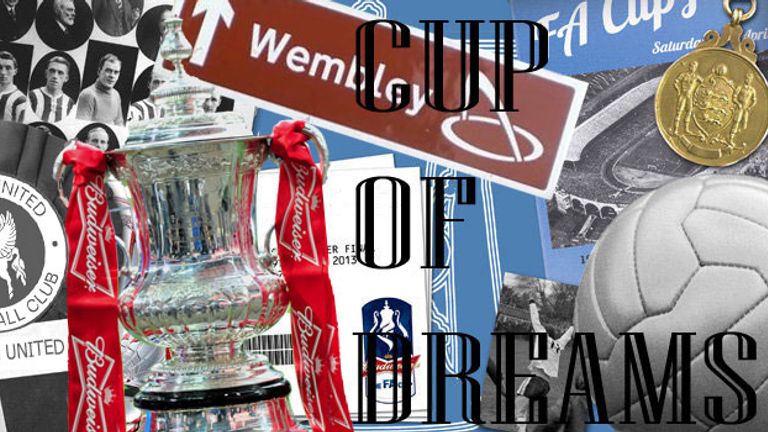 Welling United are going through one of the most successful eras in their history, and we chat with the man behind that - player-boss Jamie Day.
Appointed in late 2009, aged just 30, Day has taken to management like a duck to water.
Day began his own professional career with Arsenal and had just signed his first professional deal when Arsene Wenger was appointed. Even though their time together was short, he admits he did learn from the now legendary Frenchman.
"Arsene came in when I had already signed, I was a first-year pro and I got to work with him a little bit - perhaps not as much as I would have liked - but he was there and I took some things from him and from other coaches like Don Howe and I try to use them now at Welling," Day revealed.
Day admitted that his style of management was more in line with Wenger's philosophy.
"The way we speak and handle players is now different from 10-15 years ago and you need to be more understanding and more tactical, but times have changed," he said.
But Day has had to work on his management, given he is still registered as a player. Up until this season he was an active player, turning out in over 90 league games in the three seasons since he joined them as manager.
He is now looking to take a step back from the playing side having guided Welling to the Conference South title last season.
"The club took a bit of a gamble at the time, but I am enjoying it and it was always something I wanted to do as a player, he admitted. "I have been there four years now and we have developed, but me and my staff have to continue doing that and hopefully take things forward and have more success in the future.
"I am happy to sit aside and improve my management skills and let them get on with it, but if I am needed at any stage I will keep myself fit. But hopefully I won't be needed to play."
Although tempted to feature at Plymouth at the weekend, Day does not envisage being involved.
"I am happy to put the suit on and watch from the side and if we put in a good performance I will be pleased with that," he said.
Day is already making something of a name for himself, given what he has achieved and the fact he is still only 34, and he admits managing in the Football League is a real ambition for him.
"Everyone wants to go as far as they can in whatever career you're doing," he explained.
"We have enjoyed our time at Welling so far and we will continue to do so and will try and take them as far as you can.
"But for me as a manager I would like to test myself in the league, but the only way I am going to do that is getting results at Welling so we need to keep improving and I do. Then you never know, someone might take a gamble just like Welling did."
Cup buzz
Day, though, is now firmly focused on trying to take Welling into the third round for only the second time in their history - with their only previous appearance in the round coming in 1988-89.
And he admits the buzz of the FA Cup is beginning to be felt at the Bexley-based club.
"The supporters have been talking about this for a number of weeks and are really looking forward to it," he said.
"In the past we have not done that well in the FA Cup and have gone out in the qualifying. This is the first year we have got past the first round, and now we have had a good cup run we want to continue that whilst also carrying on the work in the league.
"If we could get into the third round that would be a great achievement. We have nothing to lose and Plymouth are a big club, but it is a game we are looking forward to and we hope for a good performance.
"We are trying for a good cup run and everyone is looking forward to it and we hope we can take a good following down there and we hope they enjoy the day and possibly get a win for them.
"Plymouth will be expected to win the game at home and the size of that club they should be playing at a higher level. But if we play at the level we can and give ourselves a chance there is the possibility that we can get a result."
Day masterminded Welling's promotion last season and they are now one of the smallest clubs in England's fifth tier.
"Every year we have developed and progressed and we have kept the bulk of the boys who went up last year and given them the opportunity and they have done reasonably well. We are getting found out in some games but they have adjusted really and we are really pleased where we are as a club," he said.
Day's achievements look all the more remarkable given they are one of the few clubs in the Conference that are part-time.
"A club our size, we have transformed from just two evenings to try and bridge that gap from part-time and full-time," he said.
"At some point we would like to go full-time but at the moment we would not be in a position to do that without a big backer so we have to keep developing players. Our ambition at the start of the season was to stay in the league and that remains our ambition.
"You look at the league now and 80 per cent of the league are full-time and there are some really big clubs in the league, our boys have not experienced things like the crowds we have faced this year.
"They want to do it on a regular basis, but our guys have things like work that get in the way and to worry about, but the boys are enjoying it and, as I said, it is a case of progressing."
Part of the joy of the FA Cup is seeing some people with normal jobs taking on the professionals and this game is certainly no different
Day revealed: "We have got a lot of football coaches, fitness instructors, a couple of builders and a lad who does train signalling!"