Craig Mackail-Smith, Kevin Davies and Guy Branston round up 2013 and look ahead to 2014
Kevin Davies, Guy Branston and Craig Mackail-Smith on their favourite moments of 2013 and 2014 hopes.
Last Updated: 26/12/13 9:00am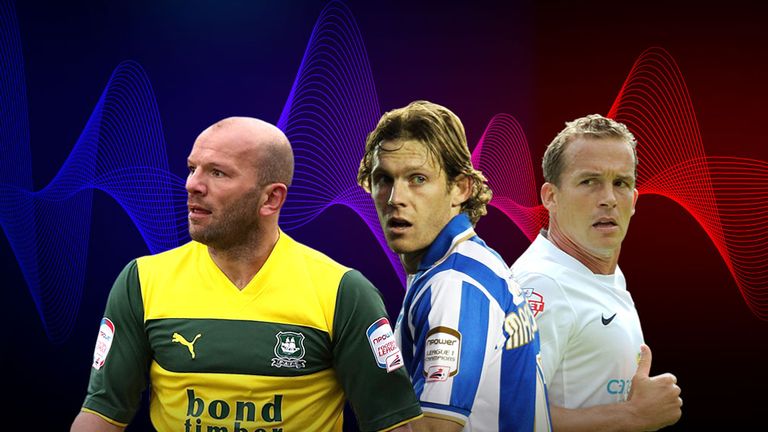 As well as a weekly blog from Crystal Palace striker Kevin Phillips, we will also be speaking to some seasoned campaigners in the Football League.
Brighton striker Craig Mackail-Smith, Preston frontman Kevin Davies and Plymouth Argyle defender Guy Branston - who all appear on Sky Sports News Radio's Football League Hour - will be chatting to us about all manner of footballing issues.
We're almost at the end of 2013 and 2014 will soon be upon us. We've asked our Football League bloggers to reflect on the year that was and tell us what they're looking forward to in the new year...
CRAIG MACKAIL-SMITH
The birth of my daughter was the highlight of my year. My wife Amber's dad, Barry Fry, had to deliver her at home in the bathroom which wasn't planned and was definitely a moment in life I'll never forget and the best and scariest thing that happened to me all year.
In sport, I really enjoyed watching the Lions tour in the summer. It was great to see players from different countries and clubs come together and perform as a team and I don't know whether you could do that in football because there might be too many different egos. With the Lions you saw it working in full flow, they rallied together and were fighting as one and that was amazing to watch. I got up all the time to watch the tests and was cheering on from the front room whilst people were asleep in the house. It was fantastic and inspirational to see and exciting because it often came down to the last kick of the game. It was dramatic, which is what you want to see in sport.
The World Cup is going to be massive next year so I'm really looking forward to that. I think it will be a great spectacle and being in Brazil it's going to have lots of colour and lots of flair and will be fantastic to watch.
Hopefully Brighton can get promoted. To be at that level for automatic or to make the playoffs would be fantastic and hopefully I can play some part in that run in at the end of the season. That would be great for 2014.
KEVIN DAVIES
Completing ten years at Bolton was a big achievement for me in 2013. It didn't pan out and finish the way I would have wanted it to and everyone knows about that but having ten years at one club is quite an achievement. In this day and age, when players move around all the time it is something I'm really proud to have done for such a great club. Now I've moved on and I'm enjoying life at Preston and still enjoying football and hopefully I'll be part of something successful with them.
My sporting highlight of 2013 was probably Andy Murray winning Wimbledon after 77 years without a British male winner. I've always enjoyed watching the tennis and after everything Murray had been through and all those years of Tim Henman being desperately close, it was a brilliant occasion.
You could compare it to being like Jimmy White not winning the World Championship in snooker all those years ago. I'm from Sheffield and watched all those finals he was so close in. Everyone just wanted Murray to win it and he'd gone through so much heart-ache with reaching the semi-finals and finals and losing, it was nice to see him finally do it.
I think the World Cup is what everyone is looking forward to because it's in Brazil and England have qualified to play there. It's going to be an amazing tournament. We tend to have people round the house and have a party and because it's in Brazil the party atmosphere will be amazing and hopefully, once Preston have been promoted, we can sit back, relax and enjoy the tournament.
I think it's been a good first half of the season for Preston, we're in a good position with a great squad assembled and we're in touching distance of the automatic promotions spots but if we have to do it via the plays offs then so be it. We need to carry on our momentum because there are lot of good teams in the league who are all pushing for promotion but I'm confident we can go on and finish it off.
GUY BRANSTON
My personal highlight was my daughter's first birthday, it really hit home that I had a child. I know it sounds ridiculous, I've been with her nearly every day of her life since she was born but her being a year old and looking at me, interacting with me, it really hit home that I was a dad and I've got to achieve things and make things happen for her and my family. I've never really looked at life like that before and it's kind of reiterated the point of being happy and having a smile on your face and just looking at the little things that really make you happy rather than making a big issue of the little things that aren't important. It's changed my outlook and made me a happier person.
In football keeping Plymouth in the league last season was something I really wanted to do. I've never been relegated as a player and I pride myself on that. I've been involved in a few scraps and skirmishes at the bottom of the league but I've never been relegated. I believed the manager (John Sheridan), he believed that I could help in the battle and we kicked on as a group of lads. We've added quality to the team and we look just one per cent away from being a really good side and we're really progressing in to the future, establishing Plymouth as a team to be recognised in this football league that I play in.
I'm looking forward to getting back in the side and I mean that. I want to play and progress as a player and learn as a player still. I've still got that hunger and soon as that hunger goes I'll stop playing. I'm not someone who is just going to drag it out for the sake of it, I've got other things I can be doing and other things I want to do.
It's my 35th birthday next year and as a present to myself I'm going to try and go to Brazil for five days and grab a ticket to a game. I'm not bothered who it is I see, it could be anyone. But just going to watch an international game in Brazil would be fantastic and fascinating. It's going to be amazing.
Don't forget to tune in to the Football League Hour every Thursday night at 7pm on Sky Sports News Radio or download the podcast here