Gary Neville: Luis Suarez right to go to ground to win penalty
Gary Neville says Luis Suarez did the professional thing in earning a penalty against Aston Villa.
Last Updated: 21/01/14 8:16am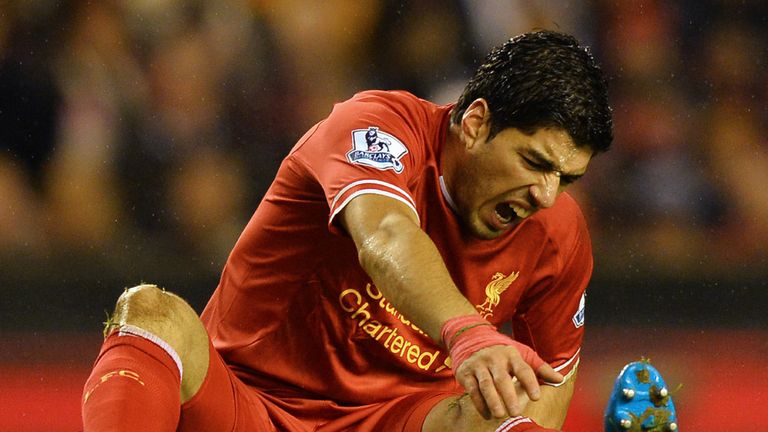 The Uruguayan went down under a challenge from Villa goalkeeper Brad Guzan in Saturday's 2-2 draw at Anfield to earn the spot kick that led to the home side's equalising goal.
TV replays suggested there was minimal contact between the two players, but Neville said Guzan touched Suarez and criticised the American for a rash piece of goalkeeping.
And he said Suarez simply did what every professional footballer is expected to do in that situation.
"Every single weekend it becomes a point of national debate when a striker goes down in the box," he told Monday Night Football.
"For me, the goalkeeper makes a really poor decision and 100 times out of 100, if a 'keeper comes flying out at a forward like that then you will end up with a penalty.
"I don't know what Guzan was playing at and I think that when he was sat at home yesterday he'd be reflecting that he'd do something completely different next time.
"A lot of people are offended by the potential that Luis Suarez has dived. If I was in an Aston Villa shirt, I'd be disappointed in my goalkeeper and if I was a Liverpool player I'd actually be disappointed if my player didn't go down in that position when a goalkeeper comes flying out. That's a professional point of view.
"We're asking the question: is it a penalty or is it a dive? The answer is yes, it is a penalty because the knee of Guzan has gone into Suarez's ankle.
"Does he dive? If you watch Suarez's left leg he throws himself to the ground, wins the penalty and plays for it. I'd call it clever as a professional.
"People at home are offended by the fact that players can win penalties, but I'd call that terrible goalkeeping. Luis Suarez has done what I'd want a team-mate of mine to do in that position.
"People may not like hearing that, but that's a fact."
Clean game
Former Liverpool and Aston Villa striker Stan Collymore took to Twitter to accuse Suarez of diving, describing the decision as "embarrassing" and suggesting that physical football has been "killed by cheats and divers".
However, Neville believes all professional players have tried to earn an advantage by foul means during their careers.
"I can understand the public want a clean game and they don't like it," he added.
"But I can't believe ex professionals come out and suggest that they are offended by this. Every professional football player has tried to win an advantage or win a foul or go to ground easily during their career at some point.
"I guarantee you, absolutely."