Arsene Wenger needs Arsenal balance in transfer window, says Jeff Stelling
Arsenal must find balance in the transfer window or risk ruining their form, says Jeff Stelling.
Last Updated: 24/01/14 12:50pm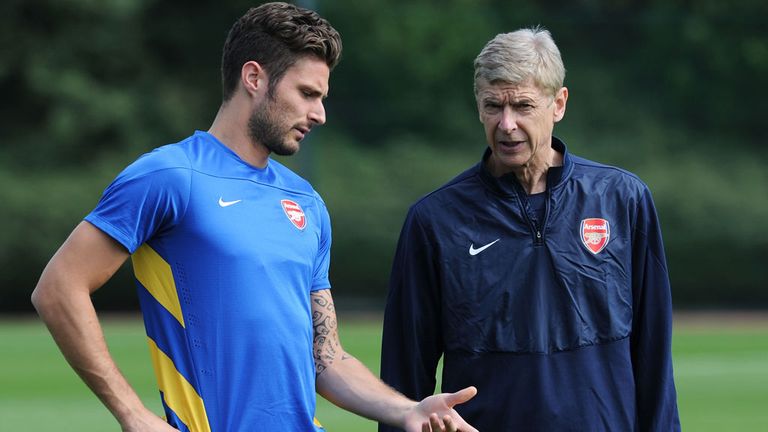 When the Arsenal manager was talking about Julian Draxler last week at his press conference I couldn't help but notice there was a little glimmer of a smile across his face. It was the sort of look that suggests he knew something we didn't.
Now I'm not necessarily saying they're going to go out and get Draxler in this transfer window but if they do, he would be a fantastic buy.
I've watched him a few times for Schalke in the Champions League over the past couple of seasons and he looks a different class in, admittedly what is a pretty poor Schalke side, but nevertheless he stands out like a beacon.
If Wenger does do business, that's the sort of level I expect it to be.
Balance
Everyone has been saying the Gunners need a striker and with Theo Walcott out for the rest of the season that need has been increased.
I know Olivier Giroud says he doesn't need any help and doesn't want another striker up there but to me, he has looked pretty exhausted in the last couple of games.
It's a difficult balancing act and I understand where Wenger is coming from, everything is running so smoothly for them right now.
If you buy a player of a certain calibre he's going to expect to be in the side, so does that upset the balance you've got at the moment? If you buy a striker, does that upset Giroud? If Giroud doesn't play week-in, week-out does he lose confidence?
It's a really difficult situation, they're top of the table and it's not as if they're fading away or cracking up. I can see both sides of the coin.
Minimal
Generally speaking people don't do too much in the January transfer window and when they do, it tends not to be good business.
I think Liverpool were an exception last season when they signed Daniel Sturridge and Philippe Coutinho, but there are never many great buys around.
Arsenal's activity over the years has been minimal - Jose Antonio Reyes in 2003/04, Theo Walcott and Emmanuel Adebayor in 2005/06, Andrei Arshavin in 2008/09 and Nacho Monreal last winter - so I don't think Arsenal fans will be expecting Wenger to spend big this window. They might want him to, but won't expect it.
The majority of them would be happy with what they've got if the club go out in the summer - which I think they will - and follow in the footsteps of what they did with Mesut Ozil and buy at least one or maybe two big, big names to establish the course they've set themselves on and continue to show that they're not afraid to spend big.
Last week Wenger made a show of what he thought of the January window, which is that we shouldn't have one. He said: "Either you scrap it completely, or you leave it open until as long as possible to the last four games. It is like running a relay, then in the middle of the relay you change your runners".
I think there's a lot of merit in that. Agents would disagree of course but there would be none of this scramble that we have at this stage of the season.
People might ask about injuries and of course there would have to be exceptions with emergency moves, but when there are injuries clubs become more reliant on the kids in the squad and that gives younger and especially English players more of an opportunity to get game time.
Dictate
Wenger has also called Juan Mata's potential transfer to Manchester United 'a bit unfair' as Chelsea have already played United twice this season.
I don't agree with this, but it just shows again how anti the transfer window Arsene Wenger is, but there's an argument that he shouldn't say any of it at all. I mean, is he afraid of a Chelsea reserve?
Don't tell me that Jose Mourinho and Chelsea are letting Mata move to Manchester United just so that he can play against Arsenal - that doesn't make any sense at all. We don't even know if he would play against them either!
In the transfer window you cannot dictate who sells to who. You've just got to accept that the seller has the right to sell to who the heck he wants to.
I don't agree with Arsene on this one, but I do agree that we might not need this January transfer window at all.
JEFF'S GEM OF WEEK
It has to be Reading for scoring seven past Bolton. The Trotters are having a nightmare and are in so many financial issues; I do feel sorry for Dougie Freedman, he's a bright young manager.
From a Reading perspective I don't think they've been anywhere near their best for most of the season and Nigel Adkins, who we know was unlucky to lose his job at Southampton, is a brilliant and enthusiastic manager, an extremely likeable character and is finally getting the best out of them.
They've got some talented players at Reading, like Adam Le Fondre who is a born goalscorer and I'm always surprised when he's on the bench - it was brilliant for him to get a hat-trick. It wouldn't surprise me if Reading now went on a really good run until the end of the season and they can certainly make the play-off places.