Ed Chamberlin: Premier League and Grand National so hard to call
As Liverpool become third favourites for the title, Ed Chamberlin tries to make sense of the markets.
Last Updated: 14/02/14 10:48am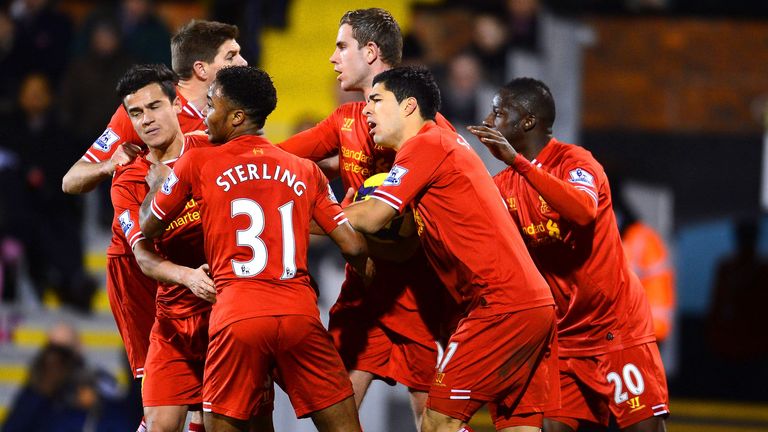 What an unpredictable season this is. Every game has something on it. We are set for a thrilling run-in.
Sky Bet's title odds: 11/10 Manchester City, 13/8 Chelsea, 8/1 Liverpool, 9/1 Arsenal, 100/1 Tottenham, 400/1 bar
The musical chairs at the top of the table shows no sign of stopping. We now even have flip-flopping favourites. John McCririck would be going crazy.
Chelsea went favourites after their win over Newcastle last weekend and Manchester City were held by Norwich. City had their midweek game postponed but are still back in to favouritism after Chelsea were held by West Brom. More twists and turns look guaranteed.
Arsenal are no longer third favourites. Liverpool have usurped them and now loom menacingly on their shoulder only three points behind. Spurs are just six points behind with a North London derby at White Hart Lane on March 16 still to come.
Arsenal have started a brutal run of fixtures in the League, FA Cup and Champions League. They need to hang in there as if they are still in the mix at the beginning of April then Arsenal will have a chance to win the League. They can then get back to doing what they do best which is beating up inferior opposition and their run-in is 'kind'.
Wednesday night's game against Manchester United was a huge anti-climax. The match lacked the intensity and quality we used to feast on in this famous Premier League fixture.
What a big miss Theo Walcott is for Arsenal. He would have given them pace and a different option and outlet on Wednesday. Mesut Ozil misses him too as the width Walcott provides creates space in the central pockets in which he thrives. United were able to strangle Arsenal and stalemate ensued.
To finish in top four: 1/6 Arsenal, 1/5 Liverpool, 5/2 Tottenham, 10/1 Everton, 10/1 Manchester United
Wednesday looked set to be a brilliant night for Spurs. They thumped Newcastle, whose season has imploded since the sale of Yohan Cabaye, while Liverpool were being held by Fulham and it was goalless at the Emirates.
However, the late penalty at Craven Cottage changed the picture and Liverpool remain in the box seat and 1/5 to qualify for the Champions League.
Spurs fans will be eyeing up their North London rivals, who are only six points ahead. The odds suggest Sky Bet's odds compilers can still see the wheels coming off Arsenal's season.
It was a strange experience being at Old Trafford for the Super Sunday game against Fulham. For 78 minutes the ground was a sea of anxiety and panic. At the final whistle Old Trafford was silenced and shell shocked. It felt like a major nail in their Champions League hopes. As things stand the champions are 11 points off fourth and 10/1 to qualify. It looks like an impossible task.
To be relegated: 4/11 Fulham, 8/11 Cardiff, Norwich 13/8, Crystal Palace 7/4, Sunderland 15/8, West Brom 5/2, Hull 6/1, Stoke 7/1, West Ham 7/1, Aston Villa 11/1, Swansea 11/1
It only seems yesterday that Crystal Palace and Sunderland were long odds on to go down. All change now. Fulham and Cardiff are both odds on now but both are capable of turning things around. Eleven teams are quoted at 11/1 or less. The bottom half of the table remains a minefield.
Horse racing
One of the most eagerly anticipated days in the racing calendar used to be the release of the Grand National weights.
Bar a lavish luncheon for the racing fraternity and a great photo of the trainers on Abbey Road, this week's event passed without many good stories in the back pages or market movers with Sky Bet.
Gone are the days of major plunges after Phil Smith announces the weights. This is because while the modern day Grand National remains a magnificent sporting event and spectacle, it has become virtually impossible for punters to find the winner.
The authorities have done a great job making the race safer, Smith a top job ensuring top horses are incentivised to run and that it's ultra-competitive but the smaller fences and handicapping of the race have turned it in to a lottery.
Sky Bet are 14/1 the field and must be licking their lips. Last year the race was won by 66/1 shot Auroras Encore and in the six years prior to that we had Mon Mome at 100/1 and two 33/1 winners. What sums up the minefield is that there are 45 horses rated in the 140-149 bracket. 10 years ago you would have a short list of three or four interesting runners after the weights were announced. Now that list is 34.
One potentially interesting runner is Burton Port. He was a class act on his day and has seconds in the RSA, Hennessy, Denman Chase and Aintree Bowl on his CV. He is now trained by Jonjo O'Neill who is the master with long-distance handicap chasers.
Burton Port's last few runs have been moderate but it's too early to say the fire no longer burns inside him as he'll be being trained with one day in mind. As a result the 10-year-old has dropped from a mark of 166 to 145 over fences and is set to run off 10st 8lbs if Tidal Bay stands his ground.
Burton Port is in the perfect hands to rekindle the embers and could be interesting at 33/1. However, the truth is that the race will look impossible on Saturday April 5, let alone in mid-February.
In contrast, Sky Bet's betting on the Cheltenham Gold Cup came alive this week. Last Instalment's brilliant win in the Irish Hennessy livened up the Gold Cup market no end. It was a sensational round of jumping and great to see the horse bounce right back to the form that he'd promised before injury struck.
With the Ryanair a possibility and his need for plenty of cut in the ground supporters should snap up the 8/1 with Sky Bet as they are non-runner no bet. I won't be doing so as I'd be surprised if he was good enough to beat Bobs Worth and Silviniaco Conti. The staying chasers are the one division where the British contenders look ahead of their Irish counterparts.
I'd be amazed if the Irish novice chasers aren't superior, while Wille Mullins seems to have a stranglehold on the novice hurdles with his battalion of contenders. The New One and My Tent Or Yours spearhead the home challenge against the champion Hurricane Fly and his mates, which will be an epic contest but I favour the Irish raiders in that too.
The Gold Cup should be one prize to stay at home and I remain firmly in the Bobs Worth camp. First Lieutenant, not Last Instalment, could still be Ireland's main contender. He's been written off after the disappointing effort in the Hennessy and is out to 16/1 with Sky Bet, plus connections seem to be considering going back to the Ryanair in which he was second last year.
This is a horse that must have decent ground and you can put a line through last Sunday's run. His trainer, Mouse Morris, is the master of prepping a horse for Cheltenham and hit the bar with First Lieutenant, Baily Green and Rule The World last year.
First Lieutenant could still be a major Gold Cup player but it would have to stop raining first. The problem is that there's currently more chance of finding the Grand National winner than that happening.