Football Expert & Columnist
Jamie Redknapp: Man City, Chelsea, Arsenal, Liverpool to finish in top four
Jamie Redknapp expects the current top four to fight for the title and games at Anfield could decide it.
Last Updated: 14/02/14 9:21am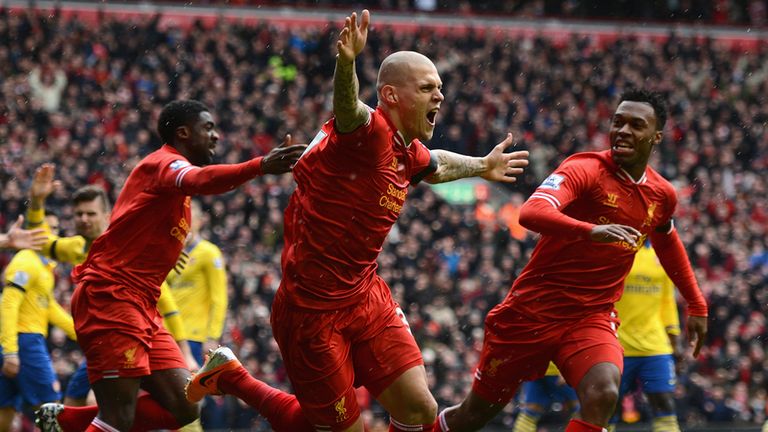 We've had Brendan Rodgers ruling himself out, now he's back in; Arsenal were definitely in but, with a tough run of fixtures in February and later in March, they could be out.
Man City look like they'll be in; while Chelsea do too, even though Jose Mourinho is trying to kid us they're not title contenders, despite having more title-winning experience at his club than anybody else in the running.
And Tottenham are out but might get in with their current run of form.
It's an incredible situation. We've not been used to seeing anything like this and that's because a big hitter, Manchester United, has been ruled out of the equation early on.
It's going to be incredibly tight and it's tough to predict how it will all finish up. However, I certainly feel Liverpool have a big part to play in how it will look at the end of the season.
Liverpool are the team everyone is scared of at the moment - they have the best striker in the league in Luis Suarez and they also don't have any Champions League games coming up to worry about, so can rest, recuperate and prepare for each of their final 12 Premier League games.
They also have Tottenham, Man City and Chelsea all to play at Anfield. Whether Rodgers' side win, lose or draw those games, the results from those fixtures will have a large bearing on where the title goes this term and which sides make the Champions League qualifying spots.
However, as we've seen in recent weeks, it's not just going to be those big head-to-heads between the top sides which will be crucial, but also how the leading teams deal with struggling clubs.
Chelsea have dropped vital points to West Ham and West Brom while Man City were surprisingly held at Norwich - how much of an impact will that have come May?
As you can see, Arsenal and Liverpool have taken 28 points from a possible 30 against the current bottom seven so far while Chelsea and Man City have failed to be as clinical. Mourinho and Manuel Pellegrini must address that problem.
In fifth spot, Tottenham will be hopeful of going one better than they did last season and breaking into that crucial top four.
They're currently three points adrift (and have a much weaker goal difference than their rivals) but given the changes they've been through this season I'm sure plenty of Spurs fans will be happy to see their side in with a good shout.
Tim Sherwood has done a great job since he took over from Andre Villas-Boas - but that hasn't surprised me. He's more than capable of doing that job and has made some important changes.
Tim has adapted the system for every game Spurs have played while under Villas-Boas it was the same thing week-in, week-out. There was no enjoyment to the football under him and I don't think the players enjoyed the football in the end either.
The re-introduction of Emmanuel Adebayor has also been key but it's not rocket science - Tim's just brought in a good player who should have been in the squad in the first place.
It's a manager's job to massage Adebayor's ego and get the best out of him. It's a bit like the Kevin Pietersen situation in cricket - if the coaches aren't good enough to handle him then they shouldn't be doing their job. It's part of what you have to do as a coach.
The problem for Spurs is they have to return to their Thursday schedule of Europa League games and that could stretch them. Last season Spurs lost out on a Champions League spot to Arsenal and Arsene Wenger will be hoping that his side's little wobble is just that and not a sign of a slide.
Their thrashing at Liverpool was a shock but their clean sheet against Manchester United on Wednesday was important and it's crucial they stick together.
Although they are currently in a midst of a tough run of fixtures - looking ahead at their schedule, they play Spurs and Chelsea away, City at home and Everton away - in a hellish run of four games at the end of March and start of April. There's been a lot of talk about their contests with Liverpool, Man United and Bayern Munich this month - but those four games coming up could have a far more damaging impact on Arsenal's season.
Olivier Giroud is a good player and has done a good job for them this term but he still hasn't scored against another top-four team yet and when you look at those big games - and the big moments and the big goals needed to win them - he doesn't seem to be the player to produce at those vital times yet.
That's something Arsenal are missing and why their record against their rivals isn't good enough.
Everton and Manchester United, meanwhile, for me, are now out of the running.
Regardless of whether Everton make the cut or not, they've had a successful season. Roberto Martinez has proved he's a top manager in this campaign and that he knows the game inside out. Their future is bright with him in charge.
United, meanwhile - well, who knows what is going to happen to them? They need a miracle to finish in the top four now and who would have thought that at the start of the season?
Most people would have had the 2012/13 champions down as certainties for a Champions League place - but at this point I expect Chelsea, Man City, Arsenal and Liverpool to make the top four.
Agree with Jamie? Bet on the Premier League with Sky Bet here.