Craig Mackail-Smith, Kevin Davies and Guy Branston on Wayne Rooney's contract and money in football
Our FL72 bloggers discuss Wayne Rooney's new contract and how much players really earn...
Last Updated: 20/02/14 4:46pm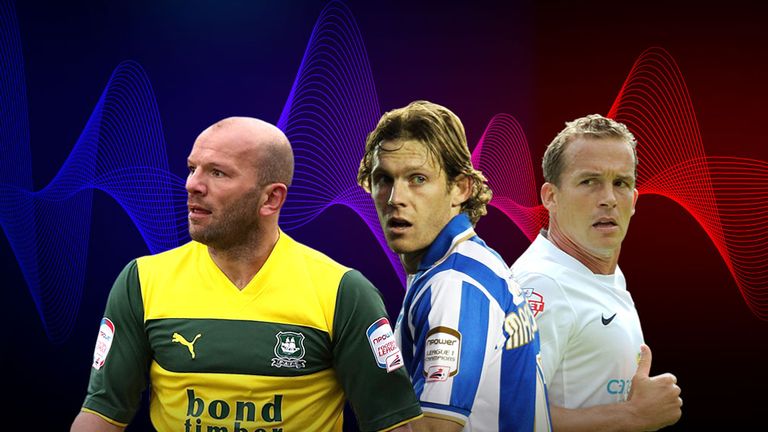 As well as a weekly blog from Leicester striker Kevin Phillips, we will also be speaking to some other seasoned campaigners in the Football League.
Brighton striker Craig Mackail-Smith, Preston frontman Kevin Davies and Plymouth Argyle defender Guy Branston - who all appear on Sky Sports News Radio's Football League Hour - will be chatting to us about all manner of footballing issues.
Manchester United and England forward Wayne Rooney looks set to sign a £300,000 week contract renewal this week which will see the 28-year-old extend his tenure with the Premier League champions until summer 2018, but what do our trio of FL72 players think of this big-money deal? Does football at their level revolve around money and what was the thing they bought with their first footballing pay cheque?
CRAIG MACKAIL-SMITH
When I tell people I'm a footballer, the first question anyone asks me is how much money I earn and they always assume I earn loads. Of course at the top end of the Premier League you do earn a lot of money but lower down it's different and it's a common misconception that footballers all earn huge amounts. Many players in the Football League will need to take on jobs when they stop playing to carry on looking after themselves.
With my first football wages I bought a load of CD's and DVD's; I was playing non-league, I worked at Homebase and was going to college as well. That was important; I wanted to make sure my education was right before in case I didn't make it as a footballer, thankfully it did.
Wages tend to differ between clubs rather than the leagues because there are often bigger clubs that come down and will have a different wage structure to their rivals in the division and much bigger budgets. You can earn just as much money in League Two as you can at certain clubs as you could in the Championship.
We don't speak about how much we earn amongst team mates too often and people are guarded because they don't want to know when others are earning more than them - it would be annoying. There'll be rumours about how much others are getting but for me personally I don't like to say or ask others because it's none of my business - whatever they signed for they signed for; my agent deals with my finances and he gets the best deal for me.
The big clubs want to keep world-class players like Wayne Rooney and with the amount of money in football at the moment £300,000 a week wages aren't a problem for them but at what stage will it stop? How much is someone going to be earning a week in the Premier League in years to come?
KEVIN DAVIES
People don't tend to ask me how much I earn, but sometimes you'll go in to schools to do a Q&A and the kids will ask if I live in big mansion and own a Ferrari but that's just because of the way footballers are seen now, as celebrities.
When it comes to Wayne Rooney, Manchester United clearly think he's worth £300,000 a week and he has been one of their best players over the years and is a big part of the club's brand; it's not just what he does on the pitch but also what he offers to the fans and he's probably the biggest name in the club's brand globally.
I'm sure United would have done all the sums and, with him coming to the peak of his career, feel he's worth it; I'm never going to say anyone is worth that kind of money but that's what is out there in football at the moment. There are billions of pounds involved in the sport and I don't think you can compare it to any other profession really, it is what it is.
Whenever I've come to talk about contracts it's never really been about matching another player's wages; what the club value me at means more to me as that reflects what value they see in me.
There are a lot of conversations in and around dressing rooms saying things like 'well he earns that much money and is rubbish, I'm better than him' or 'he got paid up from leaving that club and he's earning this much.' But I've never been motivated by the money. My contract negotiations have never last very long and I think when you get a bit older you look for the security of a longer contract if you can. Some people are driven by money, others by success.
I've always been quite hardworking away from football as well and from about 15 I was doing morning paper rounds, afternoon paper rounds and working as a pot wash. I was an Avon man for a couple of years going around knocking on doors and delivering make-up products and I also worked in my manager's meat market cleaning all the blood off the walls. So I think when I got my first wages from football - probably about £38 plus Chesterfield would pay my Mum to keep me at home for £40 a week - I went to the clothes shop and bought some Levis and a nice shirt!
GUY BRANSTON
I don't see a problem with people earning money in this country; I can't get my head around why people are so obsessed with arguing against footballers' wages.
Wayne Rooney has given his life up for football; he can't walk down the street without being harassed or live his life without the press and public being involved. Football's a business these days and Manchester United will earn back more than the £300,000 a week they're paying Wayne Rooney.
The top boys have got that much money that wages are more about principle than finance, for example; if Lionel Messi is the top player in the world then he deserves to earn the most money.
When anyone finds out I'm a footballer they instantly think you earn loads of money, drive a flash car, live in a big house, you've got loads stashed in the banks and you're going to be sorted for the rest of your life after football, but it's the polar opposite.
The wages can vary by thousands of pounds a week between clubs at this level and by players. Our budget is very low at Plymouth because of the administration a few years back but we're a fantastic club and I'm very well looked after.
You get a lot of niceties at our club, you don't get the financial rewards of say, Northampton, Oxford or Chesterfield but you get to play at a fantastic stadium in front of brilliant fans. They really look after us and small things like free gym memberships for you and your family make a difference.
When I was at Rotherham in 2002 in what would have been the Championship, we were playing against the likes of Manchester City and West Brom; I think our top earner was on about £100,000 a year while some of City's lads were on £100,000 a month.
Money doesn't always win matches but it does give you the opportunity to get out of the Football League.
I have a nice three-bedroom house and a nice little car but it's a lifestyle more than a secure job - the money is not a part of it at this level.
I remember my first pay cheque from football. It was for £40 a week while I was on the YTS scheme at Leicester. I used to give my mum half for rent so at the end of the month I had £80 and I bought a Timberland jacket which looked amazing and I strutted around like a peacock in it and I wore it with pride every day with my tracksuit bottoms.
Don't forget to tune in to the Football League Hour every Thursday night at 7pm on Sky Sports News Radio or download the podcast here