Craig Mackail-Smith, Kevin Davies and Guy Branston on Alan Pardew's head-butting madness
Our FL72 bloggers talk Alan Pardew's head-butt and whether they've got into any bust-ups.
Last Updated: 07/03/14 8:41am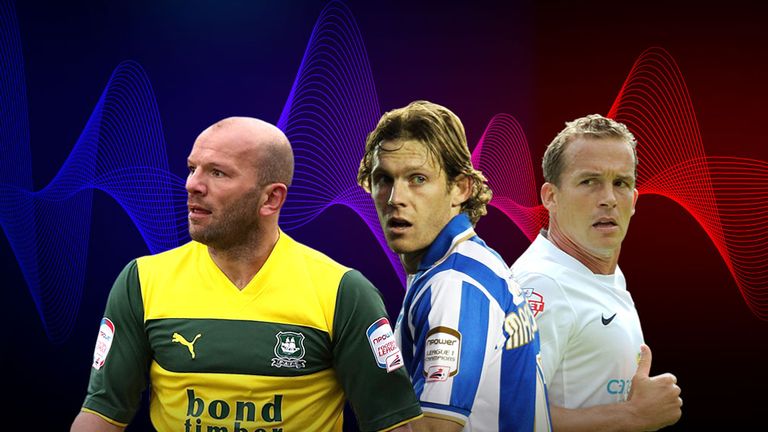 As well as a weekly blog from Leicester striker Kevin Phillips, we will also be speaking to some other seasoned campaigners in the Football League.
Brighton striker Craig Mackail-Smith, Preston frontman Kevin Davies and Plymouth Argyle defender Guy Branston - who will all appear on Sky Sports News Radio's new show FL72 Weekly - will be chatting to us about all manner of footballing issues.
Last weekend Newcastle boss Alan Pardew shocked football when he head-butted Hull City midfielder David Meyler on the touchline during their 4-1 win at the KC Stadium.
The FA have charged Pardew and his club have fined him £100,000 but what next for the Magpies' boss? Should he be suspended and, if so, for how long? Or should the 52-year-old's reprimand be to lose his job?
We asked Mackail-Smith and Branston their view on the situation, whether they've seen anything like this on the pitch before and how they would have reacted had Pardew come at them forehead first...
CRAIG MACKAIL-SMITH
I was shocked when I read that Alan Pardew head-butted David Meyler because you can't imagine how it happened; then when I saw the replays I thought it was all a bit strange and I just couldn't work out why he'd done it.
Yes, you do lose your head sometimes but there's no need for that. There was no major pushing or shoving and it's something you just don't expect to see from a manager.
I think I would have reacted in the same way as Meyler did. He's obviously not expecting Pardew to come at him like that. Yes there was a small confrontation when he was trying to get the ball back, but the most you're thinking will happen is perhaps a little shouting match at one another.
I think he was taken aback by that little head-butt and I think he reacted really well because there are a lot of players would have reacted a lot worse. He should be praised for the way he dealt with it.
It's rare to see these kinds of exchanges in football; you'll get people squaring up to each other face to face but things never go further and people don't come to blows; this is probably why this incident has been highlighted so much.
My old manager Gus Poyet was quite hot-headed and he was sent to the stands a few times but as a player you don't really notice it too much because you're zoned into the game which is a more important thing to focus on rather the manager not being on the sideline.
Sometimes it's important to have the manager there - a place Alan Pardew is unlikely to be for a while - to give you a bit of direction, but you should really have been drilled so much in what you need to do in the game during the week with all your prep work; if he's done a good job at that he won't need to do too much from the side and can leave it to the assistants.
It's hard to say what kind of punishment Pardew deserves - a stadium ban, a ban from the whole club including training? If he's going to do something like this maybe he should be banned from having any involvement with them.
GUY BRANSTON
What gets me is that managers come out screaming and shouting, they interact with the players from the opposite side and you don't need to do that. You don't need to be getting involved with the players.
You're just sticking your head in where it hurts with a footballer. I wouldn't like anyone to stick their head in where mine is because they'll end up coming away with third degree burns and a head injury.
If I was David Meyler or Alan Pardew I'd do the same - both the player and the manager are to blame in something like this. The player should not react to an opposing manager, it shows total disrespect to who he is and the football club and of course the manager shouldn't even be considering putting his head in and manning up to him, he should literally just back down and act the bigger man.
I was a sub for Rotherham in a game against Wolves back in 2001 and Mark Kennedy came and celebrated in front of our bench, which was disrespectful. Our manager at the time, Ronnie Moore, had been giving their players a bit of verbal as they were running past - this goes on all time - but as he was celebrating I got a water bottle and sprayed him in the face and it all just kicked off. Everyone just stood up on the home bench to protect each other. Even Ronnie Moore was sticking up for us.
Then in 2004 Moore got hold of Darren Huckerby in the tunnel during half-time against Norwich and I ended up having to pick on Leon McKenzie - who's now a boxer - it was this four-way scrap. I was banned for about four games, the gaffer got about the same, Leon McKenzie and Huckerby got sent off. It was certainly an occasion.
Don't forget download FL72 Weekly every THURSDAY morning from skysports.com