Football Expert & Columnist
Rangers must entertain fans as well as win, says Andy Walker
Rangers are on the brink of League One glory in March - but their style must improve, says Andy Walker.
Last Updated: 11/03/14 4:04pm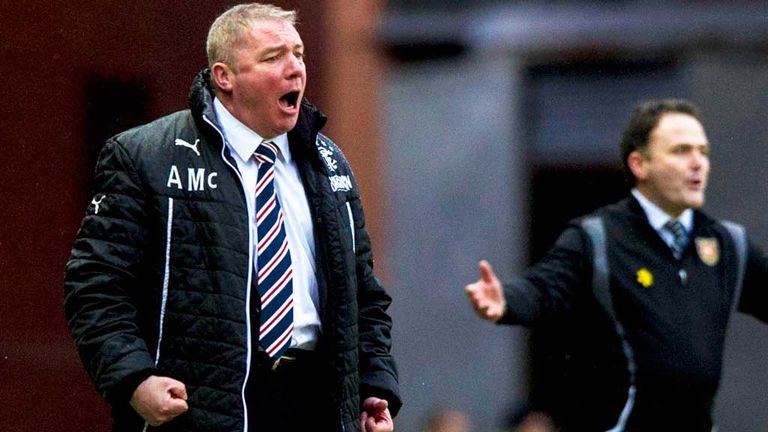 Having managed 25 victories from 27 league games, McCoist is entitled to be satisfied with that return but the harsh reality is that a growing number of Rangers fans are uneasy at the style of play on offer.
I accept that five-goal winning margins are what the fans expect to see every week from a team that can attract players on huge salaries up against part-time opponents on a weekly basis and that's a tall order for any manager and his coaching staff to deliver.
But when it doesn't happen, fans still look at the general standard of play and it's entirely reasonable for them to expect to be entertained.
That truth hit home in the aftermath of Rangers desperate draw with lowly Albion Rovers in last weekend's 1-1 William Scottish cup-tie.
Booed off at both half-time and full-time, Rangers supporters' morale has been tested to the limit for some time now dealing with negative headlines about the club's finances or constant speculation regarding boardroom upheaval.
What happens on the park should give them some respite from the extraordinary circus surrounding the club but the lack of quality on offer is now a major concern.
This weekend, Rangers have the opportunity twice in the space of 48 hours to show their supporters what they can do.
On Saturday, Jim Jefferies will take his young Dunfermline side to Ibrox to perform in front of the Sky cameras before the replay with Albion Rovers is also shown live on Monday night from New Douglas Park in Hamilton.
Rangers supporters have turned out in huge numbers in the last couple of seasons to follow their team but there aren't many who enjoy what they see on a weekly basis.
Tempo
Last weekend against Albion Rovers there was a lack of urgency about the team, there wasn't a great deal of tempo to their game and when Lee Wallace is ineffective, it's a team that struggles for any sort of penetration.
Dean Shiels, David Templeton and Fraser Aird didn't affect the game at all against part-time Albion Rovers while the big names in the middle of the park - Nicky Law and Ian Black - were unproductive.
Former Chief Executive Charles Green may well be regarded as a rogue figure at Ibrox but he was right when he said that Rangers in their current state should be winning the League One title and a major domestic trophy.
It is accurate to say that losing to Albion Rovers in last weekend's William Hill Scottish Cup semi-final would have been an embarrassment and a humiliation.
That is no reflection on Rovers manager James Ward who could not have hoped for better organisation and discipline from his players.
But even allowing for his part-timers to be at their best yet again and giving every ounce of effort, Rangers should be able to match that and win comfortably.
If they don't, it won't be a revolt in the boardroom that makes the headlines; it will be the supporters venting their fury at the poor product on the park.