Johnny Phillips meets former Gretna ace - and now doctor - Kenny Deuchar
By Johnny Phillips
Last Updated: 18/03/14 2:12pm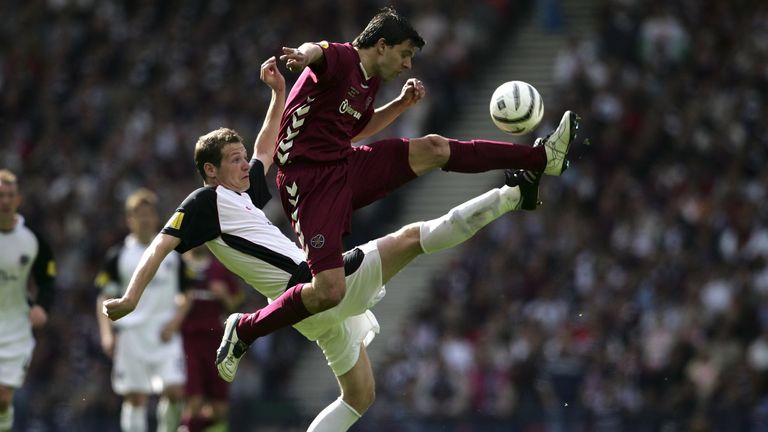 For those doubting Roy Hodgson's ability to turn England into World Cup winners in South America this summer, there is good news. His is not the only side heading off to Brazil from these shores in search of World Cup glory.
There is a far less celebrated, but no less worthy, group hoping to return as winners. And at their spearhead is a good friend of Soccer Saturday.
Ten seasons ago our attention was drawn to Kenny Deuchar, the Scottish striker who went on an astounding scoring run for now-defunct Gretna. He struck six hat-tricks in a season as they won the Scottish Third Division, scoring a total of 38 league goals. And all this whilst studying to be a GP at Wishaw Hospital in Motherwell.
The Good Doctor, as he became known, went on to more scoring feats with Gretna as they rose through the divisions, making it to the Scottish Cup Final as a Second Division club and playing in the UEFA Cup.
Three seasons ago Deuchar retired from the game, as he sought to gain the final qualifications he needed to become a doctor, but now he is back playing again. Last week I went to the village of Doune, just outside Dunblane, to the health centre where he works to find out what prompted this come back.
"It's the Medical World Cup this summer," he revealed. "And Great Britain is sending a team out there. I had hoped to go out and play for them a few years ago but for one reason or another I couldn't make it, but this time I can go."
To play in the competition, participants must have a medical degree. Since the turn of the year Deuchar has been trying to get his fitness back somewhere near the levels he attained as a pro footballer. He was helped when his old team mate Paul Sheerin, now manager of Arbroath, heard of his plans and offered to take him on at the First Division club, initially on a training basis. Deuchar has now signed playing terms until the end of the season.
"I heard he was looking to come back and that he was thinking of playing non-league football, but that would have been a waste. He's a clever player and he'll have a part to play between now and the end of the season," explained Sheerin.
Support
The British Medical Football Team (BMFT) will have to fund their own trip out to Brazil. Players are also raising money for two charities, Juvenile Diabetes Research Foundation and Pancreatic Cancer UK, and details of how to support them can be found at their website www.britishmedicalfootballteam.co.uk and you can follow them on Twitter, @GBRMedFootball.
Finding sponsorship has been hard, but a chance meeting of one of the players with the CEO of Bodyshape Medasun, Julie Bertuzzi, secured some funding. "I think it is fantastic thing for them to be doing. They work really hard and are also trying to raise money for charities whilst playing the game. They are a great, friendly bunch of guys and they really are inspiring," said Bertuzzi.
Like the professional England team, BMFT also have one star on their white shirts, signifying their tournament victory in South Korea in 2009.
"It's going to be a fantastic occasion. It's taking place during the last week of the other World Cup so hopefully there will be a great atmosphere out there," Deuchar continued. "As well as the football there will be some medical conferences and the opportunity to meet new people in the field, so it's a great chance to learn something too as well as raise health awareness."
A pre-tournament weekend get-together is planned for BMFT next month in Manchester, where they will be hoping to get further media coverage for their exploits. It's been tough to promote their cause in the considerable shadow of the professional team heading out to Brazil, but Deuchar believes the support is gaining all the time, and his colleagues are immensely proud of his exploits.
"Everyone in the area is aware of the team now and they've been really supportive," said Doctor Phil Rose, Deuchar's boss at the Doune Health Centre. "We are all looking forward to the summer and hopefully they can come home with the trophy."
For Deuchar it will be the last chapter in a career that has taken in the amazing rise and fall of Gretna, European football and a spell in the United States with Real Salt Lake City. Victory in Brazil with his medical colleagues would be a fitting way for The Good Doctor to sign it all off.
You can see our feature with The Good Doctor on this weekend's Soccer Saturday.