Football Expert & Columnist
Andy Walker says Celtic have endured a disappointing season despite their imminent SPFL title
Champions-elect Celtic are unlikely to spend big despite a 'disappointing' season, says Andy Walker
Last Updated: 25/03/14 4:16pm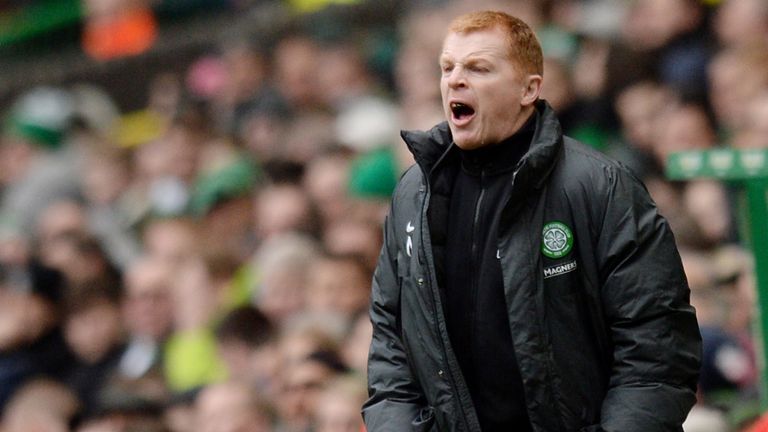 All the action unfolds live on Sky Sports this Wednesday from 7:30pm.
Aberdeen have lost both times on their last two visits to Dingwall and with Ross County desperate for points in their plight to avoid a relegation play-off, every point is crucial for Derek Adams men.
It will undoubtedly be tough for Derek McInnes and his men to take all three points at a ground that hasn't been good to them recently.
For the champions-elect, it's not easy to gauge how successful this season has been for Neil Lennon and his players.
Given the enormous difference in resources between them and the rest of the SPFL, just one domestic triumph has to be regarded as something of a disappointment.
Even now, it's still remarkable to think that lowly Morton were able to beat Celtic earlier this season over 120 minutes at Celtic Park in the League Cup whereas in the Scottish Cup, Aberdeen were more than worthy of their 2-1 victory, again at Celtic Park.
Champions League nights have provided the real highlights for Celtic fans in the last couple of seasons but with his side weakened after the sale of Victor Wanyama, Gary Hooper and Kelvin Wilson, it came as no surprise to see Neil Lennon's men end up bottom of the group.
As usual there was a clamour from the supporters to spend big on players with a better pedigree but the reality is that the policy at my old club of spending a little on lots of players will continue to keep them at the top of Scottish football.
The idea of splashing out in the region of £5million for any one player won't happen when the club are able to spend a fraction of that and still be the best team in Scotland by quite some distance.
Irritation
I imagine the board will flex their financial muscle in a year or so when Rangers will gain promotion to the SPFL just to remind their great rivals of how strong they are but Celtic are just not in the market for £5million players.
All of this has become increasingly frustrating for Lennon and his irritation was abundantly clear at the weekend in an interview that highlighted how much he craves an opportunity to manage in England.
I doubt Neil will get the chance to jump straight from Celtic to any club in the Barclays Premier League.
I imagine his best bet is to get one of the many ambitious clubs in the Championship capable of getting to the most competitive league in the world and work his way to the top from there, a path previously taken by Paul Lambert, Owen Coyle and Malky Mackay.
David Moyes and Roberto Martinez also managed at a lower level before securing their chance at Man Utd and Everton.
Gamble
Even Gordon Strachan - a more successful Celtic manager than Lennon - was given the opportunity at middle of the road Middlesborough after famous Champions League nights and league successes and he had previous experience managing among England's elite in his favour.
Right now, Scottish football will have to take its time to adjust to the spectacular mismanagement at Rangers and Hearts. Both of these clubs will need some years to build on and off the park in order to compete with Celtic.
When you consider that reality, it's easier to understand how some owners and chairmen at big clubs down south would find it far too much of a gamble to employ someone like Lennon when they find it hard to gauge the level of competition in Scotland.